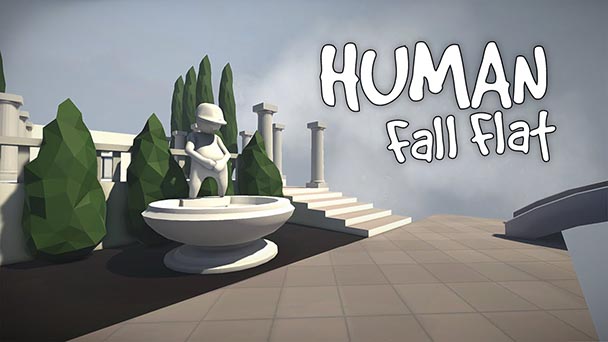 Steam has a slew of pseudo-simulations, which all follow a specific concept. Combine a schedule of mundane tasks with an overly awkward control scheme, and watch as the hilarity ensues. At least that's what the developers behind Goat Simulator, I Am Bread, Surgeon Simulator 2013, and Octodad: Dadliest Catch have hoped would happen. But gags yield to the law of diminishing returns, growing more tedious with each reiteration. With the release of Human: Fall Flat, the Lithuania-based developers adopt the same type of uncooperative input method, this time applying the system to a succession of puzzles. In execution, Flat has the potential to resonate with YouTube and Twitch viewers, as it's another diversion that just might be more enjoyable to watch than it is to actually play. While the linear conundrum-filled campaign feels fresh, obstinate physics-based movement isn't.
Players take control of Bob, a doughboy-like avatar who needs to be ushered through the game's minimalistic landscapes. Whether players employ the mouse-and-keyboard or gamepad-based control method, Human: Fall Flat emulates the experience of not having a full grasp of basic motor skills. With his stout legs and unrelenting wobble, alabaster-hued Bob seems to constantly be at the brink of topping over, especially when he's scampering up the game's numerous staircases. But fortunately, he remains determinedly upright, only dropping when he periodically plummets to the next section of his surrealistic journey.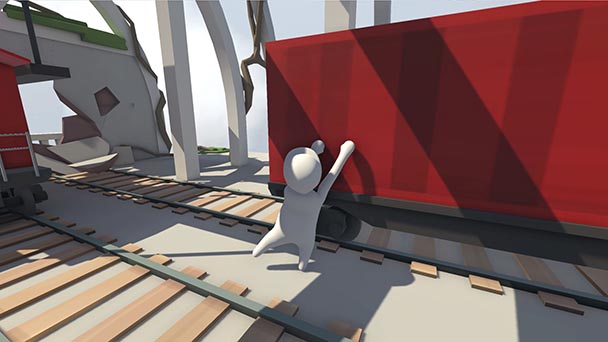 Early on, players are tasked with using Bob's arms to open an elevator door. Appendages run parallel to your line-of-sight, so tilting back on the game's camera hoists your arms skyward, while dropping them mimics a half-hearted toe-touch. Pressing a button locks your hand onto anything directly in front of you, allowing for Bob to call up an elevator with only a little bit of practice. Frankly, Human: Fall Flat could have been called 'Infant Simulator' as you learn to learn to flail around with a modicum of precision.
Soon, the game will have you tackling more complex feats, as you have to leap across a succession of raised platforms. Next comes, the ability to pull yourself upward, which combines everything you've learned into a single fluid motion, as you jump with high hands, move your limbs downward, and let go at the precise moment to clumsily scamper upward. Before you master the maneuver, expect to feel like Pvt. Gomer Pyle in Full Metal Jacket, reeling in the humiliation of not being able to get your corpulent body over a hurdle that would be effortless for almost every other game character.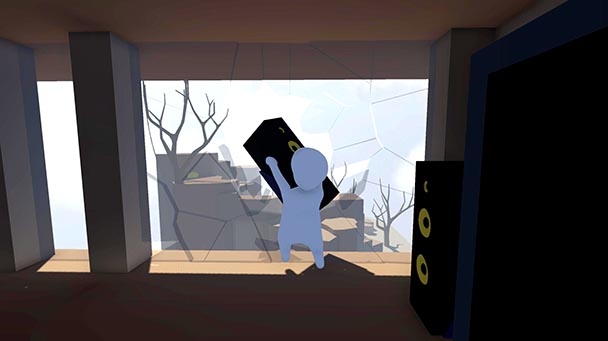 Dozens of botched jumps later, Human: Fall Flat does find its groove, with set-pieces that allow Bob to swing across chasms Tarzan-style and even lay siege to a castle. Some of the problem is the journey getting there, with a long succession of obstacles that are designed to gradually improve your skill set. Although, the physical challenge is there, the intellectual test isn't. Early on, Flat's puzzles are obvious, revealing the same type of box moving, switch activation, and impediment pushing that's been done hundreds of times before. Later on, there are some instances where a variety of solutions can be successfully employed. The approach doesn't raise the level of cerebral struggle, but it does feel gratifying to be able to experiment.
Similar to other, obstinate physics-based games, the main challenge is becoming adept enough at Human: Fall Flat's movement system that you're able to pull off a procession of jumps or climbs without failure. In the unlikely event that any of the game's puzzles give you trouble, Fall Flat contradicts its title, extending a smart assistance system that keep players from sinking into frustration. Whenever you encounter a new obstacle or become stuck after a few minutes, a yellow block drop into the environment. Picking up the item projects a helpful and often comical cinematic. What's especially pleasing is that help is never forced, only offered if an obstacle is slowing your journey down. For the most part, the only complicated element is understanding Human: Fall Flat's world, where expectations about say, the solidity or weight of objects, might defy assumption. Undoubtedly, the game would be entertaining to stream, as audience members type out possible solutions or frolics in the chat room.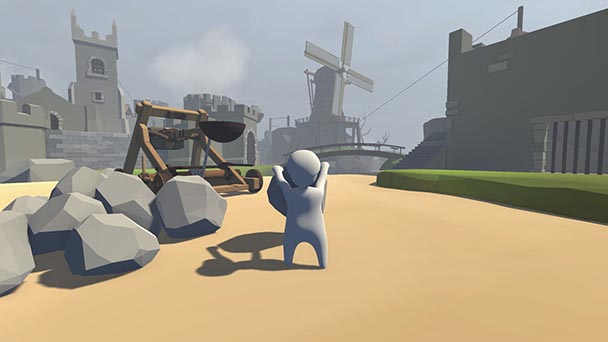 On a midrange i5 laptop with a GTX 950m GPU, Human: Fall Flat was a component performer, rendering its low-poly, minimally textured landscapes in a solid sixty frames per second. Occasionally, the game's camera becomes disorderly, offering extreme close-up to the back of Bob's body when players approach corners, although a bit of movement quickly resolves the situation. Less forgivable is the sporadic crash, with Human flat-lining as least twice during a playthough. Musically, the game's serene soundtrack is unexpected, and extends a bit of comfort during periods of navigational irritation.
Human: Fall Flat isn't a lengthy experience, with most players probably getting through its procession of physics-based puzzles in about six hours. That journey has some enjoyable moments, although there are a few zones, such as a water-based stages that are definitely more exasperating than engaging. Steamers and those who appreciate sadistic challenges might find entertainment, but puzzle fans will find the game's riddles will fall flat.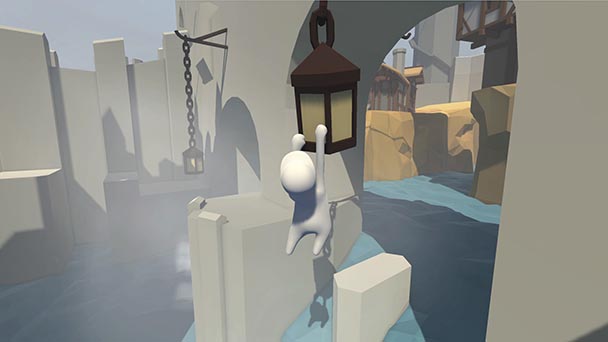 Human: Fall Flat was played on the PC with review code provided the publisher.
Human: Fall Flat
Platform: PC
Developer: No Brakes Games
Publisher: Curve Digital
Release Date: June 22nd, 2016
Price: $14.99 via Steam, on sale for $11.99 through 7/29
Review Overview
Summary : Human: Fall Flat marries unwieldly controls and straightforward puzzling into a tolerable and occasionally trying titles that might be more fun to watch than it is to play.