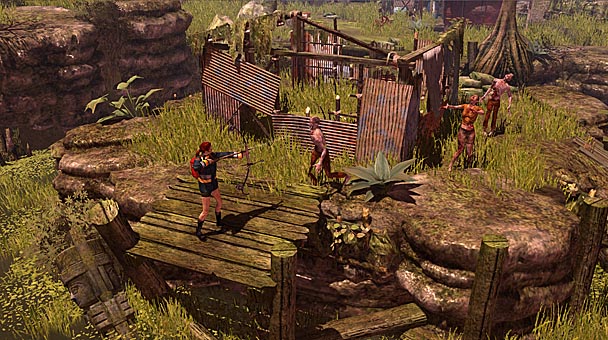 In contemporary gaming, the zombie apocalypse is about as ubiquitous as the common cold. As such, gamers could be forgiven for assuming the release of EKO Software's How To Survive (or H2S) is just another unremarkable title where the undead serve as cannon fodder. Closer inspection reveals a game that's rich with influences- from the overhead viewpoint and action-RPG elements of Sacred 2: Fallen Angel, Don't Starve's perspective of human frailty, to Minecraft's elaborate item production system. While the amalgam could have easily congealed into a directionless muddle, the end result is a game that's nearly as adapt as its inspirations.
Players assume the role of one of three statistically divergent characters who wash up on an island of the coast of Colombia, following a collision at sea. A largely linear campaign tasks a protagonist  with running errands for any other survivors while clashing with both the zombies and mutated fauna across three additional archipelagos. Wisely, confronting enemies isn't always the best method to sustain subsistence. While kills reward players with experience points, there are moments where avoiding confrontation with large groups is crucial. Beyond the threat of staggering and scurrying foes, gamers also have to deal with a more unrelenting antagonism- the human condition. How To Survive's protagonists aren't omnipotent- requiring a steady dose of food, water, shelter, and sleep.
Initially, the game's combat system seems bereft of intricacy. While moving with the left analog stick, players aim with the right stick, using the right bumper to initiate an attack. The one distinction comes from holding the bumper down, which increases the ferocity of the strike- allowing players to cleave off the head of a zombie with a single swipe. When hordes of the unruly undead encroach, gamers will start to appreciate the simplicity of How To Survive's mechanics, which permits players to effectively thin out large mobs or take on devastating bosses.
Before long, players will discover the items needed to make exotic handheld weapons and a ranged arsenal. Poking a stick into a campfire creates a torch, capable of lighting beasts ablaze or burning the hedging which blocks access around each island. When night falls, nocturnal fiends awaken- with most cowering from the fear of conflagration. As players learn to make bows, maintaining a bead on a target greatly increases accuracy and ensures that the arrow can be easily retrieved and recycled. Later, upgrades emerge as the feathers of hunted birds endow arrows with improved accuracy and stopping power.
These two aforementioned examples are only a small portion of H2S's crafting, with players making stat-boosting cocktails, medical items, and all sorts of improvised weaponry. Between the loot found around each island and dropped by foes and a menu system which reveals if items can be fused, experimentation is actively encouraged. For those not excited by the game's heuristic-based system, blueprints found around each locale divulge many of the game's combinations.
Although each of the three selectable characters have access to their own a specialized item, players may long for more divergence between the protagonists. In execution, the distinctive device and slightly dissimilar skill trees aren't enough to persuade replay- especially since the story remains the same for each character. Ideally, How To Survive would have utilized a Rashomon-like narrative device, where the objective explanation of the game events was only revealed after a playthough with each character. As it stands, dialog is H2S's weak point, with interactions perplexingly rendered as soliloquies. Likewise, a puzzling fetish for fetch quests permeates How to Survive, with one glaring errand requiring players to gather twenty collectables. Worse, NPCs don't recognize when you already have a mission item in your inventory.
Aesthetically, H2S is competent with deftly drawn, well-animated characters and creatures. The biggest graphical transgression is the lack of environmental variety, each island setting feels too homogenous. The game's framerate is generally solid, save for when players are bitten by the pyromaniac bug, blazing a wall of brush. When the sun falls, the mood changes dramatically. Between the narrow beam of the player's flashlight illuminating tight sectors and the haunting industrial music, How To Survive does a commendable job at making night sufficiently nerve-wracking.
Beyond the main campaign, the title also provides eight challenge missions. These tests place protagonists on a randomized map location, tasking players with working their way to an escape aircraft. It's recommended that you confront these undertakings after making some serious headway on the main game, as a number of the game's more exhilarating enemies make appearances at the onset. Similarly, the difficulty of these missions is fairly high, making the title seem prohibitive to newcomers.
Regretfully, How To Survive has received a modicum of publicity preceding its release; don't let that stop you from seeking out the game. By fusing together engaging combating and crafting along with the incentive of perseverance, H2S is like one of its improvised weapons- potent and dependable. Hopefully, EKO Software will persist, giving players a sequel that mends the games diminutive, but displeasing blemishes.
How To Survive was reviewed on the Xbox 360 with review code provided by the publisher.
Review Overview
Summary : Just when you thought zombies were done to death, along comes How To Survive- a game which reanimates the pervasive adversaries by giving players access to an extensive, experimental arsenal.