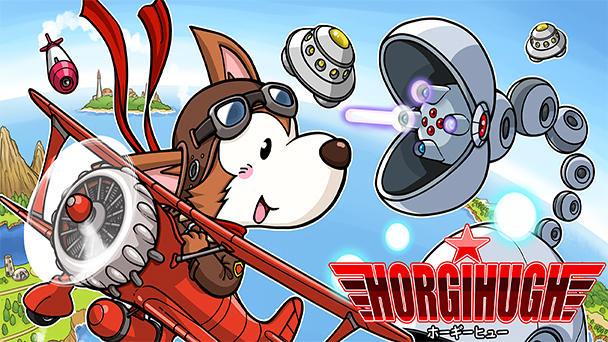 The shoot 'em up is one of the foundation genres of gaming, pitting a solitary ship against a legion of enemies. Bolstered by classic titles such as Space Invaders, Galaga, Gradius, 1942, and R-Type, early shooters were challenging, but still approachable enough that players could make some gratifying progress after a few plays.
But technological advancements of the twenty-first century would have a profound effect on shooters. The number of on-screen projectiles grew exponentially and difficulty levels trailed. While aficionados relish the challenge that modern danmaku (bullet-hell shooters) offer, the change left less devoted fans replaying the accessible games of yesteryear. I wholeheartedly love CAVE's output, and play DoDonPachi, Deathsmiles, and Muchi Muchi Pork! regularly. But occasionally, I crave the relaxation that a Parodius playthrough brings, with its moderated number of enemy bullets. Similarly, the Steam release of Horgihugh is thoroughly delighting, recalling the halcyon golden era of shoot 'em ups.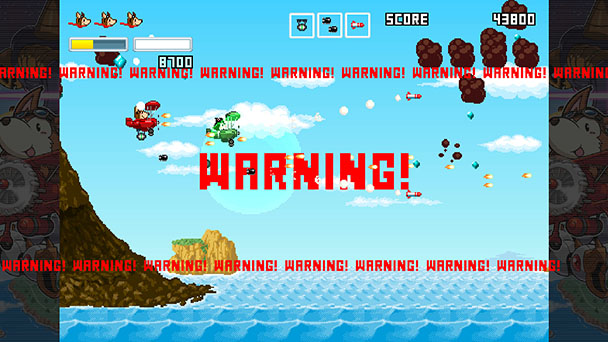 Simple Storytelling Based on Actual Pets
After selecting from either an Easy or Normal difficulty, Horgihugh delivers one of those comic book-style, image and text-based intros popularized during the sixteen-bit console era. Set in a world like our own, albeit with anthropomorphic species, a killing plunges the planet into a world war. Hoping to diffuse tensions, an English Bulldog named Dr. Howard discovers a powerful glowing stone. But after the war has ended, the rock acts as a beacon, summoning an alien race called the Gozerean who immediately attack.
Across each of the game's six stages, characters extend bits of exposition, with dialog pop-ups that bookend the action. Given the oft-contentious nature of contemporary life, developer Sasaki Hidekuni's message of tolerance is especially timely. But the game's writing might struggle to find an audience. Fundamentally, it's too wordy for kids and the set-up might seem too simplistic for adults. On the upside, the title's characters are creative and well-realized, with personalities like Angela, a feline who sells meta-game power-ups, Figaro, a long-time cat-friend, and Hugh, the game's goggle-wearing protagonist. Based on real pets, there are undoubtedly one of Horgihugh's charms and are more distinctive that the leads found in most shooters.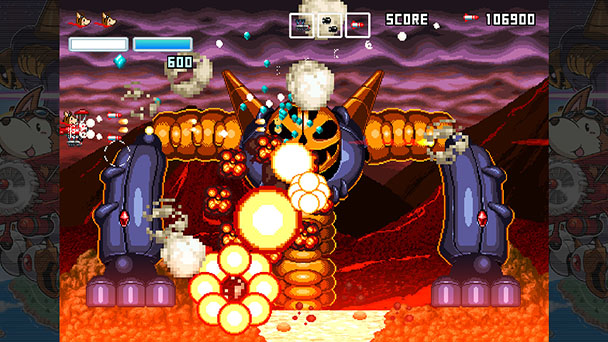 A Powerful Loadout and a Feline Wingman
But Horgihugh's menagerie would be ineffective if the game didn't serve up some solid action. Fortunately, it largely delivers. Across each horizontally-scrolling stage, players are free to move Hugh around the screen, avoid not only enemy bullets but environmental obstructions as well. Like Gradius, subordinate enemies travel in predictable patterns, such as a fleet of Gozerean UFOs who slide across the screen in a tight formation or another foe who follows a sinewave like trajectory. Similar to most shooters, single types of adversaries are usually easily dispatched. But when they're combined with other kinds of adversaries, the screen can become filled with danger, as attack patterns converge.  When you do feel overwhelmed, you can trigger a loop from Hugh, which makes him temporarily invincible, much like the evasive maneuver from 1942's aircraft.
Fortunately, an escalating loadout as well as purchasable upgrades help even out the odds. Periodically, Dr. Howard takes to the sky, dropping a power-up that arcs across the screen. Grab it or the ones left by tougher foes and you'll augment your arsenal, earning perks like a bomb, twin-shot, and even assistance from Figaro, who doubles your firepower. Additionally, picking up the flashing blue diamonds left by defeated foes acts as Horgihugh's currency. Mid-level, you can spend the jewels at Howard's lab, buying things like three different types of lasers, a multitude of missiles, shields, or even components that can boost Figaro's firepower. These only last for a single life, so there's little worry about investing in the wrong type of offense. Luckily, Figaro sticks around longer, like any true friend.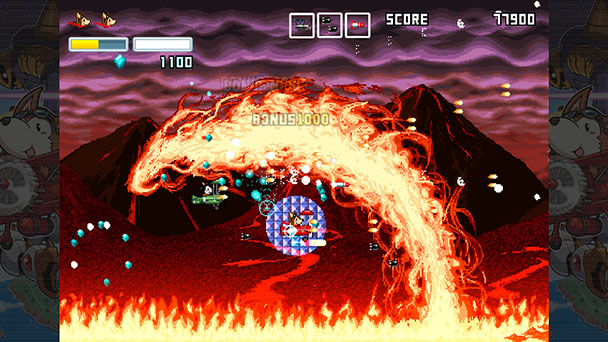 Enjoyable Gameplay with Only a Few Blemishes
Although a trek across Horgihugh's six stages might seem brief, it's going to take some practice before seeing the end credits, even when you're given several continues. While you'll likely improve and head further in the game with each subsequent play, you'll also encounter a few hazards that converge on the unjust. From obstacles and enemies that require looping to ensure your safety to a boss than can kill you after it's been defeated, you're likely to encounter a few frustrations. While none of them are deal-breakers, collectively than can put a slight damper on the proceedings.
They're offset by play that strikes an adept balance between difficulty and delight. Although there is some enemy recycling, the game's thirteen boss battles are undoubtedly one of the game's highlights. Although challenging, they're not overly demanding with bulky foes that follow a restrained number of patterns. As someone who typically dies a few times before learning enemy movements, I was able to tackle some of Horgihugh's superiors the first time, which felt satisfying.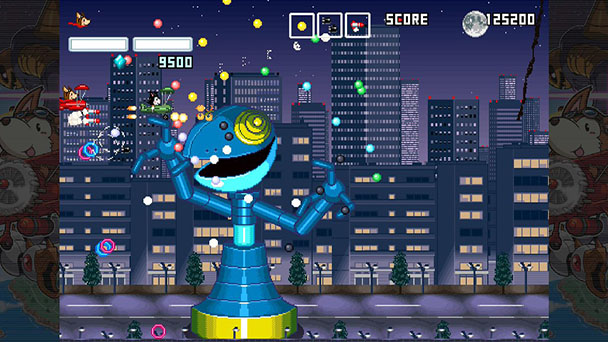 Charming Retro Visuals and a Prodigious Soundtrack
Graphically, Horgihugh resembles a 32-bit game, with moderately detailed, yet charming sprites and colorful backdrops. While the game doesn't contain a wealth a music, a thirteen-song soundtrack from veteran composer Motoaki Furukawa (Super Contra, Gradius II) is wonderfully melodic. Rekindling those enduringly upbeat harmonies that spurred players onto victory during the eighties and nineties, the soundtrack warrants a purchase of the deluxe edition for game music enthusiasts.
Most contemporary shooters aim for over-the-top intensity. Horgihugh, inspired by titles like Gradius and R-Type, is an entertaining throwback to an era where games didn't try to overwhelm players by filling the screen with projectiles. Save for a few coarse spots, the title is poised to delight those who lament the virtues of a 16- and 32-bit shooters.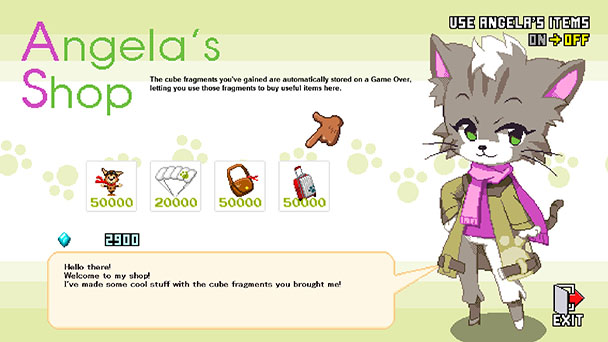 Horgihugh was played on PC with review code provided by the publisher. 
Review Overview
Summary : Sure, Horgihugh might not be quite as cute as Cotton or Deathsmiles, but it offers solid gameplay and a top-tier soundtrack. Classic shoot 'em up fans won't be disappointed.