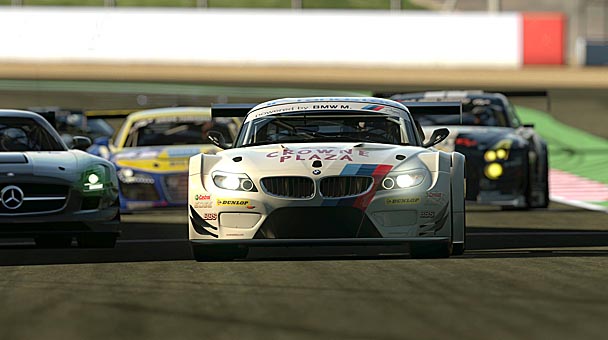 Released for the PlayStation in 1997, the original Gran Turismo was a stunning, paradigm-shaping, anomaly. Published amidst an era where console simulations were uncommon, the Poly Entertainment-developed title shirked convention, offering the most nuanced recreation of real world racing that the 32-bit hardware could handle. At the same time, the game wasn't prohibitively difficult- with a long, gentle learning curve which gradually divulged the tenets of high-speed driving.
As much as I loved the game, as the series endured, rival racing games like the Forza franchise acquired my affections.  Across the PlayStation 2 and later PlayStation 3 consoles, Gran Turismo failed to rectify certain elements which competitors were able to advance. Over the years, license tests went from novelty to nuisance, the artificial intelligence of opponents exhibited only nominal advances, and the first hour of each successive entry seemed consistently punishing- as I paid my dues behind the wheel of a common economy-class compact.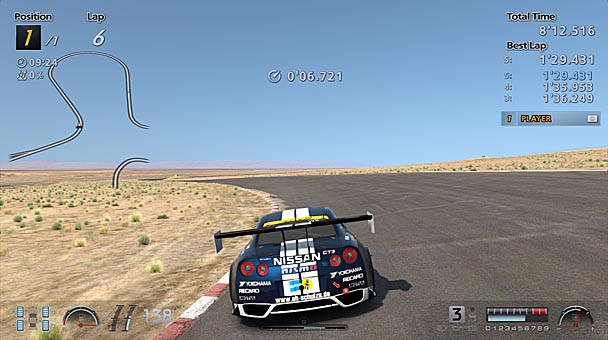 Comprehensively, Gran Turismo 6 offers a number of significant improvements upon its predecessor. Car handling and weight distribution are articulated deftly- giving players the feedback that's required to shave milliseconds off their lap times. Gratifyingly, the game delivers a cornucopia of content- with 1,200 cars and 37 locations which provide a hundred different track layouts. The game's menu system, which was a muddled monstrosity in the last outing has been overhauled, now provides a quick and intuitive navigation system.
Yet, despite these improvements, many of Gran Turismo's deep-rooted faults have only been lessened.  Although the sum of these lingering blemishes isn't potent enough to preclude a full-priced purchase of the title, players will undoubtedly hope these shortcomings are addressed by the Polyphony team. While a day-one patch ushers in a multiplayer component, as well as seasonal and special events, there are still some foundational elements which need modification. Hopefully, these essentials will arrive before amenities like the GPS track regenerator and B-Spec mode emerge.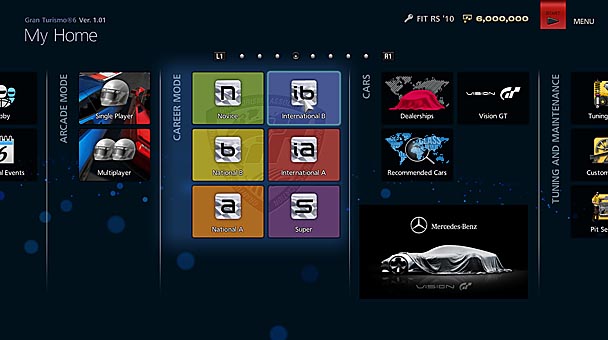 Players hoping to jump right into GT6's multiplayer arena will have to earn a class-A license before challenging any online opponents. Although this three hour process ensures that every participant don't careen out of control at the first corner, for seasoned racers and GT's devoted fans, the tutelage might seem superfluous. The payoff for diligence is the thrill of cutthroat human competition across a sandbox full of cars, tracks, modes and fully customizable options. Beyond basic races and the title's ever-changing challenges, Polyphony Digital has also strived to grant Gran Turismo 6 a sense of community. Whether gamers are seeking competition as a catalyst for friendly discussion or heated rivalry reminiscent of the iRacing or rFactor constituencies, the game is effective at uniting people with the same perspective on play.
The initial structure of the Gran Turismo 6's career mode also delays gratification. Following a breezy lap in a Clio Renault Sport around Britain's picturesque Brands Hatch circuit, players are given an introductory bankroll and strong-armed into purchasing a 2010 Honda Fit. It will take a few podium positions before enough funds trickle in and players are able to take the hatchback to the Tuning Shop and purchase enough upgrades to turn the Fit into a fierce competitor. Although the process starts sluggishly and may irk players accustomed to a swift pace of fulfilment, there are a number of benefits to Turismo's approach. Newcomers will be able to digest the game's mechanics, where cars are classified into groups, categorized by the number of Power Points or (PP) assigned to a vehicle and its upgrades. They'll also discover that winning races earns stars- a system which unlocks license tests, new events, and Coffee Break diversions across six escalating ranks. Starting off in the lowly Fit also provides players with perspective. Sliding into the driver's seat of a low-slung Lamborghini Aventador LP 700-4, gamers will undoubtedly notice the colossal difference in performance between an exotic sportscar and their everyday commuter.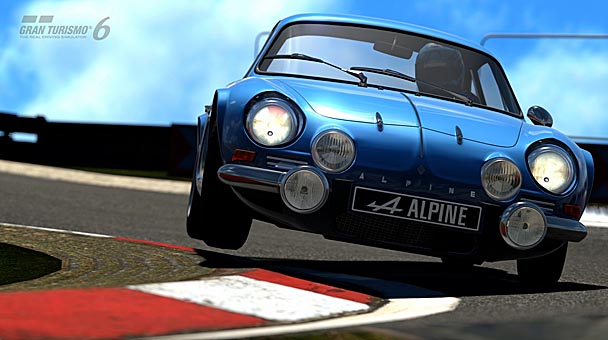 Across previous iterations, Gran Turismo's licenses test were contentious, difficult affairs. For this entry, the number of trials and difficulty have both been assuaged. Now players will only have to complete five or six tests which extend an escalating, but reasonable level of challenge. The title's other, optional assessments of ability are Coffee Breaks- engaging activities which offer a refreshing reprieve from racing. From attempting to knock over 300 pylons in the shortest duration to seeing how car they can drive on a liter of petrol, these diversions are provide puzzle-like scenarios that require players to scrutinize the variables of each situation. News of Gran Turismo 6's most fascinating mini-game has already been revealed – three stages where players have to maneuver a lunar rover in zero gravity conditions.
For better or worse, players can't damage the lunar rover (like John Young did during the Apollo 16 mission). But back on terra firma, vehicular injury isn't much of a factor either. Smacking into a barricade at 200 miles per hour merely spoils the paint job on a roadster instead of transforming the car into a smoldering pile of misshapen metal. Ideally, Gran Turismo would offer more realistic damage modeling- supplying visual and functional injury to its cars. Most noticeable is the singular, understated sound of vehicle collision- which provides a quiet thud whenever contact is made. Currently, the game's engine sounds lack any kind of bassy undertone, as if they were recorded from actual cars but not given any kind of post-processing. In Polyphony's defense, they have acknowledged the game's aural output, and assured purchasers a future patch will remedy the problem.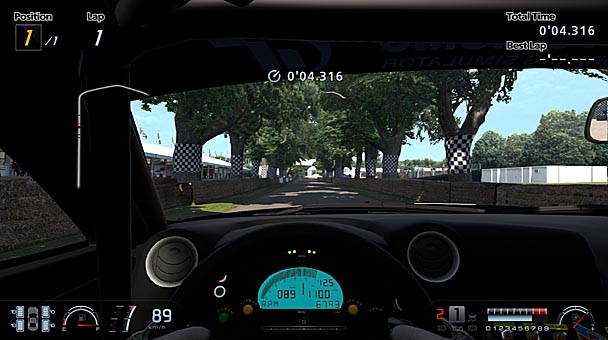 Another component of GT6 which could use additional improvement is the artificial intelligence of drivers across the game's single-player modes. While your rivals are a bit more competitive, it can still feel like the track is you main opponent, with CPU-controller drivers serving as traffic to be avoided. Sure, the AI does veer from the racing line when certain conditions dictate, but they still lack any type of aggression as well as personality. On the upside, it seems as if only the player's car is subject to rubber-banding- making for some exhilarating, if unmerited victories.
While the inclusion of micro-transactions will encourage some to peer at Gran Turismo 6 with a skeptical eye, the model here is far less invasive that Forza Motorsport 5's money-grabbing methods. As with previous games in the franchise, the currency used to purchase new cars and upgrades can be scarce at first, but the title's dividends correlate with the current rank of the player. Unlike the Xbox One game, reward cars are given out liberally, with Vision Gran Turismo handing out replicas of real world dream cars over the duration of the next year. As long as players spend prudently, they won't discern any changes to the franchise's in-game economy.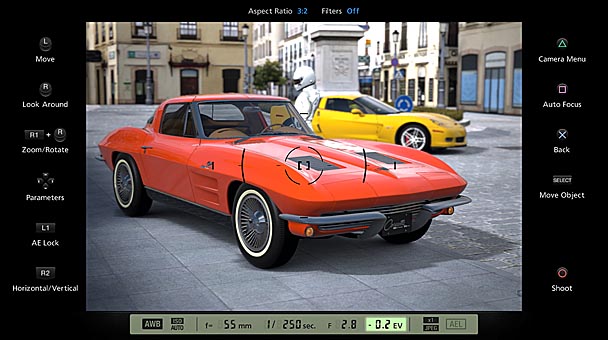 Like its predecessors, GT6 follows a cautious trajectory- limiting options are first, but slowing relinquishing autonomy. Invest a few hours and the game resembles a vehicular playground- providing go-karts, moon buggies, and a garage bigger than Jay Leno's for gamers to race and relish. Soon, Digital Polyphony's ambitions become evident- Gran Turismo 6 shirks traditional design to celebrate the union of man and machine- a harmony that's recalls our kinship with consoles- the ability to become immersed in a turbulent sea of shifting pixels. Hopefully, Kazunori Yamauchi and company will continue to refine GT6 and allow that converge to continue.
Gran Turismo 6 was reviewed on the PlayStation 3 with review code providing by the publisher.
Review Overview
Summary : Despite a few unresolved shortcomings, Gran Turismo 6 reigns (along with Forza Motorsport 4) as one of the best console racing sims on the market.