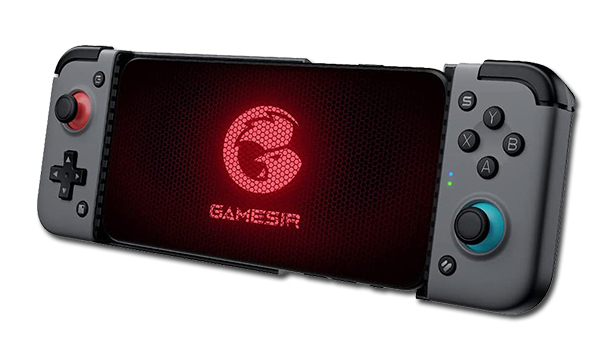 Plop your Android phone into the Gamesir X2 Bluetooth Controller and you have a respectable device that almost reproduces the feeling of playing games on a Nintendo Switch. Apple users aren't so lucky, not only is controller support not as common, but Gamesir's accompanying app is outdated.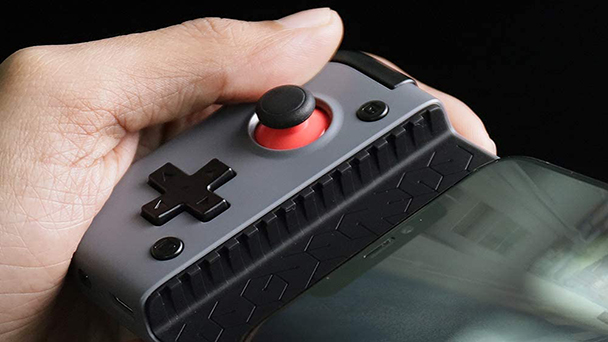 Across the last year, there's been a wave of reasonably priced retro portables. For around a hundred dollars, you can pick up a RockChip RK3226 CPU-powered devices (such as the Anbernic RG351V and ODROID-Go Super) that can adeptly emulate everything from early Atari VCS to PlayStation One games. But hardware released at the dawn of the millennium begins to reveal these limits of these plucky pieces of hardware. Dreamcast and PSP games with intense 3D action can demonstrate sputtering framerates. Gamecube emulation via Dolphin is completely past their capabilities of these remarkable systems.
But the system on a chip (SoC) found on many mobile phones are a bit more powerful. For roughly the same price as one of those Anbernic devices, you can purchase a cheap pay-as-you-go phone (such as the $59 Coolpad Legacy Brisa), pair it with a Bluetooth controller, and you will have a way to play Dreamcast titles at a silky-smooth 60 frames-per-second. And if your existing phone is up to the task (a Snapdragon 720G or better), the vast majority of the Gamecube library is well within reach.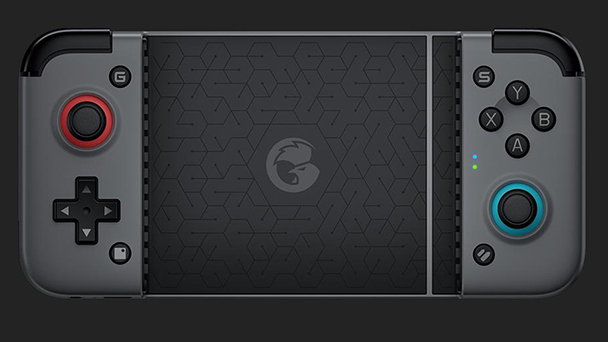 A Mid-Priced Controller that Nearly Feels First-rate
Follow this route and you will find several respectable options. The 8Bitdo SN30 Pro is an undeniably viable one, with a controller that resembles a SNES controller but with modern amenities like dual analog sticks and optional turbo-fire. You can even purchase a $10 clip that positions your phone right above the controller. But personally, the weight distribution feels awkward, especially when used with heavier phones.
Another solution is found in wraparound peripherals like the Razer Kishi or one of the iPega controllers. The former is undeniably refined and makes the Frankensteined combo of a phone and controller feel nearly as ergonomically refined as a Nintendo Switch. The latter is more of a budget item, and if you don't have a Mediatek-powered phone and can live with a few cut corners, can be feasible solution.
With the Gamesir X2 Bluetooth Controller, the gaming peripheral manufacturer offers a tempting balance. Coming in at a sixty-dollar MSRP, it is efficiently priced, yet still conveys the kind of premium feel that you will want for those extended gaming sessions. But be aware the unit has a few minor design decisions that might impact your enjoyment.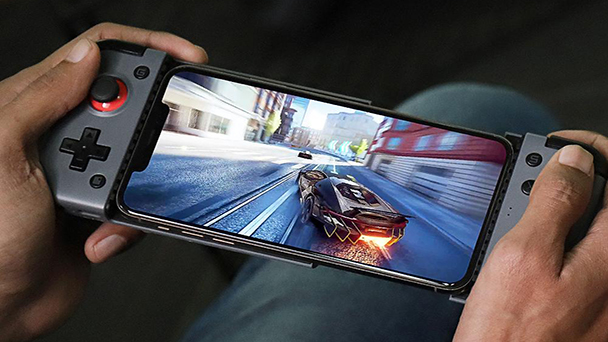 Unboxing and Charging the X2
Gamesir doesn't cut many corners, which is evident when opening the X2's housing. The unit is safeguarded with a zippered carrying case and kept scratch-free with a soft cloth interior. Additionally, you'll find a foot-long USB-C charging cable, four optional rubber caps for the two analog sticks, and an instructional manual with the tiniest of print. As someone who takes devoted care to their electronics and buys a carrying case to protect every piece of equipment, it is gratifying to see a company ship this alongside the hardware and not charge an additional fee.
Our X2 arrived with its 500 mAh battery partially charged. But when fully depleted, the lithium-ion battery takes less than two hours to reach full capacity. Gamesir's claim of 20 hours of playtime isn't off the mark, and when testing Bluetooth connectivity on Android and Apple phones, we got between 18.5 and 20.5 hours of use before needing to replenish. Pairing via Bluetooth 5.0 proved effortless across a multitude of Android and iOS phones. While not ideal, you can even use the X2 like a standalone controller with tablets. But unfortunately, the X2 won't operate with PCs, tarnishing the opportunity to be an all-in-one device.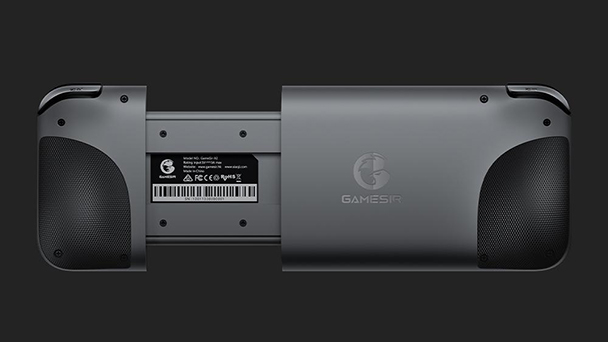 Effective Operation
Once positioned into the X2's expandable halves, phones as large as 173 millimeters are held snuggly in the middle. From an old, diminutive iPhone 5 to a lanky iPhone 12 Pro Max felt secure, with the rubber grips on both ends prohibiting any hardware drops, even when the peripheral is given a healthy shake. Pleasingly, the X2 can cradle most phones without having to take the case off, which is convenient. But your phone will have to be oriented in landscape mode, eliminating the possibility for playing shooters in 'tate' or vertical mode.
While the X2's Bluetooth connectivity allow for access across both mobile operating systems, it also means you'll forgo accessibility. While you're playing the charging port and any headphone jack become inaccessible. On the upside, compatibility was solid, with the unit automatically functioning in popular titles like Fortnight, PUBG Mobile, Asphalt 8:Airborne, and Call of Duty: Mobile. On Apple, the X2 functioned like any other MFi device, permitting a few rounds of Dead Trigger 2: Zombie Games while standing in line. But Apple's integration of controller support is still spotty, so there's still a lot of games that don't support anything but touchscreen controls. While Gamesir's app touts a functionality named "G-Touch" that purports to map parts of the screen to controller buttons, it stopped working after the iOS 13.4 update. Their app also links to a lot of 32-bit App Store games that haven't worked since 2017. Unquestionably, their app is in desperate need of an overhaul.
Expectedly, almost every Android emulator functioned successfully. For MAME, assigning turbo-fire to face buttons was a pleasing perk, and X2 even lets you adjust the speed of simulated button pressing. Another nice bonus is that everything was properly mapped, with select and start button dropped a simulated coin and kicking off a game without any user intervention. With Xbox Game Pass Ultimate steaming, The X2 proved it's worth, providing tactile feedback that's a vast improvement over touchscreen-based interaction.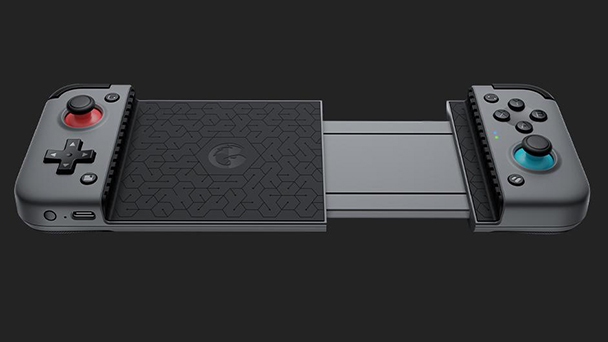 In the Hands of Players
Since ergonomics can be rather subjective, I recruited a team of four volunteers, who each used the X2 for at least a half hour. Overall, the general consensus that that the device felt solid, with the entire group praising the face, trigger, and shoulder buttons. Each has a short throw, feels response, and provides a satisfying but faint click when pressed. Similarly, the X2's directional pad received a mostly positive response for its performance in maze games like Pepper II. But one tester had a bit of difficulty with half-circles in Street Fighter II, complaining that the d-pad was set too deep in the device.
The X2's two analog sticks (which are asymmetrically colored like a Switch Joy-Con) received mostly positive remarks, although one tester thought the tops of the sticks were too small and too smooth without the optional rubber caps. One thought the wide throw of the sticks would be beneficial for racers, but after playing a bit of CTR – Crash Team Racing and Gran Turismo realized that the amount of travel wasn't as helpful as they thought.
When it came to long term playability, most through the X2 was more than satisfactory, with two people noting the back of the peripheral has textured rubber protrusions for resting fingers. While the weight distribution didn't seem to be a factor, two testers didn't appreciate 4:3 games taking up such as limit amount of screen space. While this isn't a fault of the X2, it can be offputtingly if you're accustomed to the widescreen output of the Nintendo Switch.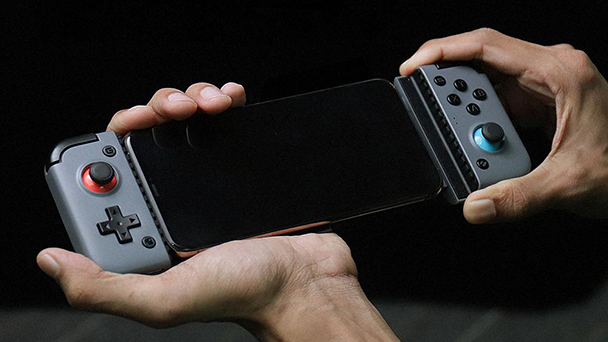 Conclusion
When measured against a hardwired controller there's no discernible lag on the X2. As such, Gamesir's peripheral is especially well-suited for those with multiple mobile phones. But even if you're committed to a single operating system, the X2 is an efficient, economically priced wraparound controller. If one of those Razer Kishi's is out of your price point, this is a very acceptable alternative.
Tech-Specs
GameSir X2 Bluetooth Gaming Controller
Model: GameSir-X2 Bluetooth
Compatible Operating Systems: Android,iOS.
Package Size: 12.9*12.3*2.9 cm
Net Weight: 186 g
Battery Capacity: 500 mAh
Charge capacity: About 20 hours
Charging time: 2 hours
Review Overview
Summary : Gamesir's X2 Bluetooth controller can help turn your Android phone into a Switch-like emulation machine. It functions with iPhones too, but the Apple's 'walled garden' stance limits the device's usefulness.