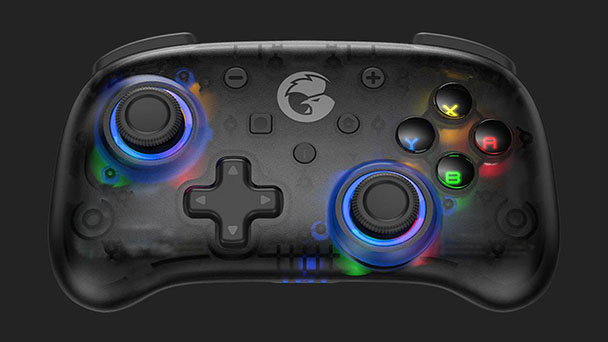 Able to link with everything from your iPad, PC, Switch, or Android phone, the GameSir T4 Mini is a pleasing pint-sizer performer. Battery capacity is a bit smaller that its main competitor, but so is the price, making it a worthwhile option for owners of multiple devices.
GameSir T4 Mini Multi-Platform Gaming Controller
Connectivity:
Bluetooth 5.0/USB Type-C
Compatibility:
Switch, Android 9.0 or above, iOS 13 or above, Windows 7/10 or above
Battery:
600 mAh rechargeable Lithium-ion battery
Dimensions:
143*83*53 mm / 5.63*3.27*2.09 inches
Weight:
156 g / 0.34 lbs
Price:
$35.99 via
GameSir
The search for an ideal multi-platform controller can often feel as insurmountable as the pursuit for the Holy Grail. Whether you prefer epic role-playing adventures or intense bullet-hell shoot 'em ups, ergonomics play a critical role in the decision. After all, an input device is something you'll have to wrap your hands around for hours at a time.
Beyond comfort, there's also myriad of other variables, from build quality, weight, battery life, and price. And even when you think you've found the faultless amalgam of form and function, there often seems to be at least one nagging detail. As much as I love the feel of the Switch Pro Controller, the device persistently powers on when jostled during transport, squandering its battery charge. While it operates with Nintendo's console as well as PCs, there's no way of using it with an Xbox One.
Big on Compatibility….
Initially, the GameSir T4 Mini seems to check a few prerequisites. It's moderately versatile, working with Android and iOS devices, as well as the Nintendo Switch and PCs. When used with a Switch or PC, there's support for rumble feedback. And pleasingly, it offers gyroscopic control on Switch. But alas, there's still no decent universal controller. Sadly, the T4 Mini doesn't work with PlayStation or Xbox consoles.
Connecting the T4 Mini to devices is straightforward. For PC, you'll can use the USB-C cable that's shipped along with the controller of opt for a Bluetooth link. A button hold toggles between Xinput and DirectInput, if that's necessary. For Switch, it's just easy as connecting any other wireless controller. When linking with phones and tablets, you will have to remember a button combo. X + Home will establish a Bluetooth connection with Androids, while B + Home works for Apple devices.
…But Small in Stature
It's also moderately distinctive. At 5.63″× 3.27″ inches (or 143mm x 53cm) the T4 Mini is about three-quarters the size of a DualShock 4. It's lightweight, too. At 5.4 ounces (or 147g) it has significantly less heft than an 8.7 ounce (or 247g) Switch Pro Controller. Yet, the T4 Mini remains practical since it maintains many of the fundamentals of controller design. Everything from the distance between the analog sticks, the diamond arrangement of the face buttons, and the size of the buttons themselves match the shared stylings of Microsoft's, Nintendo's, and Sony's controllers. The fundamental difference is that the two fins of the bottom of most first-party controllers have been shaved down drastically. Even with my large hands, the T4 Mini's diminutive form factor was never an issue. In fact, it was an asset, allowing the controller to be easily stashed in a smaller messenger bag.
Then there's the lighting. There are a multitude of LEDs inside the T4 Mini that illuminate the face buttons in four different colors. The analog stick also get illumination and the GameSir allows players to customize the color, offering blue, red, green, yellow, cyan, orange, purple, and pink hues, as well as a rainbow variant. Additionally, you can opt for steady lighting, a breathing effect, or just turn the LEDs off, if you're hoping to save a bit of battery power. While the T4 boost a smoky grey translucent case, the circuit board in the middle on the controller prevents light from bleeding through the bottom.
But there's other perks as well. As much as I like the 8Bitdo SN30, it's easy to forget how to turn the controller off when you're done playing. The GameSir T4 does this when a second or two or turning off the device. This is handy feature that should be in all Bluetooth controllers. Another worthwhile perk is the ability to program any button for turbo fire. Although there's no adjustment for speed, setting this up is effortless thanks to the T4 Mini's dedicated Turbo button.
Performance  
While 8Bitdo claims the SN30 can get 20 hours of playtime with its 1000mAh rechargeable battery pack, I was only ever to get about 15-16 hours from it. The T4 Mini has a 600mAh battery and testing showed about 8 and a half hours of performance with the lightening turned off. While that might be good enough for average players, those who enjoy marathon sessions might have enjoyed more battery capacity.
Like most multi-platform controllers, there's a bit of perceptible lag when using the T4 Mini. Toleration levels differ of course, but it was mostly noticeable in rhythm-based titles as well as games with a swing meter. What gives the T4 Mini a slight advantage over its peers is the short throw distance of the face buttons. This approach also carries over to the peripherals shoulder button and triggers, although the latter lack analog functionality.
Across testing, the gyroscopic capabilities of the T4 Mini felt comparable to a Switch Pro Controller. When playing Splatoon 2, these was no distinguishable difference when aiming. Unsurprisingly, the GameSir doesn't offer the HD rumble featured in Nintendo's first-party controller. Given the price of linear actuators, it's evident that the manufacturers want to keep the T4 Mini's price modest and went with traditional rumble motors.
To assess functionality, we used the T4 Mini with a several games representative of dominant genres, from Mario Kart 8 Deluxe, Street Fighter III, New Super Mario Bros. U Deluxe, Mario Golf: Toadstool Tour, and Bakuretsu Muteki Bangai-Ō. Our four volunteers described the T4 Mini has "pretty good" and "better than expected" along two through the peripheral's directional pad was "average" and "not that responsive" when playing fighting games. Another prevalent comment was that the labeling for the face button was "weird" and different, with one respondent saying it was like "looking through a telescope". Most appreciated the subtle texturing on the controller's exterior.
Let's face it, not long ago most third-party controllers were almost all crappy. While their form still isn't quite up to first-party standards, functionality has considerably improved. As such, the GameSir T4 Mini Multi-Platform Gaming Controller is a viable contender for players seeking an affordable, trustworthy device that can operate with different operating systems. While the 8Bitdo SN30 still has a slight edge when it comes to battery capacity, MFI and gyroscopic support as well as a lower price tag make the T4 Mini exceedingly compelling.
A GameSir T4 Mini Controller was provided
for review purposes by the manufacturer. 
Review Overview
Summary : The GameSir T4 Mini packs a wealth of functionality into a diminutive controller. Coupled with a very competitive price, this will replace the Switch Pro Controller as our travelling companion.