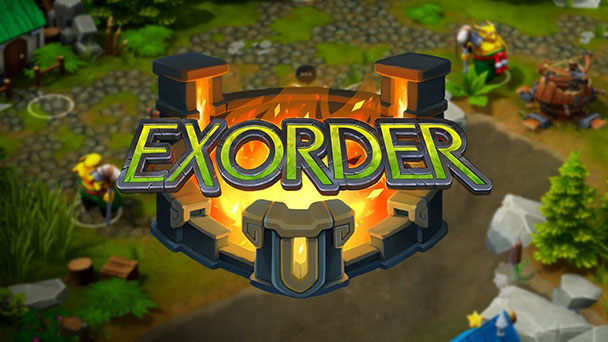 With offerings like God Wars: The Complete Legend, Tiny Metal, Disgaea 1 Complete, Ambition of the Slimes, SteamWorld Heist, and the Banner Saga trilogy, there's no shortage of competent, turn-based strategy titles for Nintendo Switch owners. And while the release of Exorder onto the portable platform might not rank among the best, Warsaw-based Solid9 Studio's first few hours are enjoyable thanks to its accessibility and the multitude of different unit types.
Compassionately, the game's narrative is wholly optional. Those eager to command combatants into battle can skip the expositional bits that bookend each of twelve chapters or even delve into standalone skirmishes. There's still a bit of dialog that occurs during missions, but it's typically used for explaining Exorder's gameplay rather than for expositional purposes.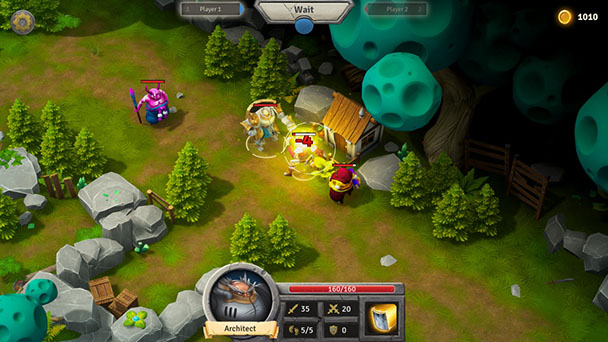 For players who do prefer motivation communicated through plotline, Exorder's text and still images depict a sibling rivalry that's ignited after the death of the king of Cerulean. Princess Beyla and Prince Tristan both long for the crown, and while most developers would have crafted a pair of campaigns depicting each character's struggle for the crown, here we view events from Beyla's perspective. Oddly, there's a large section of the world map that's unused, making it seem as if Solid9 Studio had considered a tandem storyline. As it stands, the story isn't particularly compelling, lacking the type of twists or character growth sporadically seen in the genre.
Delve into the game's single-players missions and you'll discover that Exorder is refreshingly approachable. Recalling Advance Wars' mixture of light resource acquisition with traditional move and attack mechanics, missions gradually introduce new units who have unique abilities and traits. Beyond your main adventurer, you'll quickly earn the ability to summon characters like Marksmen and Guards.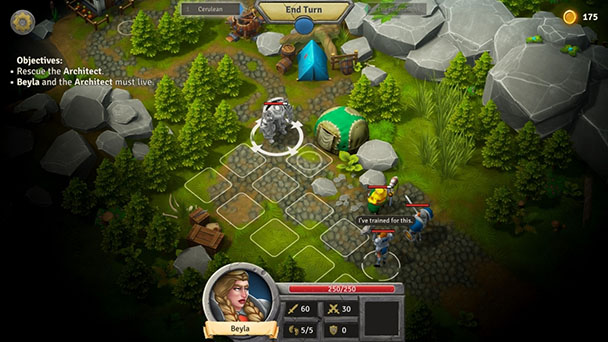 The former are crossbow-wielding, ranged attackers, you aren't very durable but can hit hard. They are also capable of neutralizing enemy-controlled buildings like forts and houses. Guards are slightly sturdier but can only strike at enemies in adjacent grid spaces. However, they can occupy houses, which can give you a bit of money each turn. Soon, you'll encounter slightly more eclectic units like Architects who can catapult allies over manned ballistas or shove foes into a ground of awaiting attackers.
Control of structures are every bit as important as guiding unit across the map. Units don't level up or grow durable, so each is susceptible to a speedy demise when encircled by enemies. To stop the onslaught, you'll need to gradually overtake forts to halt these outposts from spawning an endless succession of foes. And when your allies are killed you'll want to obtain gold from seized houses, so you can purchase new units. A player who doesn't attempt to dominate the economy will have a distinct disadvantage in the early game. Halfway through the campaign, the difficulty ramps up dramatically, and a single errand decision can plunge you on a trajectory toward loss.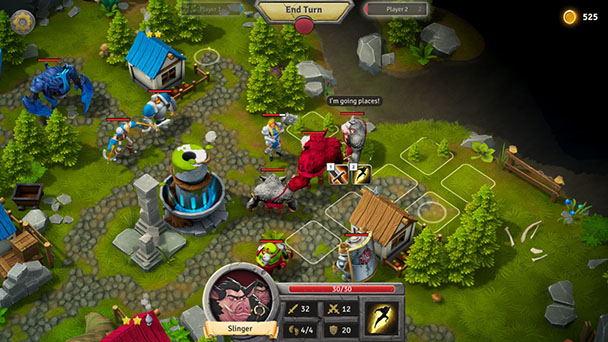 Like Advance Wars', success requires an astute understanding of your character's abilities. Esprits can teleport between owned properties, potentially catching adversaries off-guard. Slingers are boar-like creatures, who are summoned in pairs and leapfrog off their brethren. Seers are sporadic lifesavers, reducing damage inflicted on allies and ensuring that devastating blows leave characters with a single hit point. Collectively, there are nine different unit types and you'll need to exploit their entire ability set as the opposition strengthens sharply across the second-half of the campaign.
Beyond the game's dozen core missions, players might be able to mine additional enjoyment from skirmish mode. Although there's no option to adjust AI difficulty and all six maps have the same victory condition, there's the ability to play with up to three local players and/or CPU-controlled factions. Although both the Switch and PC iteration tout cross-platform play against online opponents, I was unable to find any challengers on either iteration.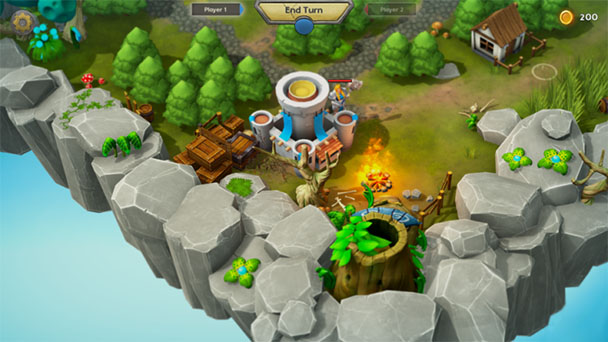 Built on Unity, there's the occasional hiccup when playing on PC with units teleporting around. But since it's a turn-based title, the issue doesn't really affect play. On Nintendo's system, the load times before each mission is a bit longer and there's a slight loss of visual detail, but largely, it's a proficient port. The game's Warcraft-like amalgam of armored humans and cartoonish-looking beasts works well and save for it being slightly harder to tell who has moved on the Switch, works with the Celtic-themed soundtrack to create a pleasant fantasy-themed delivery.
Exorder is built on solid foundations and it's first few missions are quite enjoyable. But gradually, difficulty is employed to pad the playtime and the second half of the campaign grows less gratifying as you fight against an overpowered opponent. Rebalancing level design or including an editor would help keep stages from feeling like a war of attrition or at worst, a puzzler, where a single wrong move can ruin your hope of success.
Exorder was played on Switch and PC with review code provided by the publisher. 
Review Overview
Summary : Exorder certainly has potential as evidenced by the game's early missions. Shorter stages with a more measured difficulty curve would be welcome change because as it stands, the endgame is a bit too masochistic.