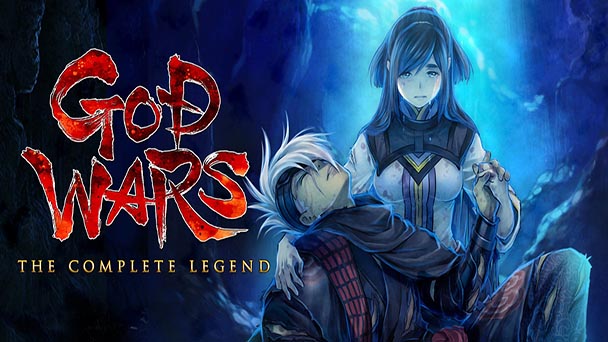 The Nineties were a glorious time for the strategy role-playing genre, with SEGA crafting the Shining Force series, while Quest Corporation earned critical acclaim with the Ogre Battle franchise. Later, key Tactics Ogre: Let Us Cling Together members Yasumi Matsuno, Hiroshi Minagawa, and Akihiko Yoshida would leave to join Square, going on to create the one of the most beloved SRPGs in existence, Final Fantasy Tactics.
With its distinctive isometric playfield, rich lore, elaborate job system, and play mechanics where unit direction and height influenced battle, the release of Final Fantasy Tactics garnered near-universal praise. Beyond a succession of iterative re-releases, ports, and a single sequel, the title would influence efforts like Jeanne d'Arc, La Pucelle: Tactics, and Nippon Ichi's Disgaea series. With the release of Kadokawa Games' God Wars: The Complete Legend for the Nintendo Switch, players are privy to an experience that feels inspired by the strategy role-playing pantheon. Pleasingly, this edition bundles the previously released DLC, making it the definitive version, especially if you covet physical media.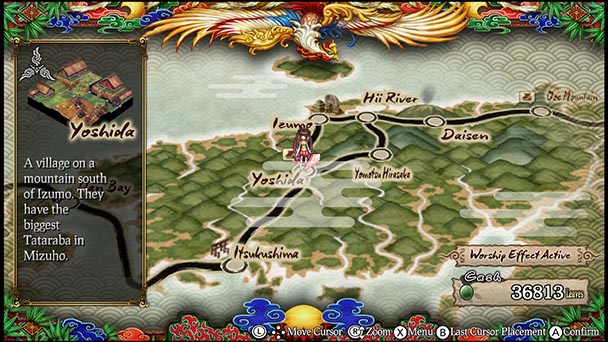 God War's narrative is rooted in the Kojiki, one of Japan's oldest mytho-historical documents that chronicles the origins of the islands as well as kami (elements of nature as well as spirits), two foundations of the Shinto religion. Set in Mizuho, a term for ancient Japan, the storyline tells of the region split in three nations: Fuji, Izumo, and Hyuga. The game begins in Fuji, a region that has enjoyed continued harmony. But an advancement in technology has spurred a growing indifference toward nature and a disregard of the ancestral spirits, seemingly instigating a procession of disasters, from floods, earthquakes, to volcanic eruptions.
To appease the kami, Tsukuyomi, the Queen of Fuji, sacrifices her daughter to a volcano. Fearing the offering may not be enough, she also sequesters her other daughter, Kaguya within a bamboo seal. Thirteen years later, an uprising releases Kaguya, who ventures into the world to discover her mother mysteriously missing, a tyrant in rule, and a myriad of questions over the Queen's intents and actions.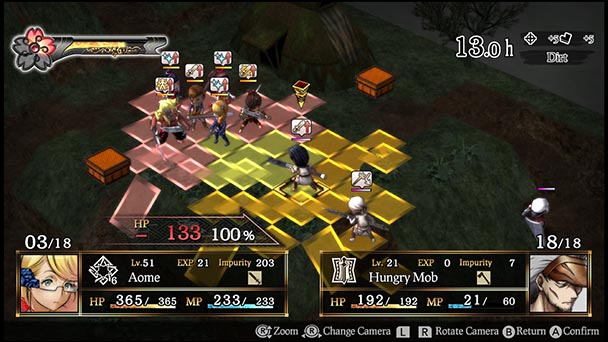 Like many great Eastern narratives, God Wars: Future Past benefits from a remarkably relevant allegory. Given the worrisome indifference toward the environmental issues, the game avoids feels entrenched in an esoteric context, instead feeling especially timely. Cleverly, the title shirks explicit moralizing and it's easy enough to focus on the game's eccentric cast, who includes a bear-like deity who can communicate telepathically with one of the leads and a klutzy, bunny-girl handmaiden who also happens to be a god. For those who watched Studio Ghibli's The Tale of Princess Kaguya, know that this is a different take on the ancient monogatari with only superficial similarities.
Customary for most strategy role-playing games, playtime is split between exposition and battle. The former offers both animated cinematics and dialog handled through character portraits. One of the issues with the previous PlayStation 4 and Vita releases of the game had a glaring oversight, with the opening cinematic lacking subtitles. Sadly, that wasn't fixed.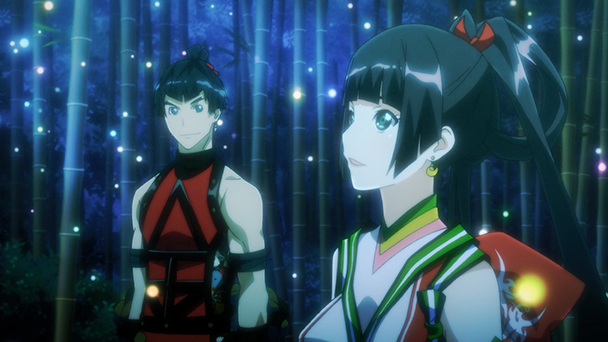 For those who aren't fluent in Nihongo, you'll have to play the first chapter in English before going into the menu system and changing languages for the remainder of the game. But save for this oversight, Future Past's storytelling is admirable, extending tension, intrigue, and a roster of likable leads. Moreover, the title routinely avoids the traditional SPRG pratfall of having long-winded conversations that don't advance the plot or reveal the inner thoughts of characters. Sure, there's some long-windedness in the use of titles, but you can tell that the localization teams wanted to preserve the honorifics.
Heading to the battlefield is handled just as adeptly, with God Wars offering a skillful blend of accessibility and intricacy. Like Final Fantasy Tactics, maps are rendered in an isometric perspective, with players able to rotate them freely to garner the best viewpoint. Combat is built upon a turn-based system, with order determined by each character's speed stat. Following convention, turns involve a combination of movement, actions, skill or item use. Pleasingly, Future Past doesn't toss of its intricacies at players right away, gradually integrating nuance with each successive skirmish. Veterans should be familiar with some of the systems, with elevation or the use of flanking having a distinct advantage.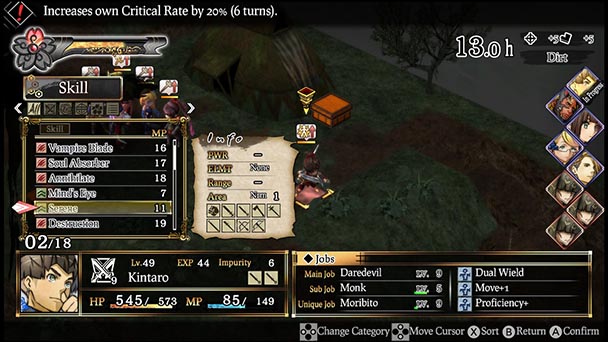 For those new to tactical role-playing games, God Wars even offers a trio of difficulty levels, with an easy mode adjusting variables to welcome newcomers. That said, there's still the occasional difficulty spike destined to stymie gamers. One stat-building side-mission seemed intent in imparting humility as it decimated party members. But often, God Wars allows for autonomy on the battlefield, with conflicts being able to be solved through multiple strategic methods.
Progressively, winning conditions become increasingly challenging and combat involves a growing number of characters. Soon, you'll be worrying about variables like impurity, which tracks each unit's kill count and healing quantity. Dominate the playfield with one character, and enemies will come gunning for them, which can be turned into a useful tactic as you lure opponents into ambushes. Undoubtedly, it's God Wars' skill and job systems that will engage gamers during the game's forty-hour playtime.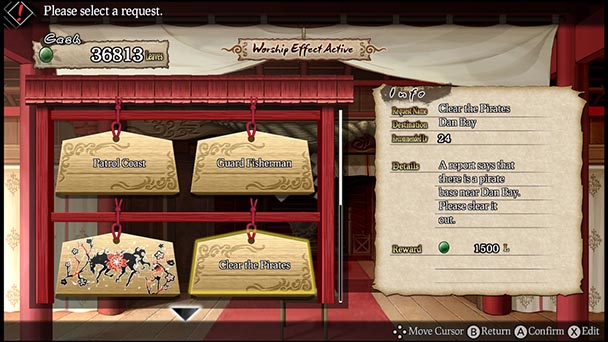 The former is quite comprehensive, with God Wars extending over 600 different abilities and even battle-shifting Secret Skills which are tied to an on-screen power gauge. While the sheer number of aptitudes can be unwieldy, you'll undoubtedly find favorites, like an assault that cleaves through a column of adjacent adversaries or a powerful area-of-effect blast that can weaken a tightly-placed troop. Some skills and passives are even instrumental in helping allies survive the devastating strike of an overwhelming boss.
Job systems involve a main class, and two sub-jobs. As you level-up, you'll gain access to additional vocations. Although the game does allow you to switch jobs, you'll forgo your developed ability set. While that might be disheartening to 'jack of all trades'-type players, it's reasonable that Kadokawa Games wants to discourage the approach. In execution, it's more fun to try to cultivate a synergistic team than just grind away, forming a group of superheroes. The downside is that you'll likely spend an excessive amount of time in the menus, fiddling around to min/max a team. But the amount of tweaking is only a minor disadvantage when viewed against the game's level of character customization.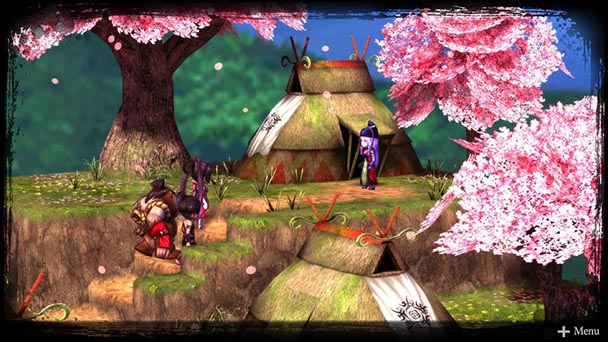 Once you make it to the frontlines, the actual encounters themselves are lengthy, with the occasional confrontation that exceeds a half-hour. While prolonged fights can feel intense, God Wars overstresses length, which might irk those seeking a swift showdown. On the upside, the game's graphical output is remarkable, with detailed environmental textures and sufficiently monstrous bosses. As with most SRPGs, animations are simple- refusing to slow down the speed of fights with lingering movements.
The PlayStation 4 and Vita versions received "The Legend of Yomi" as downloadable content, which spliced a rabbit-hole of playtime onto the main title. Beyond raising the level cap on 199 and supplying a healthy amount of new equipment, the supplemental provides a fifty-level deep dungeon with multiple endings. Although the narrative isn't as compelling as the storyline in the main game, it is probably appealing enough to incentivize hardcore players to revisit it multiple times.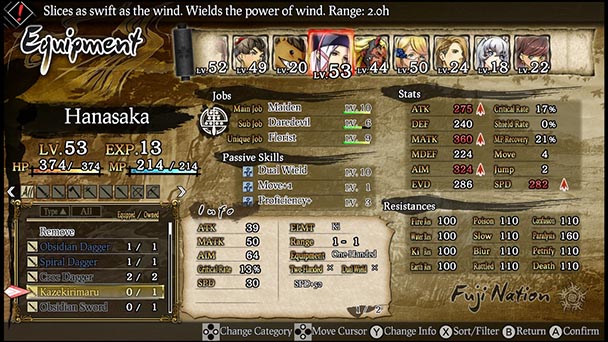 While God Wars: Future Past isn't free of blemish, the game's story, mechanics, and depth make it a worthwhile purchase for Switch owners. If you're the type of gamer who returns to Final Fantasy Tactics every few years, the title manages to feel both familiar and fresh. While it would naive to believe that God Wars would usher in another era of solid strategy role-playing games, there's enough virtue here to remind other developers of the genre's potential.
God Wars: The Complete Legend was played on the
Switch with review code provided by the publisher. 
Review Overview
Summary : God Wars: The Complete Legend is a satiating strategy role-playing throwback, advancing a plot and play mechanics that will likely gratify fans of the genre.