Eric's Overview: The information overload that is E3 has come once again. My head is still spinning from trying to keep up with everything and I'm not even in attendance. Let the patchwork of random E3 thoughts and observations commence! Starting off with Microsoft, going into their presser the game I wanted to hear more about was Forza Motorsport 5. Over the last two years or so, Forza has come to be my favorite Microsoft first-party franchise. Forza 5 had a solid showing. The graphics looked phenomenal, as to be expected, with the little touches like road grit sticking to the front of the car emphasizing the next-gen details beautifully. Returning from the abyss are Drivatars, A.I. that learns and recreates your driving style. This joins adaptive A.I. that, like Drivatars, learns your racing techniques and adjusts itself appropriately. There is a subtle catch to these systems; they're handled 'in the cloud'. Does that mean that offline gamers who choose to sign-in once every twenty-four hours and game offline the rest of the time will face sub-par opponents? While that's a question for another day, we have gotten answers on night driving (a Forza Horizon highlight), weather effects (a Project Gotham signature), and rally racing (again, Horizon highlight); the answer is 'no'. To call that a disappointment is an understatement. I can't even hazard a guess as to why Turn 10 refuses to implement those features into a main entry Forza game.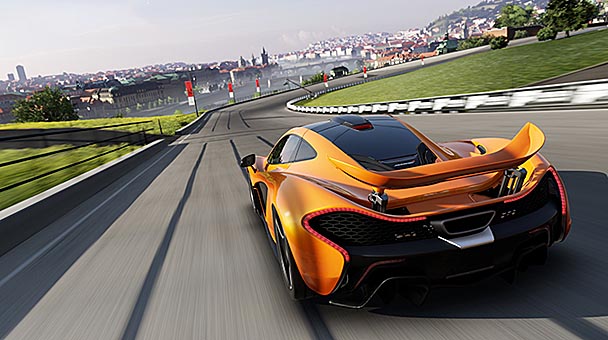 As for the rest of Microsoft's event, I really can't say that I was impressed by anything I saw. The $499 price of the Xbox One was what most expected it to be. No surprises there. The Xbox One-exclusive Dead Rising 3 left me as cold as its own zombies. Nick's uninspired voice actor was absolutely atrocious, painful even. The gameplay didn't pull my opinion out of a nosedive, either. It looked far too similar to what we've already been playing for years. That doesn't mean that DR3 will be bad, but I'm not chomping at the fleshy bit to play it. On the shooty-shooty front, Master Chief made his contractually-obligated E3 appearance in a dramatic, "who is that? Oh! It's him!" reveal trailer. I thought it was a crafty move by Microsoft to pan to the wide-angle crowd shot when the Halo logo came on-screen to cover up the fact that the number "5" (or any other title, for that matter) was absent from that trailer. Generic Halo announcement is generic. If nothing else, at least Microsoft was true to their word about E3 being all about the games.
Moving on to Sony, I'll start by smacking them on the nose with a wet newspaper (remember those?) for not dropping the Vita's price. It's killing an otherwise incredible piece of hardware and the lack of many big-name game announcements isn't helping, either. I don't think many people were convinced to pick one up after seeing Sony's presser. On the other side of the coin, I am happy that the PlayStation 3's price is staying where it is. My completely selfish reason for this being that I just bought a PS3 about a week ago. Forgive me, people who wanted a price drop!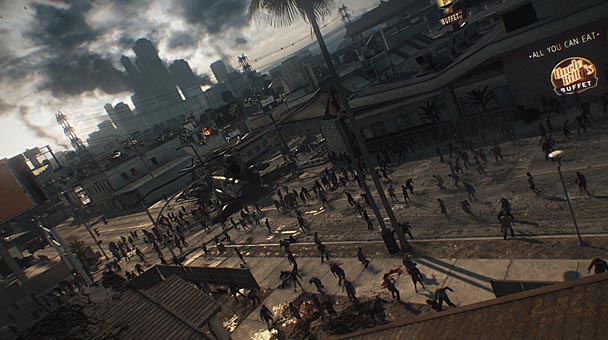 I've been watching E3 press conference live-streams for years and never have I seen a better example of how to "win E3″ than what Sony did with the PlayStation 4. Going into this year's event, there was a tremendous amount of anticipation for Sony's briefing. Were they really listening to the fan backlash over the Xbox One's DRM? Did they pay attention to the social media #PS4NoDRM campaigns? To thunderous applause, Sony confirmed that the message was received. The PlayStation 4 will not use the same Digital Rights Management setup as the Xbox One. You can buy and sell used games, loan games to friends, or 'keep them forever'. This announcement alone would have won E3 for them, but they weren't done with the megatons. PlayStation 4; $399. A full one hundred dollars cheaper than Microsoft's heavily-crucified black box. Upon hearing the pricegaton (I'm coining that term), I exclaimed, loudly, 'Now THAT is how you f***ing win!" And win Sony did. David "CheapyD" Abrams of CheapAssGamer.com recently tweeted that pre-orders for the PS4 through his site have outsold those for the Xbox One by 69%, a trend that is being echoed elsewhere, as well. If Microsoft doesn't do some serious back-pedaling on both, the price and the DRM of the Xbox One, this could end up being a disastrous generation for the company.
For Big N, I felt their pre-recorded Nintendo Direct was a train wreck. Not based on the games themselves, mind you, but the fact that their "event" was the only one of the top three where the company-supplied streams were literally unwatchable. I had to track down the European feed (which was slightly different from the American one) in order to see any of the show at all and even that was choppy. Why wasn't the video simply uploaded to YouTube? Thankfully, Nintendo had a strong line-up of games to counteract the technical difficulties. The debut of Donkey Kong Country: Tropical Freeze (tasty name!) on Wii U, while not shocking in the least, was a pleasant surprise. It's November release date is much sooner than I would have guessed. Rounding out Wii U's major 2013 titles are The Legend of Zelda: Wind Waker HD and Super Mario 3D World; a Zelda port and a 3D Mario title. If I didn't know any better, I'd say Nintendo is trying to duplicate the 3DS' momentum shift on the Wii U. Without a doubt, 2014 is looking to be the year Nintendo convinces the holdouts to give the Wii U a shot. Not to downplay Mario Kart 8 or Super Smash Bros. For Wii U (that's the official title…not joking), but I'll specifically name-drop Bayonetta 2 here. Any fears about Nintendo influencing the direction of the game disappeared the minute the camera focused between Bayonetta legs. When the action heated up, it was as clear as day that the queen of action games is finally back. The game looked phenomenal in more ways than one. After seeing it in motion, I'm completely sold. I want it and I'll buy a Wii U to play it.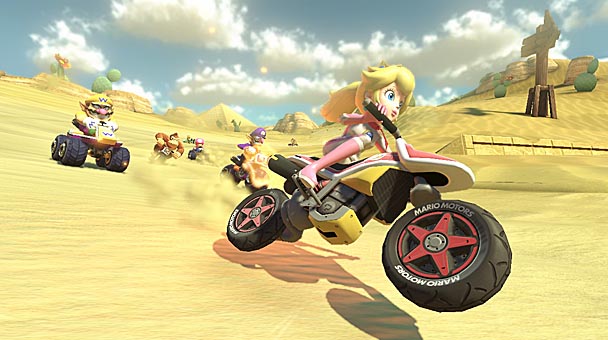 In closing, I feel the order of victory goes Sony in first, Nintendo in second, and Microsoft dead last. Sony grabs gold for hitting back-to-back grand slams in the same game. If they can manage to keep the momentum rolling through the end of the year, they've got this console war in the bag. Nintendo gets my silver medal based solely on the games. Of all three companies, I liked their roster of titles the best. Nintendo (or should I say Bayonetta 2?) put the Wii U on my radar. Bronze heads Microsoft's way for failing to sell me on the Xbox One. As it stands now, my relationship with the Xbox brand will not continue into the next generation. What an interesting and entertaining E3 this has been!