Sean's Overview: We ended E3 on a high note. I got to play a lot of games that I had been looking forward to all week, but still managed to fit in some unknowns that I might have overlooked.
We started the day looking at the new iterations of the MOGA mobile game controller. I've always liked the idea of the MOGA, even though I have also been an advocate of the GameKlip/DualShock combo. The new generation of MOGAs looks pretty solid, and I'm looking forward to ditching the AAA batteries in my MOGA pocket for a new unit that can also double as a backup battery for my phone.
Next we went to Atlus, where Robert and I had a difference of opinion on pretty much everything we saw. We played through a demo of the highly controversial Vanillaware title, Dragon's Crown which left Rob wanting more, and me wanting a break. The arcade-style beat-em-up is beautifully rendered (taste in art notwithstanding) and there are a lot of great ideas, from the character building and treasure mechanics to the variety of unique moves and strategies that each character brings to the game. Unfortunately, the characters take up a lot of screen real estate, and with 4 players, it gets a little claustrophobic, and becomes hard to tell what you're doing. Luckily, I was able to make it through both the PS3 and Vita demos by mashing the O button and holding right. It might be something I just need to get used to. If I pick it up, I'll definitely lean toward the Vita, as the item collection mechanic feels a lot more natural with the touchscreen rather than the bizarre cursor system that the console version relies on.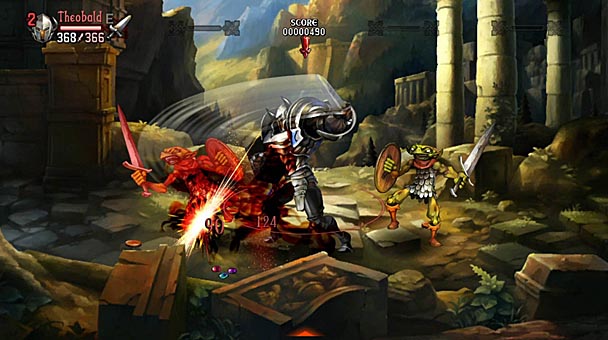 We also saw Shin Megami Tensai 4, and before you say "oh that NOLA, and his hatred of JRPGs," I want you to know that I really enjoyed what I played. No caveat, it was just entertaining. The setting seemed really cool and the combat system was fun – very reminiscent of Phantasy Star. Between this and Sonic: The Lost World, I might have to pick up a 3DSXL in the near future.
We also saw a pair of NIS games. I'll assume that Rob will have something to say about them, because all I remember was the candy bowl in front of the demo system.
After my harrowing encounter with OtakuRobert, I made my way to SEGA to check out Sonic: The Lost World. As a certified Genesis kid, I always try to stop by the SEGA booth, I always play the Sonic game, and I always say "that's nice. I might get that at some point, I guess," and I only follow though 50% of the time. This year was different: Sonic: The Lost World on WiiU was fantastic! I can't think of a time since Sonic 3 that I was really wowed by a Sonic game, but The Lost World made me feel like I was 10 years old again. Lost World is loosely based on the concept for the ill-fated Sonic Xtreme, which was never formally released for the Sega Saturn. Lost World takes the warped landscape idea, takes away the fisheye lens, and updates it with lessons learned from Mario Galaxy to make what could be the first great 3D Sonic game. I couldn't rouse my cynicism, even for a moment. It was colorful, engaging, challenging, and I loved every minute of it. Nintendo managing to tie up exclusivity on Lost World might be the most devious move ever.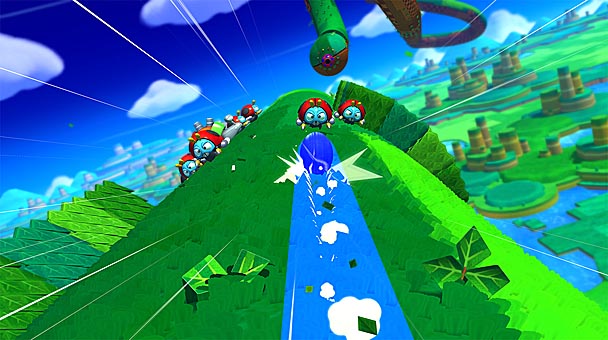 Coming down from my Sonic high, I made a trip to Konomi. Our host took us around the booth to look at their mobile wares, the Metal Gear Legacy Collection and PES2014, but all of that was just filler until we got to the main event: Castlevania: Lords of Shadow 2. Podcast fans might not know this, since I started playing around the same time that I fell off the face of the earth, but I loved the first Lords of Shadow, and the sequel was my most anticipated game of the show. I waited in line behind internet-sensation, Smooth McGroove, and finally got my hands on a controller. The demo was tutorial-heavy, but once I got to hold the reins, I was right back where I left off months ago. The new game adds a lot of depth to combat by replacing the light and dark magic with a light sword and dark claw weapons, each with their own sets of combos. It feels much more dynamic than simply changing the color of the whip. The demo ends with one of the colossal battles that defined the first game – battling on top of a giant mech as it tries to destroy Dracula's Castle. If you haven't tried the first one, you really should. It's a blast.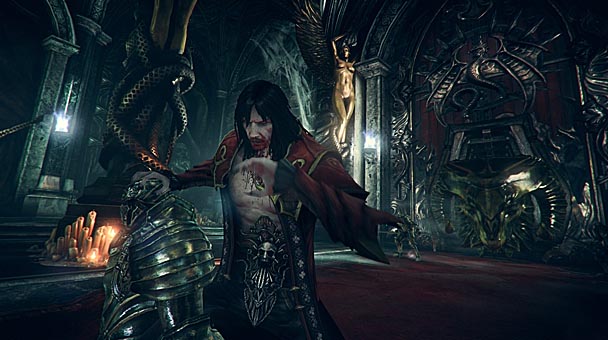 After Konomi, I broke away from the group and muscled my way into SCEE's meeting room. I had seen exhibitors wearing Invizimals shirts throughout the conference, but couldn't find it on the show floor. I knew it was developed by a European studio, so I had to get behind closed-doors to check it out (readers may remember that I was pretty smitten with the first game). The next generation of Invizimals is coming to Vita and PS3 in the form of 2 separate storylines with a shared collection of Invizimals. The PS3 version plays as a 3D platforming adventure with a story reminiscent of Ben10. The main character is sucked into the world of the Invizimals, and finds that he has the power to transform into a variety of different creatures. You're presented with a variety of puzzles that you will have to solve by utilizing the different powers of each creature. The Vita game covers more of the meta-story surrounding the events of the PS3 game. Since the Vita has a lot more tech in it than the PSP had, the augmented reality gameplay has improved a lot. Most features no longer require the AR card, but rather use data from the camera to construct an environment for the Invizimals to inhabit. It's easy to imagine playing the game in a tall building, and being able to see your monsters duke it out as giants. When the game launches, there will be a set of cards and possibly even a TV show that will interact with the game, allowing you to fill out your library of creatures by completing a collection of cards. I only wish I had a child, so I would have a more legitimate reason to be excited…maybe I'll just use Jeremy's kids as an excuse.
I left SCEE just in time to play EVR on the Oculus Rift with Sage. EVR is a space combat sim, in the vain of TIE Fighter which  takes place in the EVE Online universe. The demo allows two teams of three to duke it out in space while wearing VR headsets. It uses the Oculus Rift headset as a targeting system, so you have to point your nose at what you are trying to lock onto. I don't want to toot our horns, but Sage and I were pretty good at it. We stuck around for a long time to have drinks with the guys from CCP and watched dozens of people strap in to try a dogfight. We only saw a handful of players come out with comparable scores – most ended with negative scores. I guess if we start training now, we might have a lucrative future in the MLG if X-Wing ever makes a comeback.
After that, the LACC closed down. I was tipsy, so we grabbed some coffee and I hopped on a train to get home. Hopefully next year, the LACC will still be there, and we can go at it again!