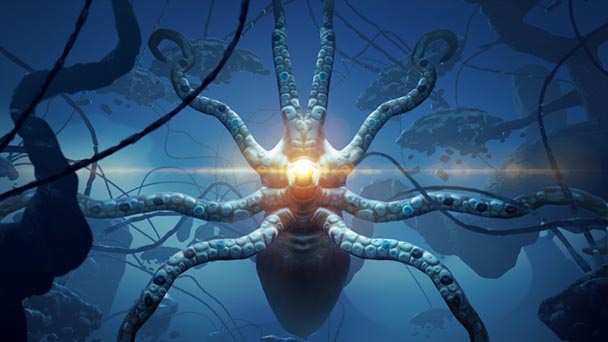 Oh, dear Tech-Gamers, it has been some time, eh? Since I've been gone, I've acquired a BrideGear, a Pride(-and-Joy)Gear, and a whole lot of happiness. I missed you all, however, so TG is back on T-G with VR! That's right, this Virtual Boy has a Vive and will be bringing you some VR game goodness! Let's punch deck!
As you may know, by day, I'm a mild-mannered Game Producer for Degica Games, so I take shmups very seriously. Yes, I take such a silly word seriously. When one of the DEXED trailers referenced Ikaruga, one of my all time favorite shmups, I took notice.
Surprisingly, DEXED, is a first-person rail-shooter from Ninja Theory of Heavenly Sword, Enslaved, and DmC fame. It supports Vive and Rift, uses motion controls, and is a seated or standing experience. It was created during a game jam by 8 people and is commendable as a departure from their comfort zone.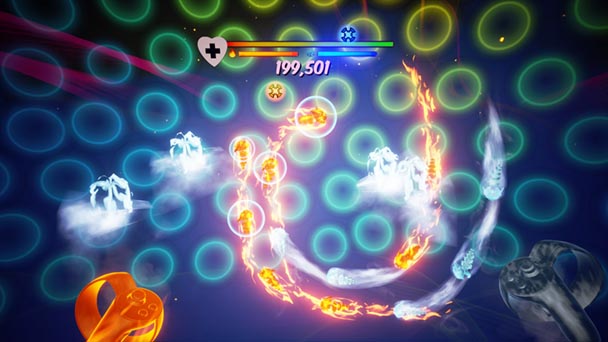 DEXED was also inspired by the fantastic Panzer Dragoon series and has a similar flow. After choosing a stage and difficulty, you slowly progress along a fixed path. (I didn't experience motion sickness, but if you're susceptible, beware of this kind of movement!) Fire and ice-type enemies appear in formations, requiring you to use both motion controllers (one set to fire, the other ice) to attack them with the opposite elements. You can lock on multiple shots at once and unleash them with a satisfying blast resulting in your score combo increasing. You'll be punished for shooting an ice enemy with your ice projectile (or fire with fire), and you'll have to trigger your shield to block the resulting incoming shot. You can see some Ikaruga-like mechanics there. It all works pretty well, but there's not nearly the variety or quality of the two cited games it's inspired by, not to mention Ninja Theory's other games.
While enjoyable, the game (on normal) was a little too mellow for my liking. I felt like my projectiles flew so slowly that it was hard to enjoy the results before I had to refocus on new targets. Hard mode did overwhelm me, but not in a way that made it more fun. The soundtrack was almost non-existent, but it did seem to be coordinated with my actions. The stages you drift through are nicely rendered and pretty but a little sparse, and there's almost no additions of new mechanics or enemies as you progress.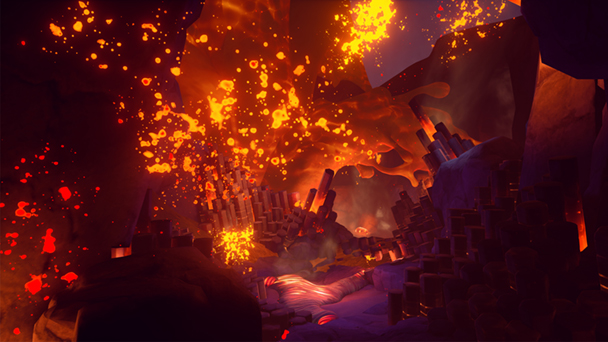 DEXED shows it's game jam roots by being a little barebones. It took me a moment to figure out how to get into the first stage as the stage select environment was somewhat undefined. Even the game's font seems almost like a placeholder that was just left in. The main game is also very short. I was able to play through all the game's stages on normal difficulty in about 25 minutes, but there are online leaderboards to help with replayability. This time was not counting my attempts at the Arcade mode, however, and there's a Zen mode as well.
The high point of DEXED is its Arcade mode, where you can experience a tighter experience with a few mechanics, enemies, and abilities not found in the main game. If you find yourself enjoying DEXED, I'd image you will likely spend most of your time in this mode.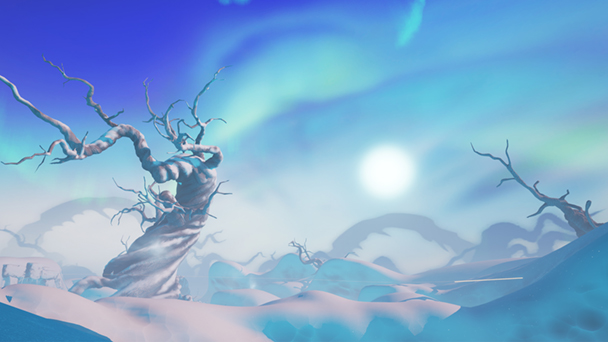 At it's current price point of $9.99 USD, DEXED is a reasonable investment if you enjoy rail shooters, but it won't wow you. It's worth mentioning that the game is pretty non-violent for a shooter, and young children should be able to handle it pretty well. That final boss octopus is pretty creepy though.
DEXED was  played on the PC with review code provided by the publisher.
DEXED

Platform: PC with Oculus Rift or HTC Vive


Developer:

 Ninja Theory

Publisher:

 Ninja Theory

Release date:

 September 26th, 2016

Price:

 $9.99 via

Steam

DEXED review
Review Overview
Gameplay - 75%
Controls - 75%
Aesthetics - 80%
Content - 75%
Accessibility - 80%
77
77%
GOOD
Summary : A laid-back, but immersive and attractive-looking VR experience, DEXED demonstrates a subset of the DmC crew chasing after a Panzer Dragoon-like on-rails experience.

User Rating:

4.17 ( 3 votes)