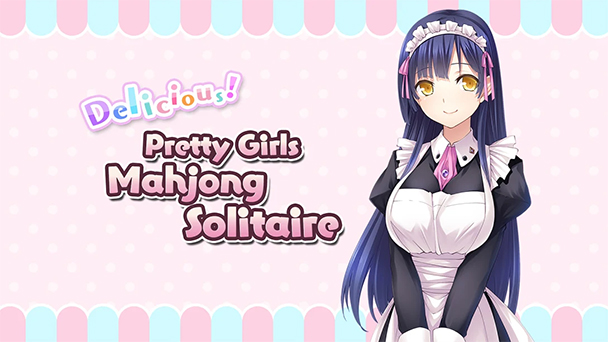 Boosting cheesecake portraits and some delectable tile-matching, Delicious! Pretty Girls Mahjong Solitaire is rather delectable, especially for its six-dollar price.
Delicious! Pretty Girls Mahjong Solitaire
Platform:
Switch, PlayStation 4, previously on PC
Developer:
Zoo, eastasiasoft

Publisher:
eastasiasoft
Release date:
April 8th, 2021
Price:
$5.99 via
Nintendo eShop
and other digital marketplaces. $4.79 launch price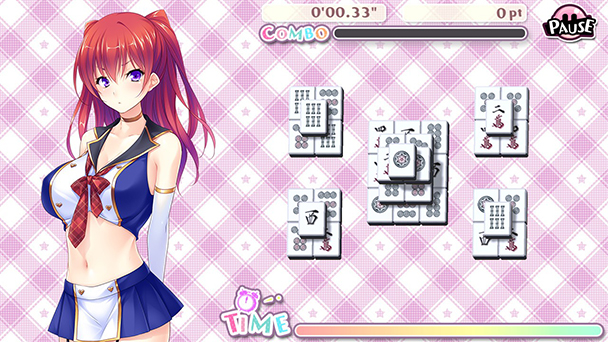 Thanks to the efforts of EastAsiaSoft, Zoo's PC titles seem to be making their way onto Switch. Last month, Bishoujo Battle Cyber Panic! arrived on Nintendo's hybrid, bringing Qix-style gameplay with pin-up style art. With the release of Delicious! Pretty Girls Mahjong Solitaire, the publisher delivers another proficient port. Like Bishoujo Battle, there's not a whole lot of depth. Mostly, motivation is stirred by unlocking portraits of the next sexy maiden, which should sit well for aficionados of manga-style art.
Seven girls are unlocked from the start, each attractively drawn from eroge artist Ayase Hazuki. When the original PC game was released five years ago, Western players might not have been familiar with the characters. But Toronto-based Cherry Kiss Games has been publishing much of the source material if you're eager to learn more about the predominantly buxom roster. Beyond representing some of the basic fetishes (pop singer, maid, office lady, tsundere, etc), and offering a bit of voice work for successful tile matches, you'll have to find out more about the girls on your own, as there's no biographical data in the title.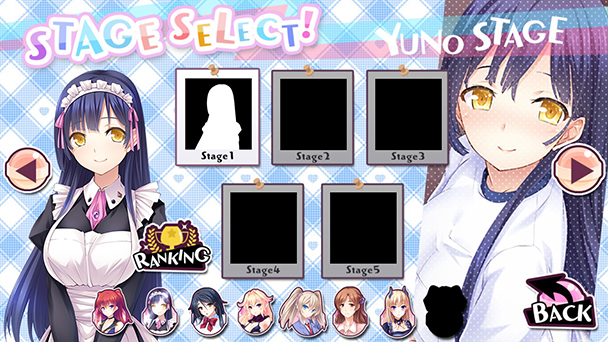 Thinking Several Moves Ahead
If you grew up playing Brodie Lockard's Shanghai or the multitude of clones that illuminated computer and console screen during the eighties and nineties, you might be familiar with solitaire mahjong, which is quite different from the four-player pastime. Here, a solitary player removes two match tiles at a time from a stacked arrangement. Tiles can only be moved if they are 'open', moved to the left or right without disturbing neighboring tiles. Play continues until wither all tiles are removed or the board is locked with no legal moves.
Success often hinges on a forward-thinking removal of tiles; like chess, you'll want to think ahead. In the early era of solitaire mahjong, low resolutions made this difficult with some buried tiles divulging little more than a few corpulent pixels. On Switch, that issue has been alleviated, and there's much less ambiguity with semi-covered tiles.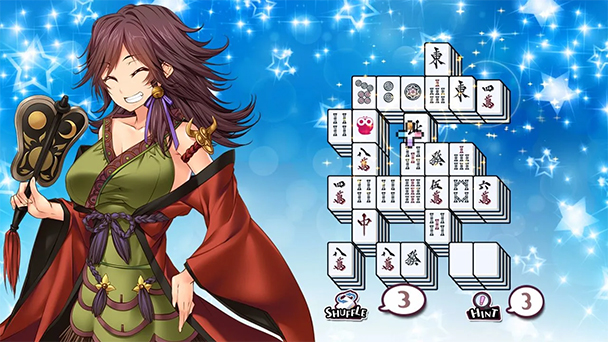 Dwindling Clocks and Alluring Art Make Hearts Go Doki Doki
That's a good thing, because on the standard default setting, Pretty Girls Mahjong Solitaire is a timed game. There's a gauge at the bottom of the screen that gradually counts down. Fortunately, every match returns a few seconds. While using the Joy Cons to move the on-screen cursor around is serviceable, players seeking a spot on the game's online leaderboards will want to use a capacitive stylus, like the one that came with Super Mario Maker 2. Alternatively, you can play with fingertips, but expect a few errant tile selections. Fortunately, there's no penalty.
Players who feel that time limits impair play can opt for Pretty Girls' Easy mode. Not only is the gauge removed but there are options to show matching pairs and reshuffle the board. While this will help as you make your way through the game's escalating level of difficulty, it also removes some of the tension from the final round. Here, each title removal gradually reveals a new outfit for the model, offering a visual treat for players.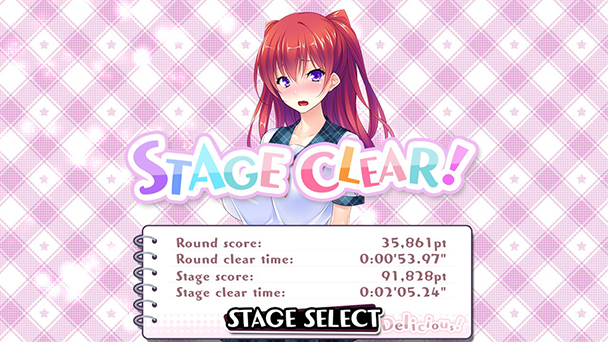 Conclusion
Delicious! Pretty Girls offers a respectable interpretation of solitaire mahjong, offering all the fundamentals you'd expect. What sets this game apart from its peers are the winning aesthetics. Not only does each model bring beauty to each board, but the game's upbeat soundtrack is a rousing success offering several catchy songs. Factor in the game's affordable price, and Delicious lives up to its moniker.
Delicious! Pretty Girls Mahjong Solitaire was played
on Switch with review code provided by the publisher. 
Review Overview
Summary : Delicious! Pretty Girls Mahjong Solitaire offers delectable tile-matching enjoyment for the price of a combo meal. Hopefully, EastAsiaSoft will port more of these attractive, affordable titles to Switch. We'd love to see Koi-Koi/Hanafuda.