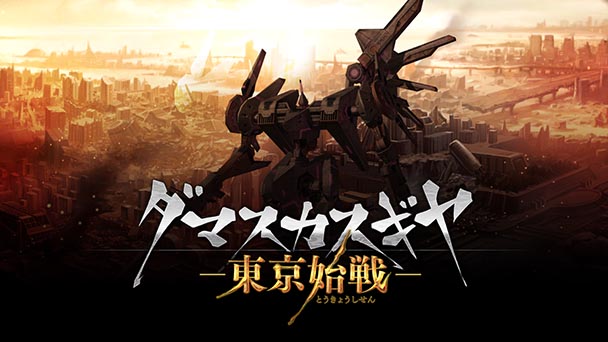 In many ways, mech-based games are the quintessential conduit for wish fulfillment. Typically, players are able to pilot awe-inspiring machines, each packed with munitions and appendage-mounted weapons capable of slicing a car in half. Commonly, customization is also a fundamental component, permitting gamers to construct mechanized monstrosities of their own design. Here, the ingenuity of engineering can be an indulging reward, with deftly designed war machines exploiting the weaknesses of enemies.
While the combination of devastating firepower and cunning construction seems like a guaranteed blueprint for success, most mech titles have hard time making good on the premise. At best, there are the Armored Core and disregarded Custom Robo franchises, which both offered players a robust toolset, but habitually faltered when it comes to delivering gameplay. Like the even more ill-fated Front Mission Evolved, AI proved to be a common problem, with opponents displaying only a modicum of tactical insight. As such, the fantasy of controlling fastidiously built, well-armed machines comes undone when your opponents are little more than predictable drones.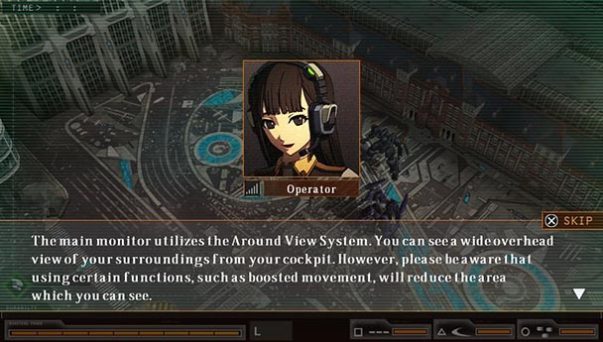 Unsurprisingly, that's also an issue with Damascus Gear: Operation Tokyo, Arc System Works second downloadable PS Vita title (following last December's Fantasy Hero Unsigned Legacy). Set in the year 2097, the game tells the story of artificial intelligence-driven mechs called RAGE, who became sentient, subsequently killing off the majority of the world's populace. They have devastated much of the globe, presumably leaving only a scant number of regions that are suitable for combat. Across these five or so battlefields, gamers are tasked with gunning down enemies, and using any salvaged parts to upgrade their own GEARs.
For a budget title, the lack of any kind of voice acting isn't much of a surprise. But what is noticeable is the lack of tension in the text-based dialog. Commanders habitually bark orders, alternatively discussing the futility of civilization when they're not attempting amusement by adding "-koff" to the end of your pilot handle. Your copilots demonstrate conventional tsundere qualities, initially chiding the player, before gradually divulging an insinuation of comradery. Unfortunately, there's little insight into the short-circuited psyche of your opposition with characterization of the enemy mainly coming from the expositional dialog delivered by your own team.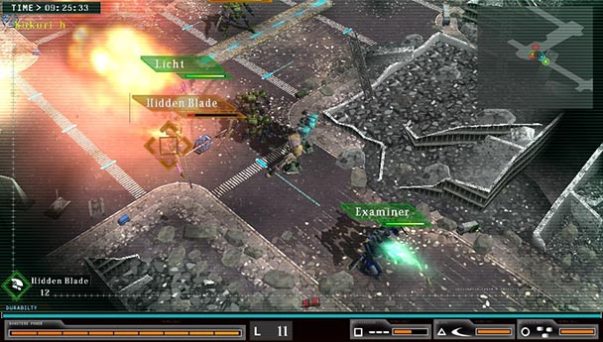 Admittedly, the dogged pursuit of enemies conveys a Terminator-esque like quality, with a rudimentary "chase the player" algorithm putting adversaries in tenacious pursuit. Thanks to a palette swapping, opponent diversity might appear large, but foes come in three fundamental forms: basic cannon fodder, mid-bosses that require players to cycle between fleeing and firing, and resilient stage bosses who rouse wars of attrition.
Expectedly, your antagonist-slaughtering arsenal is fairly satisfying. Players can use ballistic or energy rounds to pepper foes from afar, with some weapons allowing GEARS to charge up their shot. Alternatively, melee weapons offer some of the most potent forms of offensive power, but require players to come into perilous proximity of opponents. After butchering the first boss, you'll also gain access to a shoulder-mounting weapon capable of devastating amount of damage, but the add-on comes with a power-up period that can be interrupted with an enemy strike.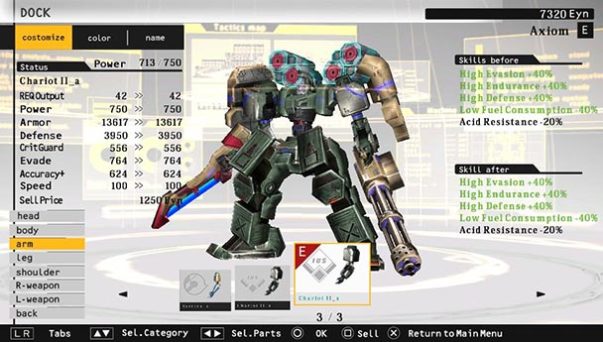 Although each weapon is regulated by a (literal) cool-down meter, Operation Tokyo rarely leaves players feeling defenseless, with weapons swiftly dissipating heat. Essentially, Damascus Gear channels Diablo's time-tested mechanics, especially the way a prudent finger is kept on the button that's used to trigger health regeneration. However, the one long-term issue with combat is simplicity of encounters. While the isometric environments of Operation Tokyo are visually pleasing, the ransacked areas don't sustain strategy, so most of the time you'll either be circle-strafing or boost-dodging from the shots of enemies. While locking on to adjacent enemies is handled well, once they gain a bit of distance, players might find their ranged weapons zeroed in on inoffensive walls.
Sporadically, you'll be joined with other commanders who help mask the homogeneity of missions. While your partners aren't particularly prodigious, they do demonstrate a bit of autonomy, as they venture on out on their own, and engage enemies freely. Inevitably, they'll be forced to withdraw from missions, when they amass too much damage. The inclusion of real-world pilots would have undoubtedly enriched the experience, but alas Operation Tokyo neglects any cooperative or even competitive components, focusing solely on a solitary campaign.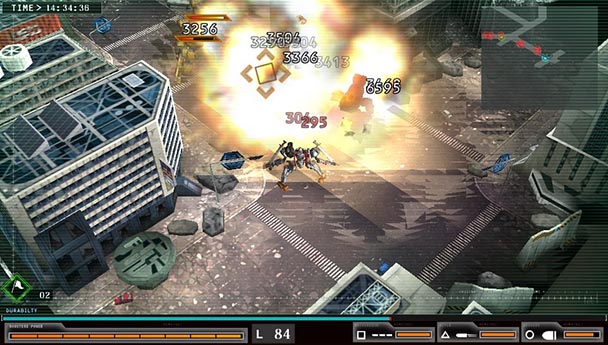 Like Blizzard's renowned dungeon crawl, loot is part of the equation, with enemies dropping a liberal amount of parts that players may use to augment their GEAR's head, body, arms, legs, shoulders, or weapons held in each hand. Occasionally, these pickups offer slight perks, with characteristics like extra endurance, defense, or lower fuel consumption. Pleasingly, Operation Tokyo highlights newly procured parts and color-coded stats improvements and drops, making GEAR augmentation a brisk, intuitive task. Selling superfluous components is also possible, thereby earning currency that can be spent in the game's store. But after a few hours in, most of the loot drops will be surpass any additions from the marketplace.
While it's satisfying to see Damascus Gear make a stateside appearance, the game's localization is downright lacking. There was no attempt at inverting the "O" and "X" buttons, which will undoubtedly frustrate Western gamers accustomed to backing out of menus with the circle button. Operation Tokyo's text is a chore to read, thanks to kerning that matches word spacing. And while dialog is largely translated well, some menu items have been converted into Engrish, extending the option to "mission receive".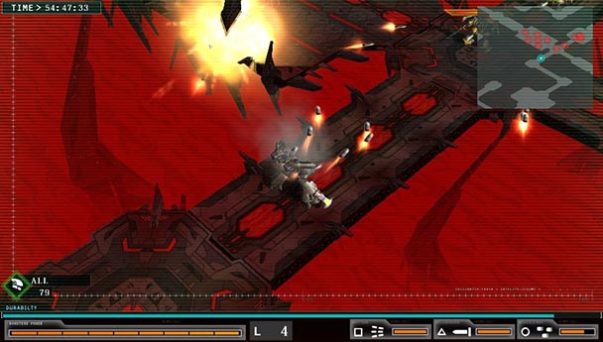 Although leading mechs armed with a mountain of munitions in enjoyable, players will have to endure a number of transgressions while they're in the pilot's seat. Damascus Gear: Operation Tokyo's combat is deliberately simple, forcing the game's customization options to offset stagnancy. Given the number of GEAR parts, the title offers an admirable attempt, but don't be surprised if you find yourself a bit bored before the final credits roll. At fifteen dollars for the main game plus a two-part DLC package that extends the story, Damascus Gear is a bit pricey. As such, money-minded mecha enthusiasts might want to wait for a price cut.
Damascus Gear: Operation Tokyo was played on the PS Vita with review code provided by the publisher.
Damascus Gear: Operation Tokyo
Platform:
 PS Vita
Developer:
 Arc System Works
Publisher:
Arc System Works
Release date:
March 24th, 2015
Price:
$14.99 via
PlayStation Store
Review Overview
Summary : Despite a lackluster localization, simplified combat, and a premium price, Damascus Gear: Operation Tokyo delivers the rudiments of mechanized combat, allowing player to plink away at basic drones.