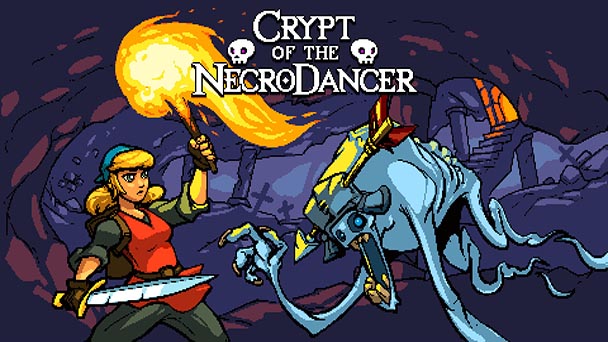 The blending of game genres can be a particularly divisive practice. For every engaging effort like Metal Gear: AC!D or Portal, there are duds like Fret Nice– the 2009 title which inelegantly allowed gamers to experience platforming controlled via Guitar Hero and Rock Band controllers. But in the hands of an ambitious and adept development team, synergy can emerge, potentially introducing innovation to both types of source material.
The recent release of Crypt of the Necrodancer demonstrates a best-case scenario for genre blending. Mixing the vigilant exploration and item management of the Rogue-like with the metronomic pace of a rhythm game, the amalgam might sound ungainly in description. Yet in execution, Necrodancer excels, skillfully adding a plethora of variation to keep players skulking and shuffling through its charmingly rendered dungeons.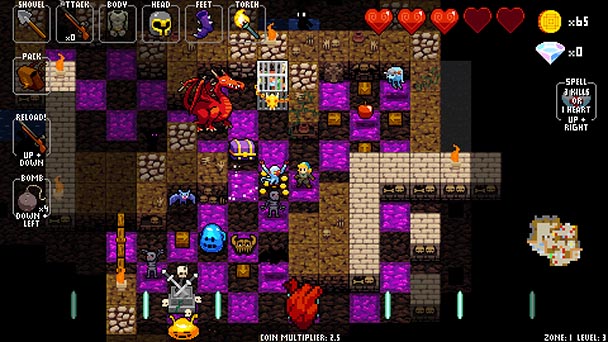 At first, players assume the role of Cadence, an intrepid young adventurer who begins to dig near an underground cavern that she's been warned to avoid. Fatefully, cautions prove correct, with the heroine killed before she's able to even excavate a proper entryway. Fortuitously, her body is discovered by the game's eponymous character, and brought back to life- her heart keeping time to a musical beat. Wisely, Necrodancer doesn't overburden players with a front-loaded narrative, filling in additional pieces of the plotline as players delve deeper into the dungeon's rhythmic-infused recesses.
Quickly, players will discover that moving against the soundtrack's tempo is a surefire path to push Cadence back into purgatory. A pulsating heart and converging lines provide a visual cue of each song's meter, obliging players to move on every beat of the game's consistently effervescent soundtrack. While controller support is offered, many might enjoy the precision of playing with a keyboard. Mercifully, missing a measure doesn't automatically subtract heath from Cadence's on-screen heart meter. Instead, you miss an opportunity to move, which can be detrimental around encroaching enemies.  Breaking rhythm also disrupts your coin multiplayer, reducing your end of zone payout, and thereby deferring Cadence's purchases of meta-game power-ups. Essentially, you'll want to obey Newton's first law, and keep your body in motion.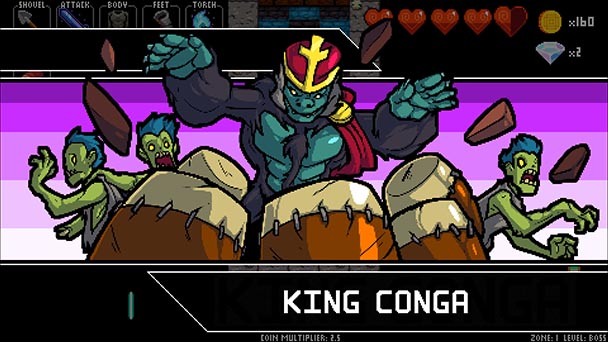 Movement also plays a crucial role in combat. When characters enter a contested space, the upper hand in given to the interloper. In practice, that means you'll want to jump onto enemy squares while not allowing them to do the same to you- all while not breaking rhythm. Pleasingly, you'll find items that allow you to attack foes from a distance, whether its broadswords that can attack adjacent squares or crossbows that can strike from four spaces away. Naturally, formidable weapons comes with drawbacks, with the aforementioned bow needed a reload- accomplished, of course, while staying on beat.
Like any game with DNA from the Rogue family, you'll learn to succeed through trial and error. While much of Necrodancer is randomized, with each game's succession of zones procedurally generated for players, there are elements that remain constant. Beside the mechanics of weapon usage, enemies follow predictable patterns, moving for example on every second beat along a foreseeable path.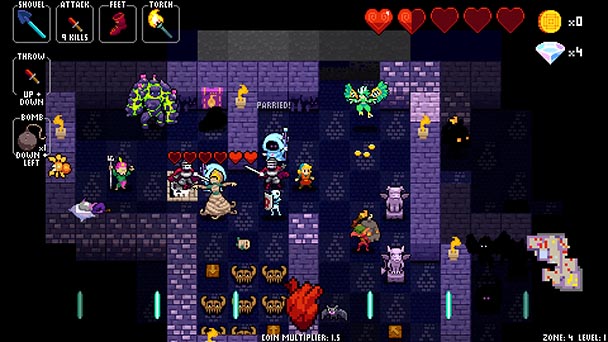 Adeptly, the title strives to keep its gameplay fresh. Each new level is fueled by a new song, which alters the tempo of play. Additionally, random environmental elements force players to be vigilant, whether taking shelter behind a box or stepping on a trigger that alters the speed of the soundtrack. Picking up keys on your journey offers a way to unlock additional characters that radically changes the way Crypt of the Necrodancer is played. From Eli, a character who using explosives instead of the conventional arsenal to make his way through the dungeon to Dove, a pacifist who doesn't kill creatures- instead using a flower to confuse and slip past them. Agreeably, the Bard effectively removes the rhythm component from the game, converting Crypt into more of a traditional turn-based title. As such, those who struggle with keeping a beat will appreciate his inclusion.
Beyond three different soundtracks to complement crypt creeping, there's also the possibility of playing using your own MP3s, bringing a wealth of wonderfully incongruent possibilities to players (I can attest that Necrodancer begs to be played with J-Pop goddesses Especia). Tinkers can take on two exciting undertakings, using the level editor to create their own stages or even create a mod, as support for user created content is built right into the main menu. Additionally, there are options for local cooperative play, a daily challenge, a boss rush, and the ultimate variation: being able to play Necrodancer with a DDR pad. Compassionately, the developers dial down the difficulty for this mode, which will undoubtedly decrease the number of perplexed emergency room technicians.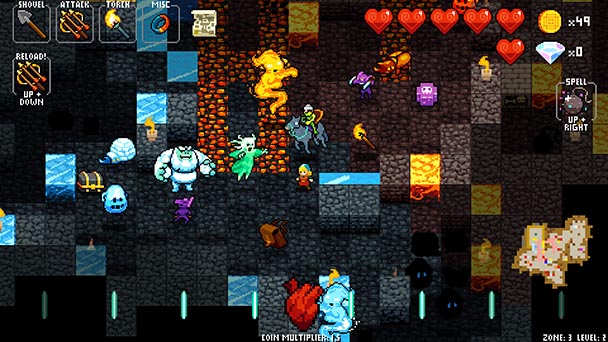 Although Crypt of the Necrodancer's unconventional mix of Rogue-like and rhythm game sound off-putting, the combination of genre works surprisingly well, giving a fresh take on traditional dungeon exploration. Additionally, developer Brace Yourself Games has piled a plethora of play modes and variations into the title, ensuring that you'll be Crypt creeping for weeks to come.
Crypt of the Necrodancer was played on the PC with review code provided by the publisher.
Crypt of the Necrodancer
Platform:
 PC
Developer:
 Brace Yourself games
Publisher:
Brace Yourself Games, Klei Entertainment
Release date:
April 23rd, 2015
Price: $11.24 until 4/30, (regular price $14.99), available via
Steam
Review Overview
Summary : Crypt of the Necrodancer's blend of skulking and shuffling works surprisingly well, offering a Rogue-like that requires a keen sense of rhythm.