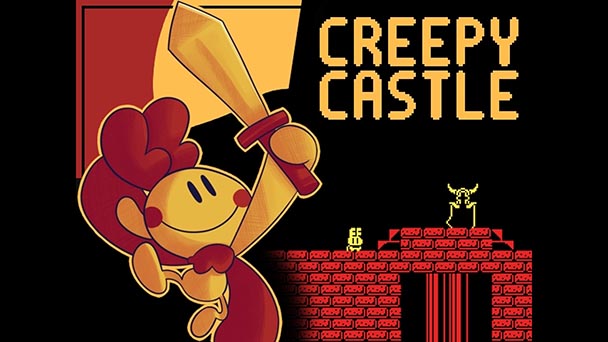 While older consoles regularly receive commemoration, eight-bit computers don't always get the recognition they deserve. Owning a Commodore or Atari personal computer during the Eighties permitted owners to peek into the future- revealing several qualities of our contemporary industry. From a wealth of reasonably-priced, independently-produced software, to an outlet for publishing the works of amateur coders (known as the Atari Program Exchange) the seed of many business strategies was born. Beyond forward-thinking practices, the era was also marked by eruptions of riotous creativity, unhampered by rudimentary, sprite-based graphic technology.
In many ways, the recent release of Creepy Castle is a throwback to that halcyon era. Following a transitory hiatus to download the 177-megabyte game from Steam, players are ushered into an experience that thoroughly recreates the feeling of gaming on a 6502 microprocessor. With brightly-hued, pixelated character spites and a searing soundtrack that could likely fool a retro aficionado into thinking it was emanating from the Commodore's beloved SID sound-chip, Creepy Castle channels the aesthetic and ingenuity of the golden age.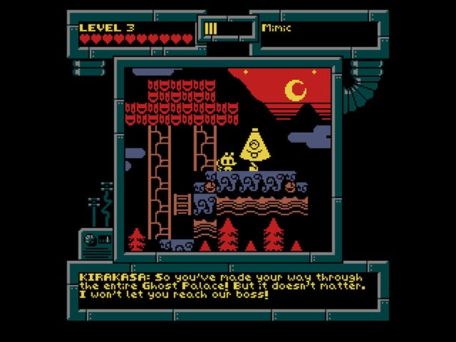 In keeping with form, a few sentences articulate the impetus, allowing players to immediately jump into the action. Selecting one of the eight available scenarios, initially gamers are introduced to Moth, a protagonist who is nothing like his namesake from the insect world. Seemingly Indifferent to illumination and handy with a giant sword, he also doesn't fly or even jump. Instead, Moth's navigational arsenal is limited to moving left and right, climbing ladders, and surviving a fall that would unequivocally mangle Mario.
Moving through the game's first story involves gathering items across a maze-like environment. With the assistance of a deliberately ambiguous map on Creepy Castle's pause screen, players will scour the environment for keys that can open locked doors, or even a bit of health-replenishing food. Naturally, conflict is prevalent on the path to advancement, with enemies stationed throughout the stage.
Advance next to a foe and you can use the action button to lash out, reducing lesser opponents into a stack of bouncing stars, often in a single hit. But not all adversaries are as apathetic, with some confrontations kicking off a simple mini-game. In some cases, both combatants wait for a prompt, and the first one to press a button emerges victorious. Another showdown involves rapidly tapping two directional keys or flicking the analog stick back and forth, while another is the equivalent of a late-Eighties quick-time event. Boss battles utilize a assembly of Creepy Castle's tiny tests, and can whittle away the hit points of players not ready for the rapid-fire procession of challenges.
Even if you have the reflexes to rebut opponents, Creepy Castle has a dogged level of difficulty that's straight out of yesteryear. Beyond enemies, there are a myriad of environmental dangers waiting to inflict injury and restorative nourishments can be hard to come by. Fortunately, developers Dopterra do a good job at signaling menace, whether by bestowing food before a boss fight or having one of the game's NPC's warn players to not initiate a brawl.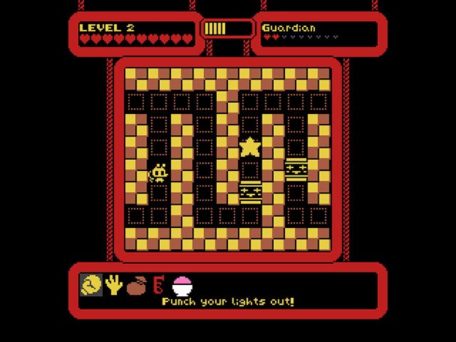 Through these characters and via the game's ample stock of readable documents, Creepy Castle steadily expresses its lore. Progressively, you learn of a seemingly nefarious project called the Heartbreaker by reading the diaries found in the game's alcoves. Pleasingly, it's not straightforward exposition. Instead, you'll have to piece together what's going on by contemplating on everyone's own account of the situation. Later, Creepy Castle gets even more creative, by offering an Iñárritu-like device, where each of the game's scenarios are outwardly unrelated. Gradually, Dopterra's narrative threads are woven together, constructing a larger story through its tapestry of strands. Sure, it's not as elegant as Amores Perros or Babel, but the different contexts add variety, through a variety of characters and divergent play style. More importantly, the narrative is compelling, goading gamers into uncovering more about the game's world.
Although Creepy Castle's visuals are rooted in the eight-bit past, the game offers options to modernize its output. Players can opt for character movement that pushes the protagonist along by bit-mapped blocks or if they prefer a more modern style, offers smoothness when scrolling horizontally or vertically. Other options simulate CRT scanlines or offer a tasteful bit of bloom to emulate the look of an arcade game. Most interesting is the game's variable color palette which can evoke the output of a Game Boy, NES, or even an EGA card.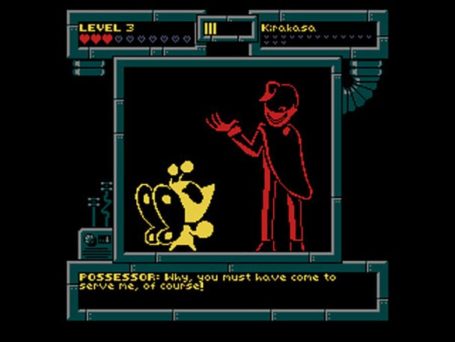 Had Creepy Castle been released in the late '80s, it would have been a revolutionary, requite title for Commodore, Atari, or Spectrum owners. Published in 2016, it's a graceful reminder of an era when creativity transcended a small number of on-screen sprites, transporting players to a wonderfully abstract world. Nostalgic-buffs, take note.
Creepy Castle was played on the PlayStation 4 with review code provided by the publisher.
Creepy Castle
Platform:
 PC
Developer:
 Dopterra
Publisher:
 Nicalis Inc.
Release date:
 October 31st, 2016 (US)
Price:
 $14.99 via
Steam
, currently on sale for $13.49
Review Overview
Summary : Not very creepy and set in ambiguous milieus, Creepy Castle might be a misnomer, but it's also a great deal of fun. Seeing a Kickstarted project with a restrained budget that manages to reach fruition, demonstrates that developer Dopterra has what it takes. Bring on that encore!