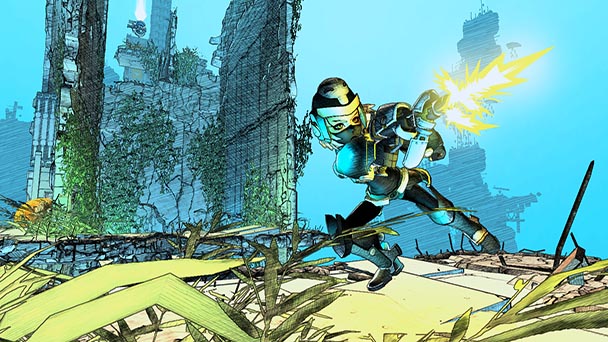 Every so often, a game come out which offers an experience that feels so fresh and engaging, it seems destined to inspire a slew of successors. 2008's Mirror's Edge is a prime example of that assertion. With an immersive first-person perspective, the title offered a prodigious interpretation of the exhilaration and fluidity of parkour. Even the game's minor blemishes- half-hearted gunplay and linear level design, did little to detract from the feeling of thrill of chaining together wall-runs, vaults, and slides. It's little wonder that titles as diverse as Assassin's Creed, Brink, and Titanfall have aped Mirror's Edge sense of athleticism.
Undoubted, DICE's title must have also made a strong impression on the six-person team at Coilworks. Cloudbuilt, the Swedish studio's inaugural effort, is rooted in the spirit of Mirror's Edge, challenging players with maintaining their momentum as they tackle a succession of seemingly insurmountable stages. Naturally, the tenets of virtual parkour are exhibited, allowing gamers to defy gravity as they sinuously scamper across walls or spring across elevated gaps. But, Cloudbuilt is also more than mere clone- routinely extended branching levels, a distinctive assortment of control mechanics, and a propensity for stage mastery. Save for two potential flaws, the title could easily receive an unconditional recommendation.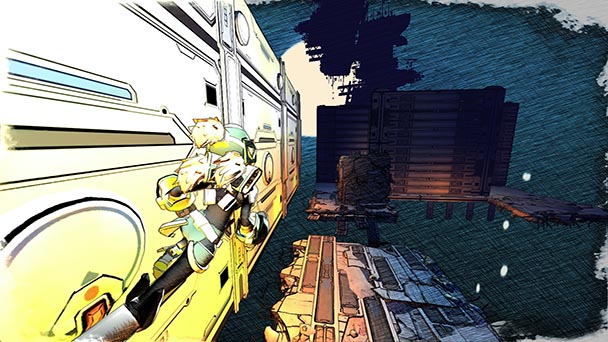 Shunning the habitual simplicity and superfluity that's customary in the action-game genre, Cloudbuild's narrative is unexpectedly poignant. The title's brief tutorial introduces us to Demi, a war-torn soldier who is coming to terms with the damage inflected to her body. Instead of framing the playfields as some type of rehabilitation exercise, players learn that each of Cloudbuilt's suspended stages are metaphysical manifestations which represent the barriers to recovery. While the tactic might sound a bit gimmicky, in practice- the game's journey helps to congeal gameplay and plot.
Initially, most stages appear almost impossible to complete, seemingly requiring a godly amount of patience and precision. Yet, through either trial or error or the detection of an alternate route, players will preserve- with the inclusion of liberal level check-pointing and rapid respawns helping to offset debilitating frustration. It's during these moments of near-exasperation players are likely to empathize with Demi. Keep at it and the pangs of doubt give way to brief moments of elation, and she's one step closer to recovery and you're two strides nearer to mastery. Coilwork's narrative ambitions are lofty; so much so that the title risks not being able to resonate with all players. But the developers do everything in their power to make us care for Demi. Many will find her voice-over driven monologues and mediations surprisingly affecting.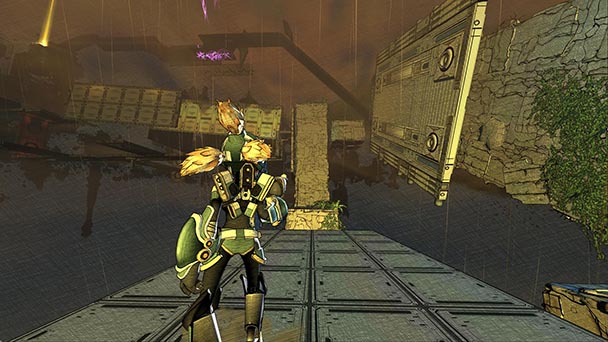 Of course, there is the chance that Cloudbuilt's challenges will prove too to be too testing for gamers. Fault can't really be placed on the control scheme. Although the title currently doesn't offer the option for controller-based navigation (the developers have assured that the addition is coming), mouse and keyboard input is snappy- providing players with an input method that's speedy and accurate. But in keeping with the game's theme of overcoming distressing adversity, the bar is set remarkably high. I'd suspect many gamers may surrender before completing the game's gauntlet of twenty-two trials.
While the challenge level is high, Cloudbuilt certainly gives players all the requisite tools for success. The typical wall-runs, wall jumps, and vaults are accentuated by Demi's jet pack, allowing players to rocket up the side of a vertical wall. To prohibit players from depending on the apparatus, each maneuver drains some of the device's power. In the game's protracted runs, items are scattered which instantly refill the jetpack, further pushing the players toward perfection. Demi also has a rifle, which can be powered up by holding down the left mouse button. Conflict pits the protagonist against predominantly mechanical foes, which pleasingly can be avoided. In fact, after the completion of a stage, a number of mission modifiers are available, tasking players with taking no damage or not being able to shoot an enemy. Replay is also encouraged by Cloudbuild's level designs, which frequently offer multiple routes- as well as online leaderboards, which provide the prospect for bragging rights.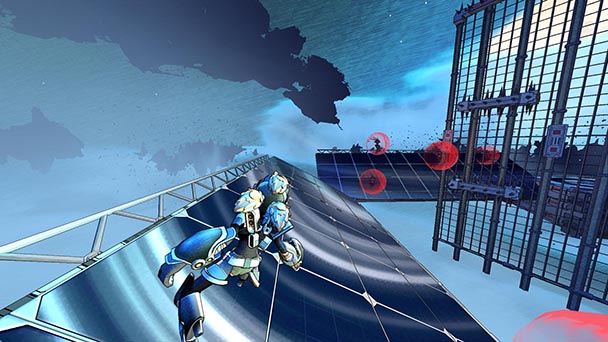 Beyond a towering difficulty level, the game's other flaw is its current state of performance. While we were able to get the title to run fluidly on a midrange laptop, crashed occurred sporadically with the latest Steam build. Worse, the game resisted running on our AMD 10 Core/Radeon 7850-powered desktop. Once the tutorial began, framerates dropped to unplayable levels. Even though the menu system indicated a USB-headset as our sound source, the game remained silent. Evidently, we were the only ones experiencing issues, the Cloudbuilt Steam forums demonstrate plenty of players with similar problems.
Hopefully, Coilworks can conquer these glitches, because the game is certainly a worthy experience. It's rare to see a title that is poised to win the praise of both speedrunners and story seekers, but Cloudbuilt handles both- with a grasp and grace comparable to its protagonist.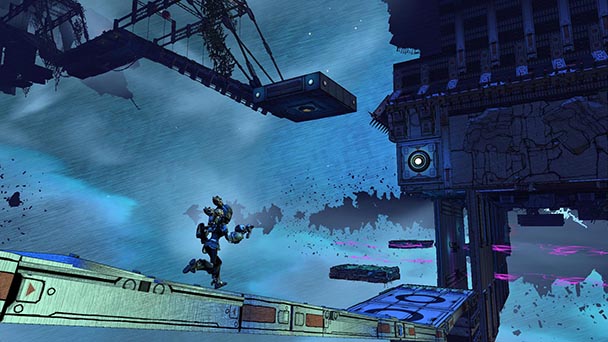 Cloudbuilt was played on the PC with review code provided by the publisher.
Review Overview
Summary : Cloudbuilt shows a great deal of poise and promise. Let's hope developer Coilworks can iron out a few lingering issues, because Demi's journey is unquestionably worth experiencing.