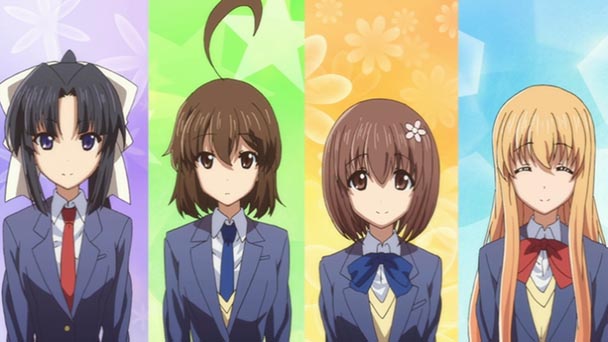 Most anime follows a conventional narrative structure, with setup, conflict, and resolution occurring both within an episode, and often, across a larger story arc. But over time the traditional method becomes predictable and stale, thus giving birth to series which shirk the traditional pattern of storytelling. NIS America's publishing of Daily Lives of High School Boys exhibited an anime that usurped customary structure, offering a light-hearted rumination of male adolescence. Most notable was the staccato cadence of the anime, which delivered a rapid-fire succession of comical irreverence and pop-culture references.
With the release of Chronicles of the Going Home Club (Kitakubu Katsudō Kiroku) the fairer gender moves into the spotlight, with the twelve-episode series following the afterschool antics of quintet of quirky female, all narrated by a unseen seal. While the level of absurdity regularly reaches atmospheric levels and the aesthetics are unswervingly sumptuous, the absence of any overarching tension might not appeal to all viewers. As such, the Going Home Club is an agreeable and frothy sojourn, and might work between more serious or involving series. Much like the anime's de facto meeting space, which embodies the time between school and home life, the Club is suited for transition.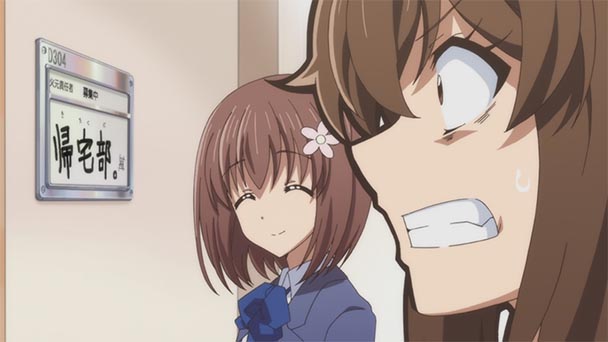 In Japan's competitive secondary school system, extracurricular organizations are the norm, with students joining either athletic or culture clubs after the school year commences. The belief is that spending two hours a day with peers playing baseball or calligraphy imparts the virtues of social etiquette, allowing students to gain skills, and instills a sense of discipline. The few students who elect not to join an organization are jokingly referred to as members of the "going home club"; a subtle chastisement for their lack on involvement.
The inaugural episode of Chronicles of the Going Home Club details Natsuki Ando's search for a fitting afterschool club. When her best friend Karin Tono jokingly suggests the duo should join the "Going Home Club" Natsuki considers abstention from extra-curricular activities. But when Karin leads her to a clubroom that's brandishing the eponymous moniker, surprise ensues, with the pair quickly finding themselves part of the organization's unconventional membership.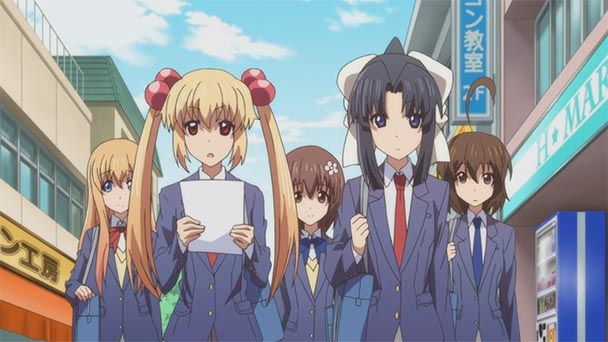 Characters which adhere to a singular trope are ubiquitous, and often denounced in the medium. Although Going Home Club's leads are easily labeled, there's still plenty of enjoyment when the personalities converge for a whimsical pursuit, whether it's feeding pigeons, venturing out for gastronomic indulgences or even comparing the philosophies of the three, great daimyo from the famous "If the cuckoo does not sing…" senryu. Much like Daily Lives of High School Boys, episodes are built from several vignettes, allowing Going Home Club to mimic the impulsive mindset of its cast. In execution, the show is unfailingly light and jazzy, never taking too long to set up its next comedic pay-off.
For most viewers, laughs will flow freely. When Claire Kokonoe, the resident rich girl find out that the school's supply store runs out of pink erasers, she's aghast and buys out a retail store to ensure such a calamity won't happen again. Boton Oohagi is the club's martial arts expert; when she's not slicing the tops off liter soda bottles with her bare hand, she's telling fantastic tales of fighting bears across the globe. It's here that Going Home Club demonstrates its economy, with a single-second shot of Boton making menacing eye contact with a vendor in a kuma costume.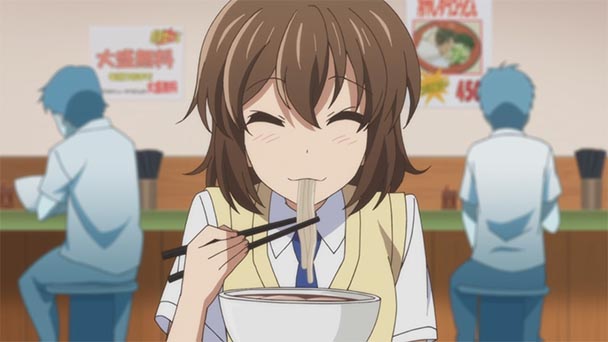 Chronicles of the Going Home Club other entertaining virtue is the total abandonment of a fourth wall. From shouting to stop a premature ending theme, a segment where the episode reverts to unfinished line drawings due to 'budgetary issues' and club members complaining that their companions are rendered with more fluidity, the girls confidently know that there are anime characters. For viewers, it's just one more technique in Home Club's comedic arsenal. For game and animation fanatics, the references to other works will be appreciated.
Going Home Club's two Blu-ray discs are shipped in separate cases, using NIS America's newer economically-sized housing (now, premium editions don't require their own bookshelves). Visually, the series looks magnificent in digital 1080p video. The medium allows the stunning character designs and brightly hued, detailed backdrops to irradiate screens in artifact-free sumptuousness. Likewise, Club's LPCM 2.0 audio is impeccable, flaunting a top-notch delivery by the original Japanese voice actors.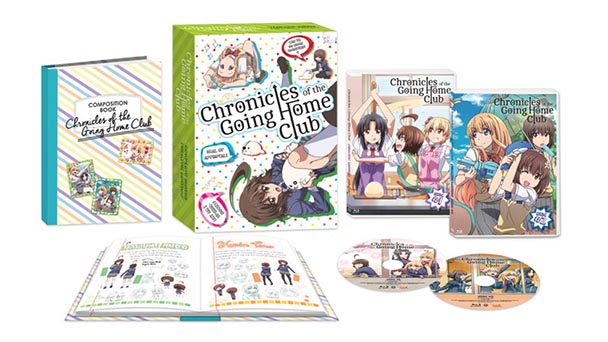 The book which accompanies the Premium Edition is another of NISA's fastidious efforts. One of their largest supplementals to date, the text includes character art, interviews with Nomad's (Rozen Maiden, Kämpfer, We Without Wings) production personal, and even an ersatz episode guide as imagined by the series' protagonists. Also on the discs are trailers for the series, cleaning openings and endings, as well as the CG-produced Going Home Club Mini-Theater.
While the Super Peace Busters and the SOS Brigade remain the top clubs that anime addicts should strive to join, Chronicles of the Going Home Club is certainly a capable selection. While the breakneck pace of the show doesn't allow for esper-based intrigue or poignancy, Natsuki and friends flaunt an uncanny ability to tickle funny bones.