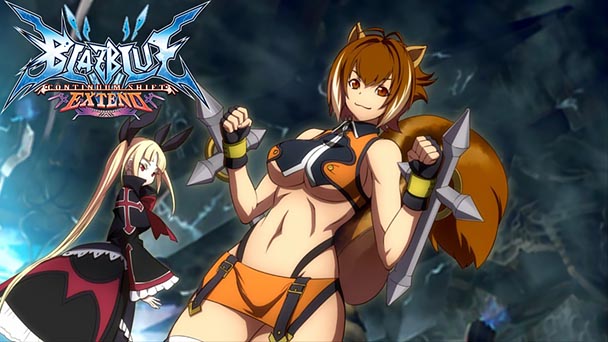 Ambitions to headline tournaments have had a perceptible impact on fighting games. Instead of concentrating on the type of single-player content that's superfluous in competition, the genre has placed a focus on balancing its roster of combatants. Likewise, franchises tend to be evolutionary, with each new iteration building on the sophisticated mechanics of its predecessor- all in an effort to keep the fanbase active. As such, fighting games aren't particularly welcoming to newcomers.
Remarkably, the recent PC release of BlazBlue: Chronophantasma Extend bucks these trends. Although the series has a history of delivering an admirable number of game modes- with a trio of different gauges, an emphasis on air dashing, and an involved combo system, Chronophantasma has stratums of sophistication. But smartly, it lays out a well-sized welcome mat for players who have managed to elude the series.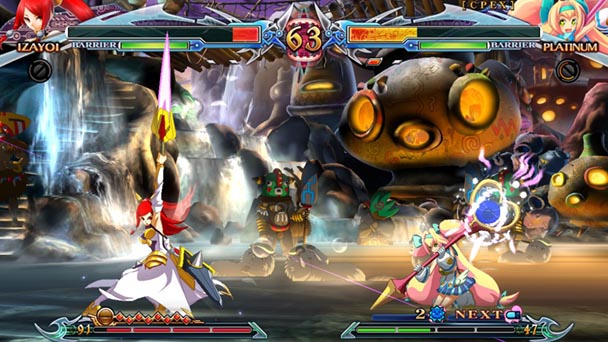 Contemporary fighting game tutorials routinely consist of a room, an AI drone, and limited instruction. That's not the case with Chronophantasma Extend. Here, a succession of tutorials guide beginners through the tenets. After going over the basics of navigation, gradually you'll learn about Blaz's combo system, specials, and guards. While the lessons could have easily been little more than bone-dry drills, developer Arc System Works uses the opportunity to introduce its colorful cast, with different characters bringing their distinctive personalities to the combat-driven curriculum.
But even with all the comprehensive teachings, Blaz beginners might not be able to produce the flashy multi-bit combos that are the pride of veteran pugilists. However, employ Stylish Mode, and a few simple button presses can replicate the spectacle of a cascade of quarter-circles. Naturally, fighting game devotees can opt for Technical Mode, where traditional input methods and reputations are preserved. Advanced players shouldn't fear the proliferation of Stylish Mode. Although accessible, its chains are predictable, allowing masters to make mince-meat of anyone foolish enough to think they can transcend their experience level.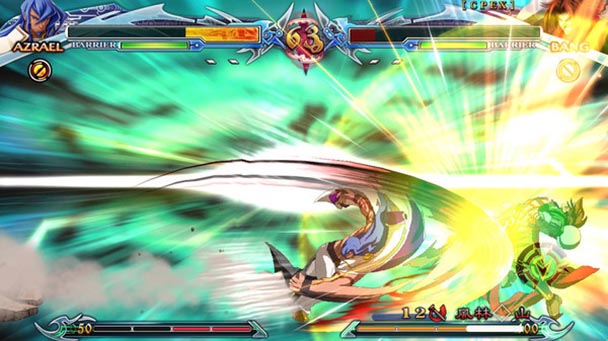 Nearly as thorny as the fighting system is the game's byzantine lore. Even for Blaz Buffs, the dense amalgam of characters, plot twists, and quantum physics-grounded hooks can be tough to follow. Fortunately, help can be found in the Teach Me More, Miss Litchi! Mode, where Faye-Ling's perchance for science and biography help to make intricate Blaz backstory a bit more comprehensible. Split into separate braches and arcs, Chronophantasma Extend's storyline is unexpectedly lengthy. And if that's not enough, there are real and gag endings, an extensive in-game library- all with praiseworthy localization and capable voice over work in both Japanese and English. The sole problem here is that characters tend to go heavy on exposition, making the pace slightly lethargic.
The game's bountiful twenty-eight fighter roster makes Chronophantasma Extend the bulkiest Blaz yet. Longtime favorites like Ragna the BloodEdge and Noel Vermillion receive revision, with everything from redrawn art to balancing tweaks, allowing the beloved battlers to take on newcomers like Celica A. Mercury and Lambda -No.11-. Although the latter converges on palette swap territory (albeit with a few unique moves), Chronophantasma Extend does offer enough mechanical tweaks to entice series fans.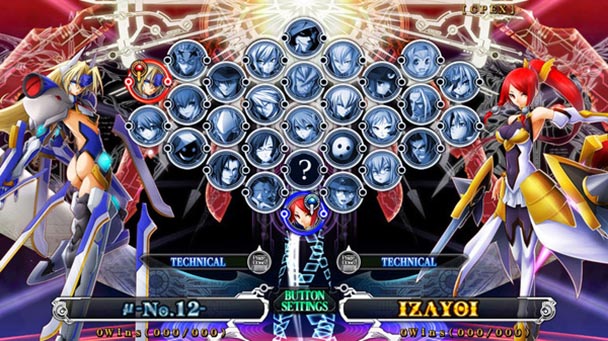 Activating Overdrive is as simple as pressing all four action buttons simultaneously. Designed to be used in dire situations, Overdrive puts players in an enhanced state where duration is calculated by the amount of health you have remaining. Beyond enhancing your strength and boosting the ability of your Distortion Attacks, it also freezes the game's timer, making it an essential tool when you're on the downside of a Rebel that's rapidly running down.
The game's other new aptitude are Crush Triggers- where a portion of your Heat Meter is traded for the ability to break through blocks (or at least chasten opponent's using a Barrier Guard). Particularly useful in combos, Crush Triggers can knockdown, ground bounce, or make adversaries airborne, making them devastating in the middle of a string of strikes.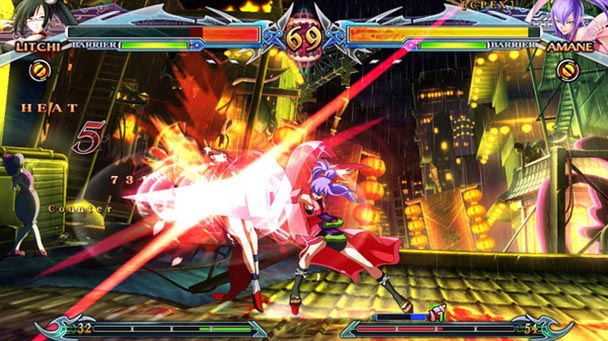 Visually, Chronophantasma Extend is an adept performer on PC. With scalability up to 1080p (and beyond that if you tweak the displaysetting.cfg file), the fluidity animated fighters and exquisite backdrops will look great on moth monitors. On the downside, unless you're lucky enough to have a 5:3 display that matches the ratio of the original arcade cabinet laying around, you can expect black bars on the side of the screen or a slightly stretched image.  Ishiwatari-san's searing guitar riffs and fiery drum fills have been ably remixed by Yuhki, of the power metal band Galneryus- providing a sufficiently hard-hitting soundtrack.
Like the game's aural accompaniment, matchmaking is functional. Sure, there are bits of slowdown evident when battling in the ranked or player matches, but there's also the occasional game that's free of lag. Pleasingly, Chronophantasma Extend does its best to foster a sense of community- offering pixel-art rooms where combatants can frolic, befriend, and pick fights. The only issue in the current size of the fan-base; currently, there are a limited number of players at any time of the day or evening.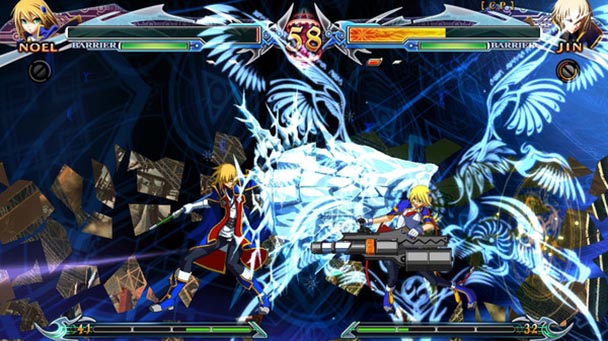 Considering that all the DLC of the console version is included in BlazBlue: Chronophantasma Extend's thirty-dollar MSRP, the port is the rare instance of a PC fighting game without sacrifices. Combining visceral, intricate combat, a wealth of VN-like storytelling, and incitement for newcomers, Chronophantasma Extend offers a trifecta of goodness that belongs in the Steam library of anyone with even a modest interest in fighters.
BlazBlue: Chronophantasma Extend was played
on the PC with review code provided by the publisher.
BlazBlue: Chronophantasma Extend
Platform:
 PC, previously released for PS3, PS4, PS Vita, and arcades
Developer:
 Arc System Works
Publisher:
 Aksys Games
Release date:
 March 2nd, 2016
Price at release:
 $29.99 via
Steam
Review Overview
Summary : Yes, BlazBlue: Chronophantasma Extend is an intricate fighter, with layers of pugilistic nuance. But it's also exceedingly friendly, with control schemes and extended tutorials that are accepting of apprentices. If you've avoided the genre because of perceived complexity, know that this is the friendliest in-road you're likely to find.