Clover=Creativity Lover
Some of the industry's best efforts come from a coalition of immensely talented individuals. When Resident Evil's Shinji Mikami, Devil May Cry's Hideki Kamiya, and Samurai Shodown programmer Atsushi Inaba joined forced to form Clover, gamers received inspired efforts like Viewtiful Joe, Ōkami, and God Hand. But critical success didn't translate into commercial achievement, and Capcom subsequently shut down the studio.
But the trio of prodigies saw problems mounting and left before Clover was dissolved back into its parent studio. Together with Tatsuya Minami, (Super Ghouls 'n Ghosts, Phoenix Wright: Ace Attorney, Dino Stalker), the group formed PlatinumGames. Continuing their pursuit of creativity started at Clover, Platinum solidified a deal with SEGA for the distribution of their first four games. The initial two, MadWorld and Infinite Space were ambitious. But the former was burdened the occasional unresponsiveness of Wiimote-based motion controls, while the latter had a steep learning curve.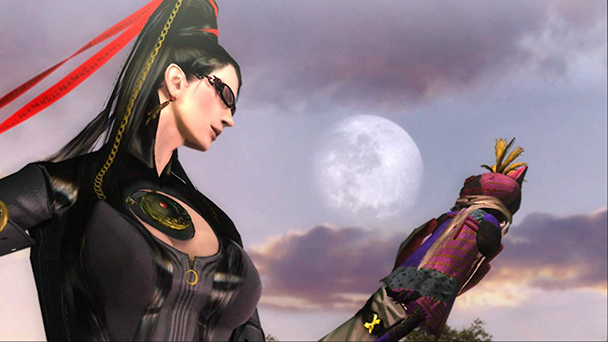 A Bewitching Witch and The Suit
But Platinum's next two releases would forge a name for the studio. 2010's Bayonetta put players in control of the game's eponymous lead, a sexy, shape-shifting witch. With unrelenting grace, Bayonetta made the butchery of foes look downright elegant, seemingly shifting between two powerful pistols to a crushing stiletto kick. Games like Devil May Cry had established a formula for frenzied action coupled with intermittent puzzles. But Platinum pushed themselves to make every moment feel like a highlight, turning up the style, vivacity, and narrative goofiness to peak levels.
Although 2010's Vanquish doesn't exude the same sexiness as Bayonetta, it's execution adopted a similar style. Here, Sam Gideon donned an Augmented Reaction Suit, endowing the ability to slow time to a crawl as well as lithely slide and vault between parts of environmental cover. Like the lascivious witch, gratification was rooted in his astounding capabilities, where enemies and even bosses submitted to overwhelming strength. Yes, it was a succinct experience, with a campaign last about six hours. But it was a game without any of the padding that habitually slows down the action genre.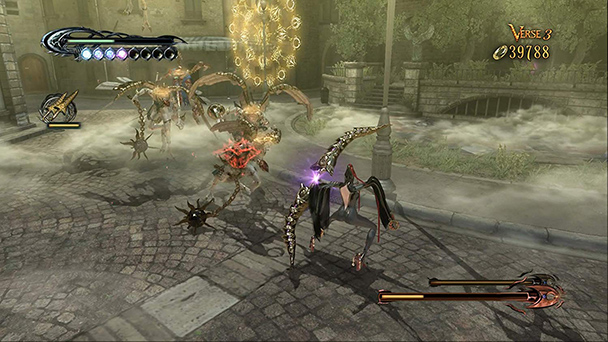 Ten Years On, The Action Remains Red Hot
A decade later, the release of the Bayonetta & Vanquish 10th Anniversary Bundle merges PlatinumGame's two breakout hits. Available digitally or physically for $39.99 (each title can also be purchased separately for $24.99), the re-release offers a few improvements. Visually, the game's original 720p output has been upscaled to 1080p, reflecting the fidelity faulted by the 2017 PC iterations. In execution, it's not the drastic graphical upgrade that remakes typically receive, and the game's texturing intermittently reveals its age. Notably, Vanquish's drab palettes fare a bit worse, signaling the color schemes often associated with action games of the era.
However, Platinum's decision to lock the framerate to sixty frames-per-second extends further fluidity over already silky control schemes. Playing both the original and the remaster side-by-side exhibits the benefit. With Bayonetta, following the same path (seeking out Alfheim Portals and hidden enemies) make the acquisition of gold and even platinum combat trophies a bit easier.  With Vanquish, score-boosting headshots and swift stage completion bonuses were slightly easier to earn. Once you've felt the litheness of these remasters, it would be exceedingly difficulty to revert to the original versions of the game, especially the problematic PS3 port of Bayonetta.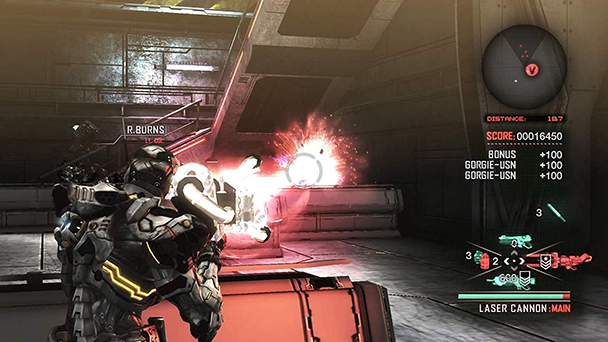 Missed Opportunity for Extras
Given Bayonetta and Vanquish's elevated status in seventh-generation gaming and PlatinumGame's distinguished body of work, both games are deserving of supplemental material. But beyond the inclusion of an attractive steelbook case for the physical editions, there's are no historical materials in the collections. Ideally, players would have been treated to interviews, production artwork, or even discarded content that would help document the design of the two titles. Reportedly, tensions were raised during the creation of Bayonetta, fueled by a push for polishes, precise play. Woefully, the only substantiation of this stress is an amazing final product.
If you've never played these games before, the Bayonetta & Vanquish 10th Anniversary is an ideal way to enjoy these two fantastically frantic masterpieces. While each title is rooted in a different genre, PlatinumGames approach was the same, aiming to fill every moment of playtime with controller-clenching, over-the-top action. Although it would have been pleasing for SEGA to provide additional enticement to players who've also pushed through both games, the technical improvements are enough of an incentive to recommend a double dip for fans.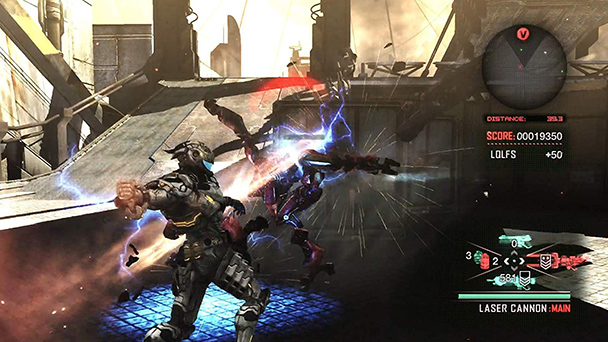 The Bayonetta & Vanquish 10th Anniversary Bundle was played
on Xbox One with review code provided by the publishers.
Bayonetta & Vanquish 10th Anniversary Bundle

Platform:
PlayStation 4, Xbox One, previously on PC, Xbox 360 and PlayStation 3
Developer:
PlatinumGames

Publisher:
SEGA
Release date:
February 18th, 2020

Price: 
$39.99
Availability:
Physical or via
PlayStation Store
and
Microsoft Store
Review Overview
Summary : Exuding responsiveness and wonderfully intense action sequences, Bayonetta and Vanquish are undoubtedly some of the best action games to emerge from the previous console generation. This collection ensures their place in the gaming pantheon and deserves a place on your shelf or digital library.