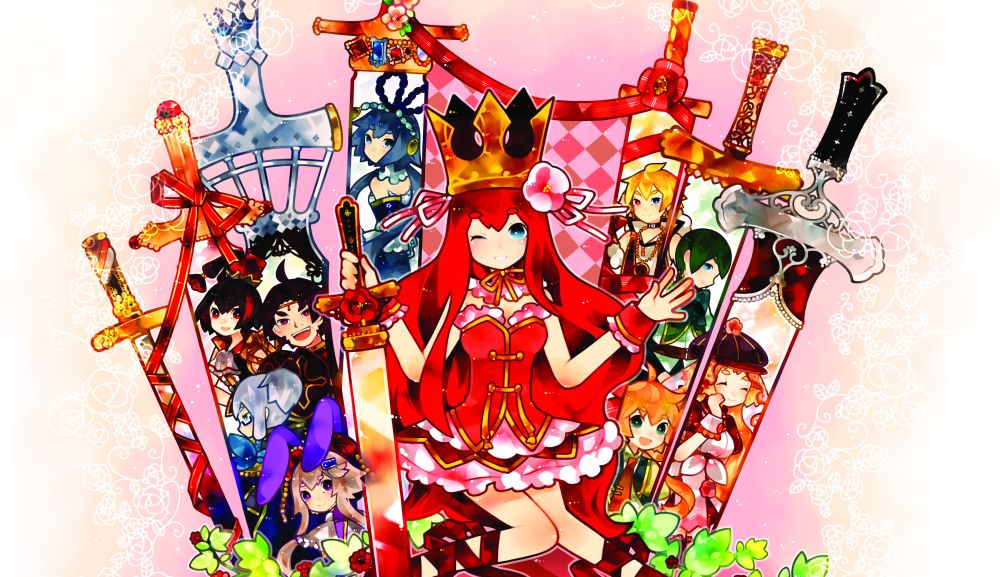 Although Nippon Ichi's internally developed titles span a wide swath of genres, they habitually abide by one near-universal principal. While seemingly simple on the surface, each game conceals an enormous amount of intricacy. The latest substantiation for this assertion can be found in the release in the Gifu-team's Battle Princess of Arcadias (created in conjunction with Ragnarok Tactics developer ApolloSoft).After seeing the game in motion, players might assume that the title is a straightforward side-scrolling hack-and-slack which recalls the virtues of Vanillaware's Odin Sphere, Muaramasa: Rebirth, or Dragon's Crown.
Indeed, the game's first hour does little to contradict this assumption, augmenting a layer of brawling basics with a light storyline. Players assume the role of Plume, the game's eponymous, crimson-haired noble tasked with protecting her kingdom from bands of encroaching monsters. An introductory segment illustrates the plucky protagonist's adeptness with a broadsword as well as the loss of her trusted squire Dahnel and the realm's fighting brigade. With her incredible competency in combat, Plume is able to temporary repel the colossal red dragon responsible for the assault, and begins to rebuild the kingdom's militia.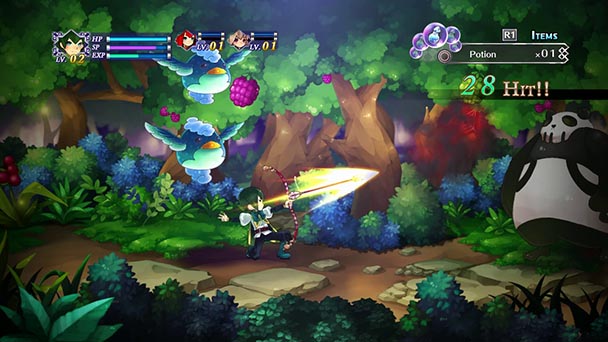 A couple of introductory stages articulate the range of Plume's skirmish skills, which stick close to genre tenets. Beyond the ability to double-jump, the heroine also has two attacks, which when combined with a push of the left analog stick, bestow a pleasing number of multi-hit combos. Fighting bestows a feel of vigor and agility, with gamers able to easily issue strings of HP pilfering strikes, as well as defense maneuvers like guards and air recovers. Not long after, Battle Princess adds two more playable characters to the mix, permitting players to switch between the protagonists much like a tag-team fighter. Pleasingly, these additional fighters share the same basic moveset, while having their own custom repertoire of combos.
Once players move into the ensuing stages, Battle Princess begins to show her complexities. A second scrap with the dragon has players commandeering their trio of playable characters while simultaneously issuing commands to multiple battalions of battlers. In Arcadias' more conventional levels, a press of the R1 trigger along with a face button press allows players to cycle through consumables such as health-replenishing potions. Siege stages are a bit different, with players using a combination of R1 and the triangle button to toggle into brigade management. Here, when fighting bosses, players concurrently issues attacks while giving orders to on-screen armies, telling your army to do things like defend, attack, or even allow you to summon a devastating strike. The latter briefly pauses the game to deliver a quick time event followed by a cinematic sequence which exhibits the proficiency of your button pressing. This mechanic, called a "showdown" is instrumental is earning the best end-of-level grade on a stage.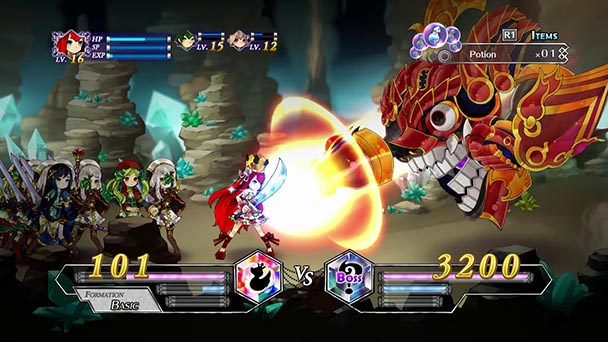 Later, siege battles are tweaked further to signal a skirmish between two warring armies. These type of stages require players to quickly switch between their brigades, as allied classes clash with different enemy types. Naturally, certain classes are adept at facing certain foes, creating advantages when say, rugged, axe-carrying marauders face fencers equipped with swords. But character class alone won't determine the victor. Gamers can invest gained gold to train and level up each type of soldier or even outfit and upgrade characters with hundreds of different weapons. What's more, if players are controlling a protagonist with the same weapon type as the selected army, they receive a substantial morale boost as well.
In essence, morale is the key to winning conflicts in Battle Princess. As players are engaged with hacking and slashing through waves of enemies they are also filling a morale meter, which permits switching to another battalion of soldiers or even issuing a devastating strike. Behind the scenes, your CPU opponent is doing the same, so rapidly eliminating enemy leaders from the battlefield ensures your opponent won't have morale to substitute a weakening squad. In execution, Battle Princess vaguely feels like a 2D Dynasty Warriors, where every defeated soldier helps to refill a gauge, which in turn can be activated at just the right time to shape the trajectory of battle.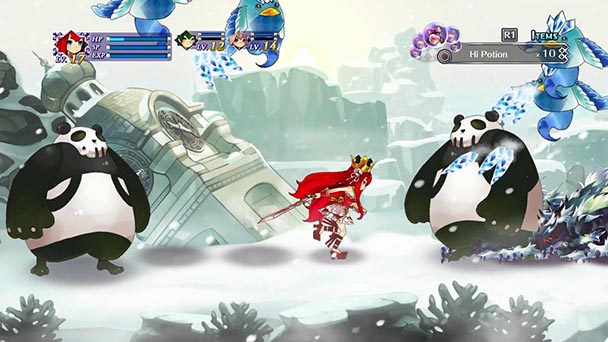 Unsurprisingly, this amount of complications comes with a few snags; fortunately, none of these defects inhibits the enjoyment of the game. Early on, players might be unable to pass a level which pits two brigades against each other. Unfortunately, the game doesn't tell players they need to level up their army to match or exceed the experience of the opposing forces. Small little menu-based quirks, like having to press a button before selecting the "take all" option of the post-fight loot screen might also become minor irritants. Yet other than these lesser faults, Battle Princess' journey is consistently enjoyable and filled with little variations which help to repress the specter of tedium.
Like most Nippon Ichi titles, the game's visuals fall into two distinct areas: character portraits used in dialog sequence, and their polygonal counterparts using during play. The former demonstrate NIS's characteristic competence- offering charming, evocative representations. Less successful is the title's character animation, where protagonists move in puppet-like motions. After experiencing the fluidity of Vanillaware's spites, Battle Princess comes across as slightly stilted. On the upside, even if the animation is a bit disjointed, character movement doesn't affect playability during combat. Sonically, the game is quite competent, with energetic J-pop numbers which energize boss battles.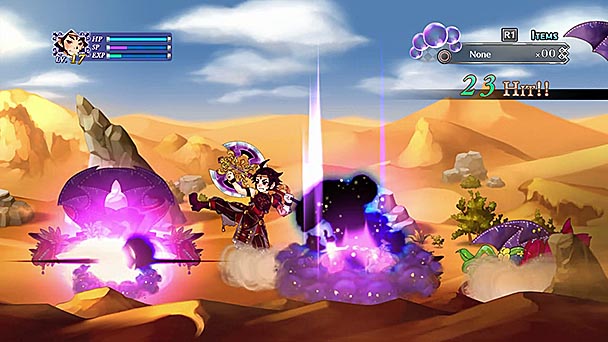 Although Battle Princess of Arcadias hasn't garnered the same amount of buzz as Nippon Ichi's Diagaea franchise or even The Guided Fate Paradox, that doesn't mean the game should be overlooked by fans looking for a distinctive experience. At first glance, Battle Princess might resemble a basic brawler- but in execution, the game is brimming with the type of intricate and engaging game mechanics that Japanese game aficionados routinely seek out.
Battle Princess of Arcadias


Platform:
PlayStation 3
Developer:
Nippon Ichi Software/ApolloSoft
Publisher:
NIS America
Release date:
June 17th, 2014
Price at release:
$29.99 for digital download (via PSN)
Language(s):
Japanese with English subtitles.
A copy of Battle Princess of Arcadias was provided by the publisher for review.
Review Overview
Summary : While the fighting may not be as fluid as Muramasa or Demon's Crown, Battle Princess of Arcadias excels by placing players in the role of both commander and combatant.