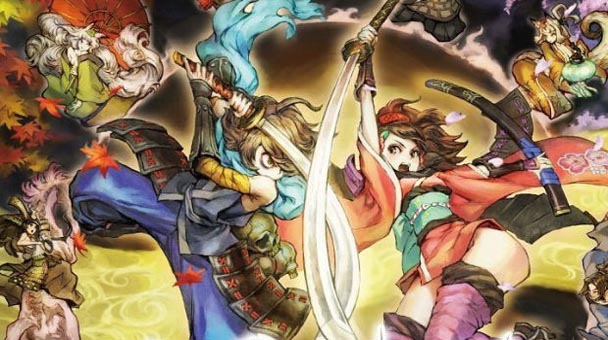 Last year, the Smithsonian American Art Museum's Art of Video Games exhibit demonstrated the evolution of our industry- showcasing eighty titles across a variety of hardware platforms. While the Nintendo Wii was represented by visual gems such as Zack & Wiki: Quest for Barbaros' Treasure, Super Mario Galaxy 2, and Boom Blox, the system's most graphically sumptuous title was inexplicably absent from the exhibit. Now, that 2009's Muramasa: The Demon Blade was been given a high-definition upgrade for the PS Vita (and rebranded as Muramasa Rebirth), we expect the Smithsonian's curators to give Vanillaware's aesthetically arresting title a proper exposition.
Much like the Osaka-based studios' previous works, GrimGrimoire and Odin Sphere, Muramasa Rebirth seizes attention through its sumptuous visual output. With stunning hand-drawn environments and sinuous character animation, the PS Vita's screen becomes a living palette for the game's consummate mix of yamato-e, Hokusai, and traditional watercolor-based influences. A spectrum of brilliant hues elevates each backdrop, as players trek past orchards of cherry blossoms in full bloom or the radiant glow of the morning sun cresting over a hillside. Aurally, Muramasa is equally adept, complementing combat with the impassioned cadence of taiko and the evocative wail of shakuhachi. Where the Wii version was attractive, the PS Vita iteration is positively mesmeric, begging gamers to take their portable into darkened spaces so every graphical nuance can be admired.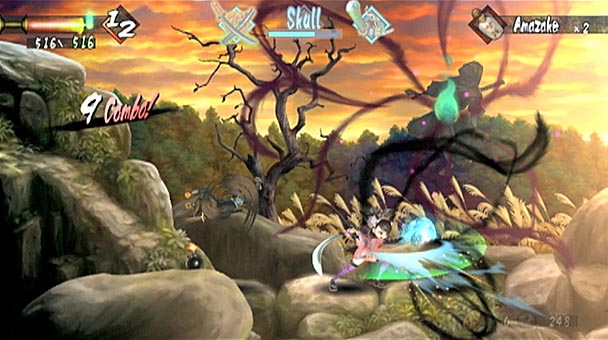 Split into dual plotlines, players are given a choice of protagonists at the commencement of the game. Momohime is a young princess possessed by a demon named Jinkuro; together the discordant duo journey to locate the spirit's lost sword. Meanwhile, Kisuke is an amnesiac ninja pursued for a purportedly treacherous past. The good-natured shinobi hopes to clear his name and recover his lost memories. Both characters explore the same landscapes, albeit in a different order, but provide divergent dialog with NPCs. Undoubtedly, one of the best elements of this twin-narrative approach are the moments of Rashomon-like dissonance, where information from one personality may contradict with what another character stated previously. Regrettably, these instances happen infrequently, leaving Muramasa's multiple endings as the primary reason to reminisce over the storyline. Notably, Aksys' expressive localization is a marked improvement over Ignition's prosaic translation, which often neglected to explain the connotation behind Japanese idioms.
Yet as skilled as the interpretation is, conversation is no match for combat. Battles typically task the protagonist with dispatching multiples of enemies; fortunately, each protagonist is well-suited for the undertaking. Both Momohime and Kisuke have the same robust repertoire, allowing for players to tap out combos, charge attacks, block, deflect projectiles, air dash, strike downward, slide attack, and juggle enemies. Agreeably, Muramasa supports two difficulty modes; the Legend setting allows gamers to block incoming strikes with the square button, while Chaos mode requires players to simultaneously move the stick in the direction of the incoming attack.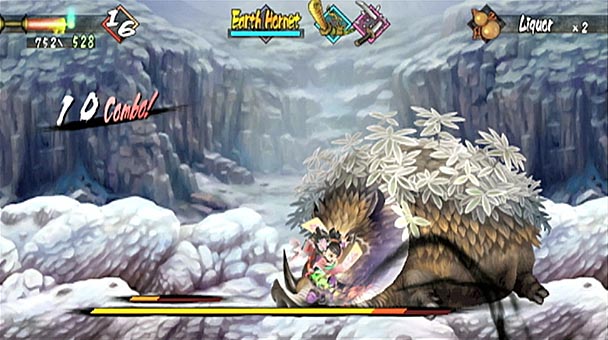 Regardless of setting, fighting against the game's assortment of spirits, spiders, ninjas, samurai, soldiers and kappas feels both fluid and intuitive. Gratifyingly, each opponent has its own attack style, urging players to study the weaknesses of each adversary type. Likewise, boss battles are engaging, imploring players to switch between the blades of their three-sword arsenal. Unlike most hack-and-slash titles, Muramasa imposes a bit of micro-management during skirmishes, as attacks can whittle away at the durability of your katanas. The upside of this mechanic is that a devastating slash attack occurs when gamers swap swords, negating the nuisance of cycling through your arsenal.
The other tactic which keeps the rotation of swords stimulating is the game's collection of 108 different weapons that players can find and forge. With blades ranging from heavy damage-inducers to lithe laceraters, Muramasa provides a wide span of tools for gamers to try. Enjoyably, each sword offers their own district Secret Art attack that's powered up by overcoming opponents. Following Metroidvania tradition, some of these katanas permit passage to gated areas.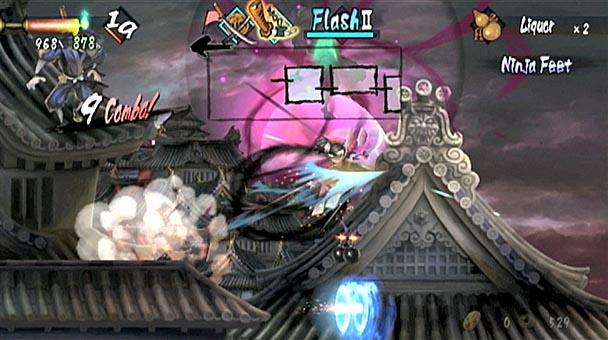 Which brings us to Muramasa's leading drawbacks: a hefty amount of backtracking and a convoluted twin map system. Although fast travel becomes available later in the game, the number of destinations are limited, obliging gamers to trudge through familiar areas. Often, getting to an objective is more complicated that is should be, as there's both an on-screen minimap and an overworld atlas. As such, players will have to switch between the two charts, which muddies a bit of the game's momentum. Another possible sticking point is Muramasa Rebirth's DLC. Aksys has announced that the game will support additional player characters in the future. Hopefully, these supplemental protagonists are reasonably priced and mesh seamlessly into the game's existing storylines.
It's regretful that Vanillaware didn't mend any of Muramasa: The Demon Blade's niggling mechanics. Had the studio undertook a few gameplay enhancements, Rebirth's journey could have matched the quality of its extraordinary visuals. Despite that concern, the title remains immensely enjoyable, transporting players to an opulent realm which pays tribute to Japanese mythology and extravagant, hyper-animated swordfights. Although several games flaunt the frantic stir of a kite ninja ambush, only Muramasa harmonizes the ambuscade with the splendor of an impeccably rendered tempura soba. For that dichotomy, Smithsonian staff should heed Muramasa Rebirth– and by almost all counts, so should Vita owners.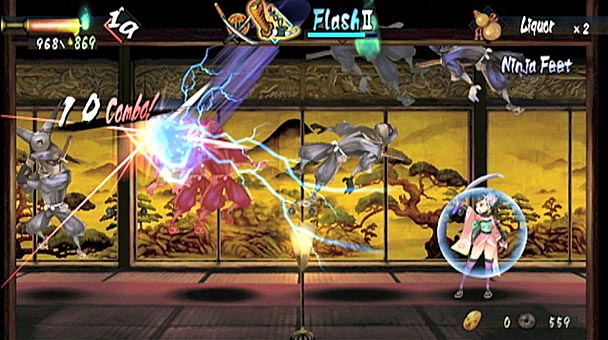 Review Overview
Summary : At its core, Muramasa Rebirth is nearly the same game as the 2009 Wii title with a visual upgrade that absolutely shines on the Vita's OLED screen.