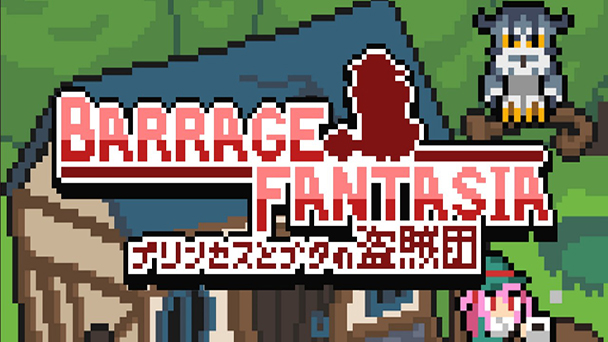 Barrage Fantasia offers a lot of variety through different familiars and specials that manipulate play style. While the pixelated visuals signal a doujin effort, the action feels straight out of arcades.
Barrage Fantasia
Platform:
Switch, previously on PC
Developer:
Hanaji Games
Publisher:
Hanaji Games
Release date:
March 25th, 2021
Price:
$9.99 via digital download
Availability:
Nintendo
eShop
Between the Psikyo Shooting Stars Alpha and Bravo collections, Raiden V: Director's Cut, Ikaruga, R-Type Dimensions EX, and the upcoming release of Deathsmiles, the Nintendo Switch enjoys a wealth of respected shoot 'em ups. Barrage Fantasia, the latest from doujin publisher Hanaji Games isn't quite as illustrious as the aforementioned titles. But with its pixelized visuals, multitude of play options, and plucky disposition, it undoubtedly deserves attention from fans of the genre.
Like many STGs. the storyline is skeletal, centering around the theft of a red jewel from the belly of a sacred dragon statue. To recover the artifact, a witch named Herb takes flight. Luckily, she's not alone on her chase after a trio of Pigmen. From a rat, crow, dragon, flower, and at least three additional unlockables, each familiar favors its own playstyle.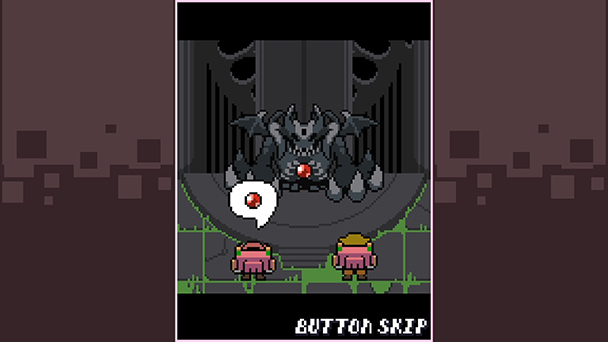 Flower Power or Rat Attack?
Opt for the rat or bat and you'll enjoy resistance to orange-hued bullets, making your trek through the game's bullet-packed battlefields just a bit easier. Of course, the dragon has its own advantage, and you can station your invincible winged companion anywhere on-screen, and let it attack subordinates and bosses. Unsurprisingly, even the flower isn't delicate. Charge the familiar up and it will release a potent blast. Or you can keep the orb of energy in front of you to absorb bullets.
The risk/reward possibilities don't end there. You can also choose from several specials, with a button press triggering everything from a wave that eliminates enemy bullets to one that power-up your attack power. The next option is the game's difficulty, which scales from five lives and a protective barrier to a single life and fifteen seconds of shielding. Sure, Barrage Fantasia is tough, and often fills the screen with bullets. But play with the difficulty turned down, and it's manageable for inexperienced players.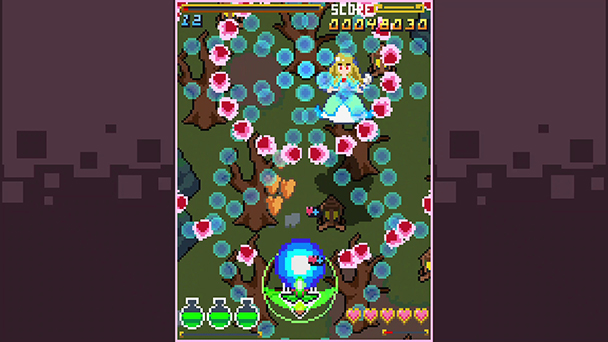 Breaking Boss Parts and Grabbing Hearts
You'll use two face buttons to direct your offensive output. Hold down the main firing button and you'll emit a standard outpouring of firepower that's different for each familiar. The bat has bullets that will lock onto to opponents, while the crow emits a beam of ballistics that can be bent a bit. Holding down a secondary button increases the power of your armaments, with the crow adding an additional stream of projectiles to your standard two. Harnessing this power also slows the speed of your ship, which can prove quite useful when making pixel-sized movements in a field of bullets. Another helpful quality is the game's exhibition of your ship's hitbox, which is agreeably, just a bit oversized.
Cancelling or grazing bullets turns those enemy projectiles into heart icons. Interestingly, Barrage Fantasia shirks traditional power-up icons or lives. Instead, contact with an enemy or bullet subtracts from your heart gauge in the bottom right corner. But by collecting the brown heart icons, this meter can be replenished. Another beneficial trait is the game's signaling of powerful attacks. When enemies are about to issue sweeping assaults, you'll witness warnings on the peripheral of the screen.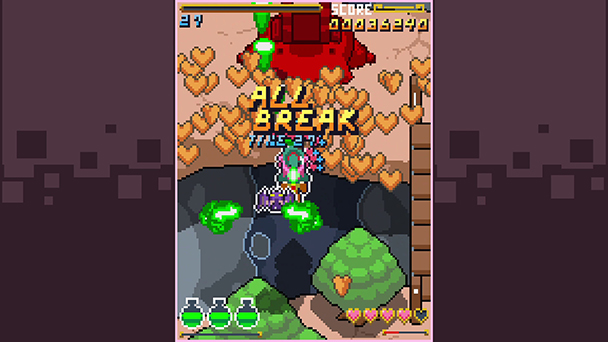 A Rollicking Chiptune Soundtrack
Barrage Fantasia's blemishes are few. While some might fault the game's collection of five base stages, there's additional depth found in the title's "short" mode, which offers longer, remixed variations of different levels. The absence of key remapping is a minor issue and fingers can get fatigued from holding two buttons down for extended durations. A more significant problem is the lack of any leaderboards. It's always humbling to see how well you compare against experts from across the globe. On the upside, the game offers tate mode play, which looks great on a rotated Switch screen.
Review Overview
Summary : Sure, Barrage Fantasia is just a bit too pixelated to be a called a 'cute 'em up'. But look past the blocky visuals and you're find a fun, fast shooter that offers a wealth of variety.