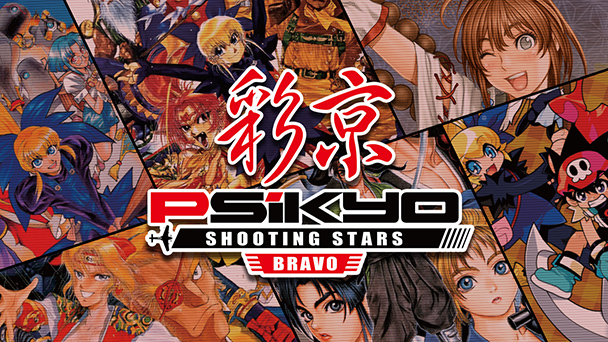 Psikyo=Colorful Art Kyoto
Across the company's thirteen-year lifespan, Psikyo cultivated a rich legacy. Although the Kyoto-based developer dabbled with erotic mahjong games and even a sequel to Lode Runner, it was their arcade shooters that are best remembered. With games like the Strikers 1945 series, a pair of Gunbird titles (the first known as Mobile Light Force in territories outside of Japan), their works were appreciated by arcade goers and console owners alike. Like most shoot 'em ups, each told the tale of a handful of mighty ships that took down vast armies of adversaries.
Pleasingly, Psikyo's efforts have been memorialized across a two-game set. First up was last month's release of Psikyo Shooting Stars Alpha, which compiled a trio of Strikers 1945, alongside Sol Divide, Dragon Blaze, and Zero Gunner 2. Now, Bravo brings along six more titles, with a duo of Gunbird titles, three Sengoku shooters (the first two renamed as Samurai Aces and Tengai in the West) as well as the Breakout-esque, Gunbarich.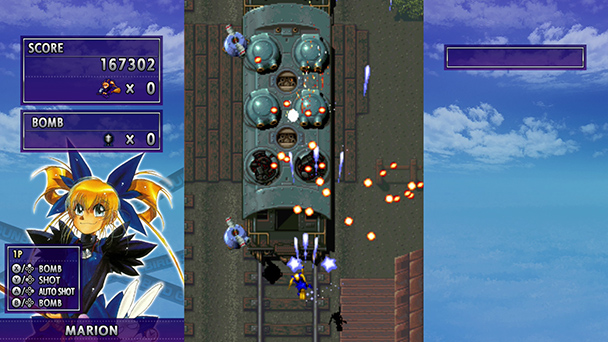 Make Sure You Don't Already Own Any
While NIS America's anthropologies each unify six of Psikyo's titles, this isn't the first time many have been made available on the Nintendo Switch. Save for Samurai Aces III: Sengoku Cannon, they've all received a digital publishing courtesy of Zerodiv. But here they're bundled for a cohesive physical collection, complete with a three CD soundtrack, a book of schematics, and six art cards. Those without a craving for omake can opt for the digital version, saving twenty dollars. Just make sure you don't own any of the games already. Since Alpha doesn't offer any of archival content, a piece-meal approach might be more economical.
Shoot 'em up fans who don't already own the titles are in for a treat. Delve into Gunbird or its sequel and you'll find elements like a character selection screen and succinct storylines, both of which add a bit of charm. The different protagonists add more than manga-styled visuals, with each bringing their own unique arsenal. While, Marion a broomstick-riding witch sends out magical stars that home in on enemies, Valnus/Valpiro shooting out arcing lasers, promoting a slightly different play style.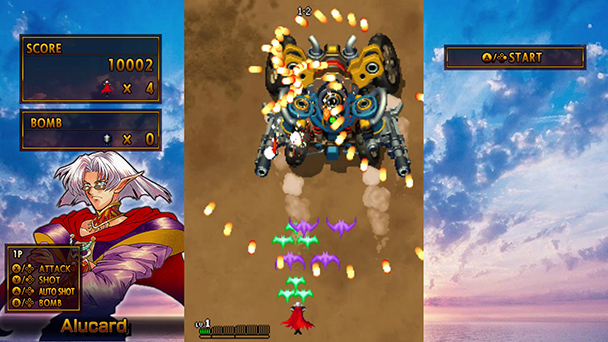 From Witch-Girls to Russian Robots
Despite an imaginative blend of fantasy and science fiction for its enemies and backdrops, the first Gunbird is fairly conventional in play, with power-ups contributing three levels of augmentation. For the sequel, there's a bit more innovation, with the incorporation of a charged shot power bar. Fill this gauge and a button press will unleash a devastating assault on adjacent foes, prodding players to get dangerously close to bosses. Bomb attacks tend to be more interesting as well, with Marion able to turn foes into candy and collect the sweets for points.
Samurai Aces aka Sengoku Ace: Tengai Episode I was Psikyo's first game. As such, the vertical shooter divulges several similarities with the Gunbird games, like the selectable protagonists and the same power-up and bombs sprites that rebound around the screen. But it's the title's distinctions that make it worth playing. From lighting fast projectiles, enemies that dart around animalistically, to a mythical interpretation of Japan's Sengoku period. For players looking for a distinctively Japanese shooter, Samurai Aces is worthy of your time, with qualities like a tomboy shine maiden and a daruma in the backdrop.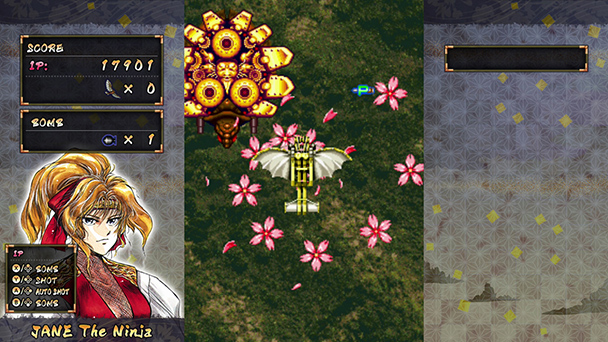 A Change in Direction
With Tengai (aka Sengoku Blade, Sengoku Ace Episode II) and Samurai Aces III: Sengoku Cannon, Psikyo shifted the series from a vertically scrolling shooter to a horizontal one. Although the lively cast of selectable character returns in Tengai, here the playable no longer resemble aircraft, but are depicted as humans flying through the air. Grab one on the game's familiar power-up icons and you'll be assisted by a familiar that augment your offensive arsenal. Undoubtedly, the game is tougher, with resistant enemies who launch streams of bullets from the right side of the screen. To help balance this, physical contact with foes won't automatically kill you (like bullets will). Instead, you'll lose one level of power-up growth.
Originally released as a PSP title, Samurai Aces III is the lone dud in the collection. Here, the series traditional sprite-based gameplay has been changed to polygons. Enemies move spasmodically, ruining the usual pixel-perfect hit detection, but backgrounds fly around wildly, potentially causing dizziness. Consider its inclusion a curio that signaled a tragic end to the series.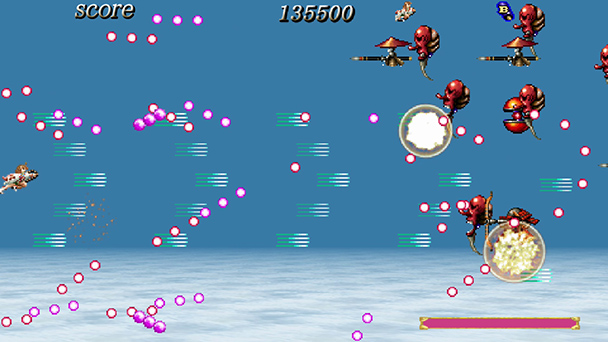 Gunbarich Breaks Out of Formula
Solace for Samurai Aces III's transgressions can be found in Gunbarich, which along with Arkanoid, is one of the few variations of Breakout that truly improves to the formula. Marion returns along with an anchor-wielding, presumably pirate classmate named Gurutan as playables. Along with a scattering of blocks to remove and customary power-ups, the inclusion of features like highlighting the ball trajectory and toggleable walls contributes enjoyment. Instead of the plain old paddle, you've controlling a set of pinball flippers, which can help adjust the path of the orb. More importantly, you'll need to deflect incoming projectiles sent from roving enemies back up the playfield. Save for a sixty-second time limit on each stage that can induce anxiety, Gunbarich is a whimsical, vibrant affair that plays like nothing else. It's also one of the rare Breakout games that doesn't feel like control would be improved by a paddle controller.
With four titles available to play in tate mode, Psikyo Shooting Stars Bravo does extend at least one attractive option. But the lack of any online leaderboards or any historical material is a bit disappointing. Overlook these components, and Bravo is a worthwhile collection of distinguished games from a lapsed developer whose efforts undoubtedly deserve memorialization.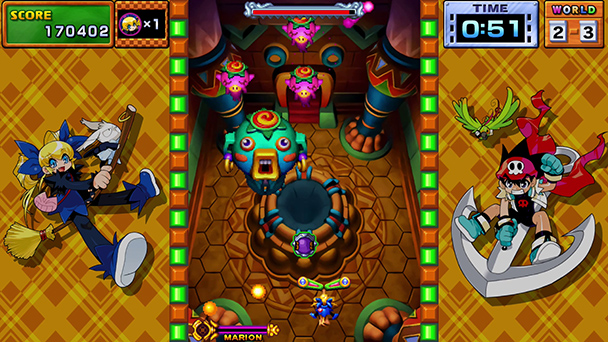 Psikyo Shooting Stars Bravo was played on
Switch with review code provided by the publisher. 
Psikyo Shooting Stars Bravo

Platform:
Switch
Developer:
City Connection

Publisher:
NIS America
Release date:
February 18th, 2020

Price: 
$59.99 physical, 39.99 digital via
Nintendo eShop
Review Overview
Summary : With five hits and one miss, Psikyo Shooting Stars Bravo is an advisable addition to any shmup fan's library. Along with Alpha, you'll have a hard time finding a better collection of shooters outside of an Akihabara arcade.