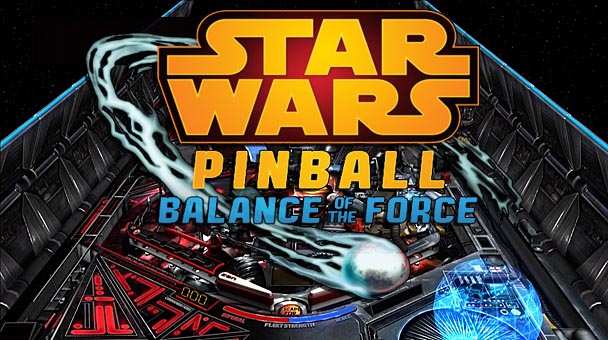 Amidst the craze of crowdsourcing neglected amusements, it's a bit surprising that there isn't more of a movement to bring back actual pinball machines. Undoubtedly, one of the key dissuaders in the endeavor is the accomplishment of the Pinball FX and Zen Pinball franchises. By blending designs which rival the sophistication and satisfaction of actual tables, painstakingly accurate physics modeling, and licensing agreements with Tecmo-Koei, Capcom, Marvel, PopCap, and Disney, the developers have captured the core tenets of pinball. For gamers who didn't live near a traditional arcade or without wide swaths of real estate, Zen's output of consistently competent tables has been a blessing.
With the release of Star Wars Pinball: Balance of the Force, the saints of the steel-orb have smiled upon us once again. Mirroring the developer's previous triads of tables, the downloadable pack provides thee machines exhibiting the customary level of polish and a pleasing sense of variety. Balance once again demonstrates Zen Studios exhaustively researching their source material. Near every moment with these new tables offers an invigorating interpretation of events from the original trilogy.
The Return of the Jedi machine is destined to become appreciated by pinball purists. Unlike the majority of Zen's output, Jedi is unapologetically challenging, with table trajectories which frequently send the ball careening toward the drain holes or the treacherous outlanes. Set against the flora-filled planet of Endor, players attempt to complete a succession of scenes from Episode IV. After first spelling out the letters which spell JEDI, missions include visiting Jabba the Hut and freeing Han Solo from his carbonite captivity. The highlight of the table is a Speeder Bike pursuit mini-table which tasks players with targeting ramps and a hole to evade your pursuers. Although Zen Studios' tables are habitually bug-free I did encounter an infinite-score glitch on the table. Fortunately, it looks to be a fluke- as I've been unable to duplicate the bug and the leaderboards look untainted.
Echoing the duality of the Marvel Pinball: Civil War table, Starfighter Assault compels players to align themselves with either the Galactic Empire or Rebel Alliance. Depending on your faction selection, a variety of checkpointed missions ensue- most centered around attacking the adversary while repairing your own fleet of fighters. Successful missions feed into an experience gauge at the bottom of the screen. Once players earn enough XP, they'll open the opportunity for multiball, as well as earn access to special missions with lofty score bonuses. Recalling the LCD games which blossomed during pinball's twilight years, a Galaga-esque mini-game has players eliminating enemy fighters.
Balance of the Force's Darth Vader table bring indulges the infamous dark lord with his own machine. Play commences by offering gamers the ability to participate in the Anakin's transformation- offering gamers an easy way to earn a quick eleven million points. Those who would rather not engage in Palpatine's machinations can skip the sequence with a press of the flipper buttons. Although the table strikes a balance between Return of the Jedi's challenge level and Starfighter Assault's high-speed habitrails some players might be put off by Vader's color scheme, which relies too heavy on blacks on reds. Sonically, the machine's soundtrack is engaging, starting each round with John William's triumphalist "Imperial March" and voice over which offer a commendable rendition of James Earl Jones' resounding intonations. Other samples vary in quality, with interpretation of Solo and Leia being a bit substandard.
Despite a couple of blemishes, Star Wars Pinball: Balance of the Force is a must-purchase for pinball enthusiasts. For the ten dollar price, players receive three top-notch tables capable of nurturing hours of involved score chasing. Now that Zen Studios has proved themselves with the Marvel and Star Wars properties, hopefully IP owner Disney will confer their right to create tables based on their beloved mascots. We'd love to see Toy Story, Fantasia, or Aladdin-themed machines.
Star Wars Pinball: Balance of the Force was reviewed on the Xbox 360 with review code supplied by the publisher.
Review Overview
Summary : Once more, Zen Studios demonstrates that they are the preeminent pinball masters, delivering three Star Wars-themed tables which compete against history's best machines.