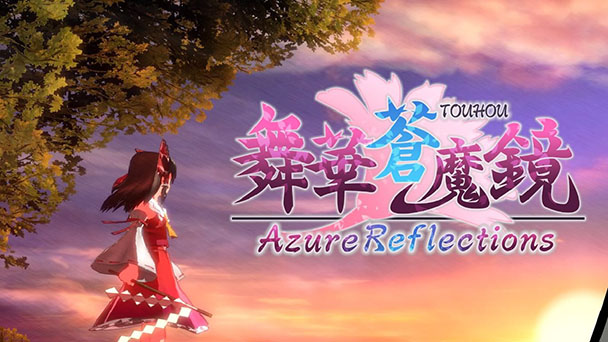 With ports of Deathsmiles, DoDonPachi Resurrection, and Mushihimesama, PC owners are privy to a number of excellent danmaku (often referred to a 'bullet hell' games). With the recent release of Azure Reflections on Steam, there might be reason to rejoice. Bombarding screens with dozens of on-screen bullets, the seven-stage journey may be brief. But mercifully, there's just enough motivation to inspire a bit of replay.
A bit of background for those unfamiliar with the Team Shanghai Alice and The Touhou Project. Since the mid-nineties, a programmer nicknamed ZUN has been single-handedly constructing a steady flow of wonderfully intense scrolling shooters under the ZUN Soft and Team Shanghai Alice monikers. There efforts exhibited so many playability and polish that they inspired an array of doujin circles. Using the same setting and characters, games even transcended the danmaku genre, with efforts that reaching into fighting, sports, platforming, and even racing. Of course, that's just the edge of the Touhou empire. Delve deeper and you'll find masses of crowd-crafted artwork, figurines, music and even anime.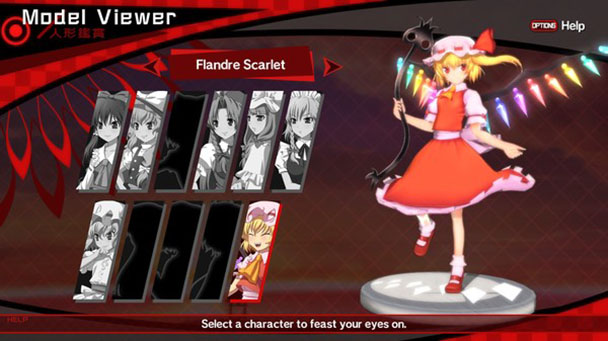 While familiarity with some of the personalities might bolster involvement, it's not a requirement for enjoyment in Azure Reflections. The game's opening expeditionary segments tell of a reoccurring scourge befalling Gensokyo- the mythical setting of Touhou Project titles. The first time an alarming crimson mist fell over the land, Touhou's protagonists put a stop to the danger. Now, Reimu, Marisa, and Cirno are the only ones sensing the return of danger, and valiantly take action to protect misfortune from arising.
Initially, you'll tackle Azure Reflections with just Reimu, Touhou's traditional lead, an optimistic shrine maiden with gohei perpetually in-hand. Achievement unlocked the aforementioned magician and fairy. Expectedly, each heroine fights distinctly, bringing their own types of shooting and skills to the confrontation against diminutive witches, books, bats, as well as the obligatory end-of-level bosses.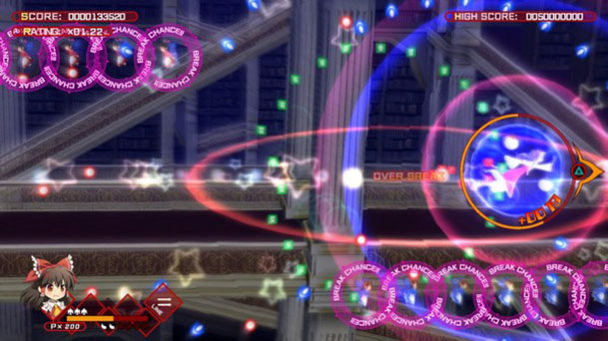 With a horizontally scrolling field and enemies approaching from both sides of the screen, gameplay vaguely recalls Deathsmiles, albeit with a several departures. A limited number of spell cards act like bombs, illuminating the screen with pyrotechnics that can eliminate subordinate enemies and injure bosses. But use them during one of the level-punctuating showdowns, and you'll be unable to achieve a perfect clear. In execution, the micro-second of hesitation while considering the use of a spell card but me in jeopardy more than once.
But thankfully, Azure Reflections doesn't operate like most danmaku, where collision with a projectile confiscates a life. Instead, an errant move puts the protagonist in a stun state. If you're able to avoid injury over the next few seconds, you revert back to your previous state. But come in contact with a bullet when stunned and you will be penalized. Pleasingly, Azure permits players to use two navigational speeds. The default state is great for avoid swarms of shot. Alternatively, players can hold a shoulder button down, allowing your character to nimbly dodge bullets at a slower speed. On the game's default setting, focusing even reveals the protagonist's hit box, which is a merciful inclusion.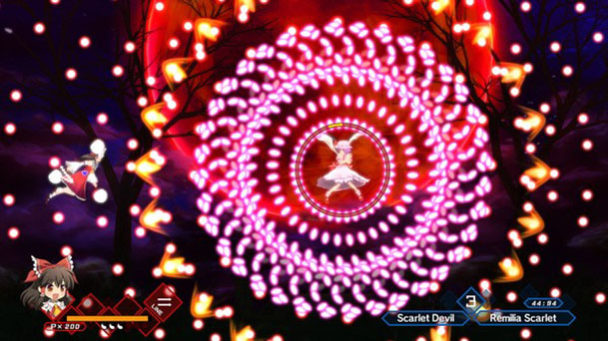 Reflections' most noteworthy mechanic is the inclusion of a barrier for the protagonist. When triggered, your heroine will be shielded by a circular armor that's able to absorb enemy shots. Pleasingly, each bullet that you soak up increased the power of your shielding, and a second press of a button along with a pull of the analog stick sends your girl catapulting across the screen, smashing through everything in her wake. But you just can't bash your way through bosses. Instead, you'll have to inflict enough damage to make indicator appear, signaling it's time to crash into the opponent. Typically, you'll have to collide into the foe three times before she is vanquished.
Collectively, Azure Reflections mechanics make for solid gameplay. One trait that separates the game from other danmaku is the behavior of enemy bullets. Whereas many shooters throw fields of fire that emanate from a single direction, Reflections frequently throws plays into a crossfire. With foes on both sides of the screen the sporadic vertical shots, concentration is tested on lower difficulties, and liked trounced on the higher ones. Add three different color-coded types of pick-up that travel horizontally in both directions and the game will surely test your visual acuity.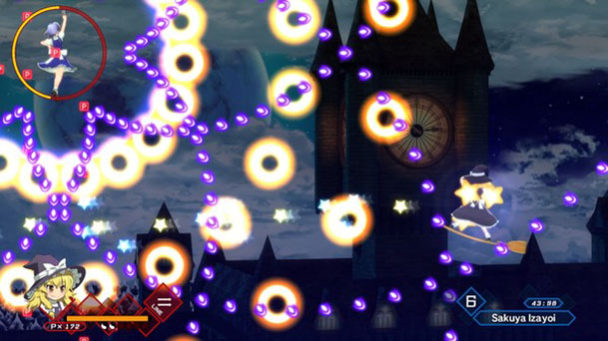 Perhaps developer Souvenir Circ. (Croixleur Sigma) didn't want to visually overwhelm players. So, while the game's backdrops are attractive, environments lack the navigational challenges of titles like Deathsmiles or Gradius. What's more, the game's constrained number of lesser enemies follow straightforward attack patterns, slightly weakening the run up to a boss confrontation. Another possible knock against the game is the shortage of stages. But the developer counter this issue with a host of unlockables, that when applied to a character, affect the difficulty, adding extra lives or augmenting the power of your arsenal.
And while those new to the Touhou Project might not appreciate the loquaciousness of the dialog that bookends each stage, moe aficionados will feel quite differently. On a large monitor, the massive character portraits will certainly seize attention, emoting and expressing themselves in amusing interchanges. While many classic shooters show their age through pixelated visuals, Azure Reflections' high-def, consistently fluid output feel like a modern delight, and offers a soundtrack every bit as gratifying as the graphics.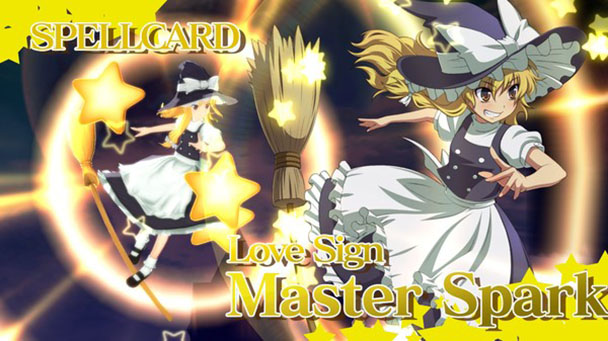 Despite a number of competent danmaku already on Steam, Azure Reflections is an easy recommendation for fans of the genre. With distinctive mechanics, stunning character art, and leaderboard positions to strive for, the game is yet another solid effort for The Touhou Project. While the game doesn't quite meet the watermark established by some of CAVE's efforts, it's a proper replacement for those who like being engrossed by evading a barrage of bullets and overcoming near-inevitability of defeat.
Azure Reflections was played on PC with review code provided by the publisher. 
Review Overview
Summary : If you love bullet-hell shooters and have a large enough monitor, Azure Reflections might come close to euphoric. It's not flawless, but the adorable character art might make you overlook any blemishes.