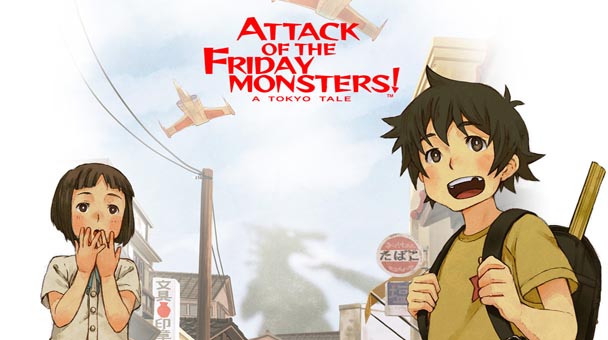 Look past Retro Game Challenge's collection of faux-Famicom titles, and the title divulges an implicit takeaway: despite cultural and geographical differences, the medium of gaming created an undeniable similarity across Eastern and Western childhoods. Much like the t-shirt and shorts clad youths portrayed in the DS cartridge, my friends and I spent our formative years transfixed by the mysteries held by the 8-bit era, with any free time consumed gleaning gaming tips from friends and magazines. Thanks to the localization of Japanese titles in the '80s, young videogamers across the globe shared a common experience, allowing Game Challenge's retro ruminations to unite a scattered audience.
Yet, this phenomena wasn't restricted to SEGA Master System and Nintendo Entertainment System owners. The previous decade brought Shogun Warriors– toy maker Mattel's importation of anime mecha, as well as the localization of television shows such as Ultraman, Star Blazers, The Space Giants, and Johnny Sokko and his Flying Robot. Collectively, these series were known in Japan as tokusatsu– special effects driven programs which frequently centered on giant monsters and fighting robots. These shows and their brethren form the basis of Attack of the Friday Monsters! A Tokyo Tale, an unabashedly nostalgic look back on this halcyon age on Japanese television. For anyone who grew up mesmerized by the rubber-suit spectacle of kaiju, the title is poised to fuel the smoldering blaze of sentimentality. For those who didn't, Attack of the Friday Monsters offers an fascinating look at Fuji no Hana, a sleepy Tokyo suburb in the Setagaya district (also home of Toho's studio facilities), that's on the threshold of urbanization in the early '70s.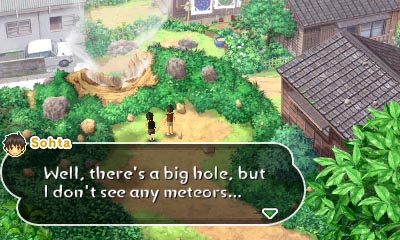 Players assume the role of Sohta, an energetic 10-year old boy who has recently moved to the town. According to the suburb's children, the pastoral tranquility of Fuji no Hana is a façade. Every Friday, kaiju monsters- similar to the ones in popular television programs, roam about. Much of the title's charm stems from the ambiguity of its plotline, which straddles the existence of creatures with youthful imagination for the majority of its duration. One moment, players are stumbling across colossal footprints that evidently belong to kaiju, the next they are presented with a rational explanation for the roars which emanate from sewer drains. However, once Attack of the Friday Monsters! narrative uncertainty wanes, plausibility and immersion are blemished. Mercifully, these plot points aren't articulated until late in the three to four hour adventure.
While autonomous, open-world playgrounds are routinely praised in gaming, Attack of the Friday Monsters! provides the funneled trajectory of a visual novel. While this might seem like a criticism, in execution, the title's laid-back pace and lack of hindering hurdles complement the game's serene setting. Much of the Friday Monsters' mechanics involve using a map on the bottom screen to locate NPCs and speaking with those characters to push the plot along. Although this could have been a bore, succinct dialog, amiable characters, and a compelling context carry players across the adventure. Rarely is a sense of place articulated as well as Attack of the Friday Monsters, where vibrant Ghibli-esque milieus highlighted by a functioning railroad and residences and shops that exhibit as much detail as the 3DS screen will allow.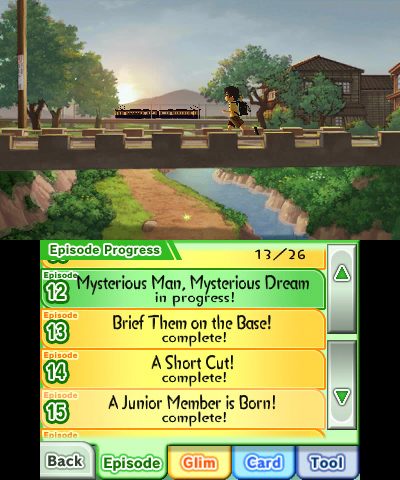 Beyond the storyline, two other activities await gamers: collecting glims and engaging in monster card battles with peers. The first are glowing collectables which dot the environment; picking up enough similarly colored glims unlocks a card for the second component. Card skirmishes utilize a simple roshambo-mechanic, competitors place five of their monsters down and then have an opportunity to rearrange two of them. Whoever has the best hand, wins- which for players usually results in additional glims along with a plot-advancing clue. The cost of losing is only slight humiliation.
For players who require a large allotment of interactivity, Friday Monsters' diversions may seem woefully superficial. Yet, for those captivated by the title's creation of the carefree days of youth, these elements provide just enough gamification to evoke the impromptu recreations which accompany childhood. Largely, they partner with Attack of the Friday Monsters' sense of wonder and jubilation, mirroring the collection of grown-ups discarded objects and the thrill of good-natured victory against peers.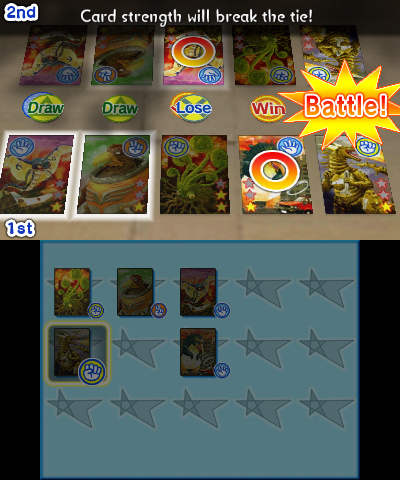 Guild series titles like Crimson Shroud, Liberation Maiden, and Aero Porter, have offered a pint-sized morsel of gameplay that have placated 3DS owners cravings; contentment has typically surfaced with the final credit roll. Yet, Attack of the Friday Monsters! A Tokyo Tale left me hungry for more. Unlike the previous games across Level-5's anthologies, I would have liked to have seen the pleasing little title last longer. In that manner, Friday Monsters is a textbook analogy for childhood- evoking a magical age that ends far too soon.
Review Overview
Summary : Shamefully, Kaz Ayabe's charming childhood tales have yet to be released stateside, Attack of the Friday Monsters! corrects that oversight, offering a low-key, but thoroughly enjoyable rumination.