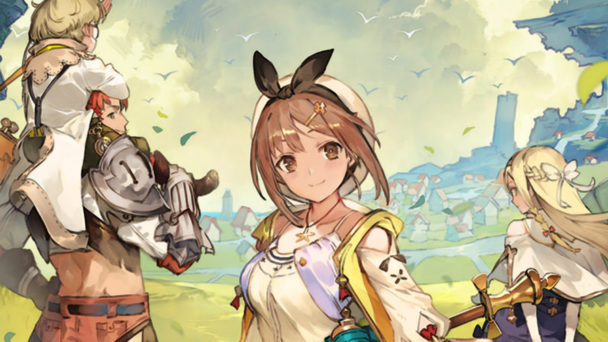 When a gaming franchise surpasses twenty iterations, stagnancy is a threat. Far too often, publishers are guilty of pushing out follow-ups with nominal additions and a few tweaks- in an unabashed effort to separate players from their disposable income. Delightfully, that hasn't been the case with Gust's Atelier series.
The release of Atelier Ryza: Ever Darkness & the Secret Hideout is studio's twenty-first entry and demonstrates the Nagano-based team willingness to push the property in bold new directions. While long-time Atelier devotees might be skeptical of Ryza's deviations, the bulk of changes end up enriching the experience. For those unacquainted with the franchise, this is an ideal place to start.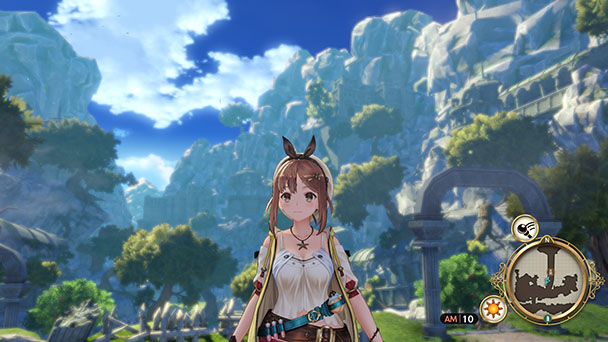 Almost every previous mainline Atelier entry has begun with the lead character dabbling in the alchemical arts, with many protagonists having a close relative who was proficient at item synthesis. Atelier Ryza shirks tradition, begins with the eponymous lead character and her two friends hoping to break free of their small island home. For anyone who grew up in a neighborhood they yearned to escape from, empathy for the characters comes easily.
Initially, Atelier Ryza's cast might seem constructed from trope. The bespectacled Tao is an awkward bibliophile, and his determination in uncovering the meaning of a cryptic old tome is seen as unconventional for the island community of Kuken Island. Lent is a strapping swordsman, with chiseled jaw and abs that would make any fitness enthusiast envious. While Ryza is rooted in the type of ordinariness common to role-playing leads, she isn't the conventional tabula rasa, which an audacious spirit and the tendency to test boundaries.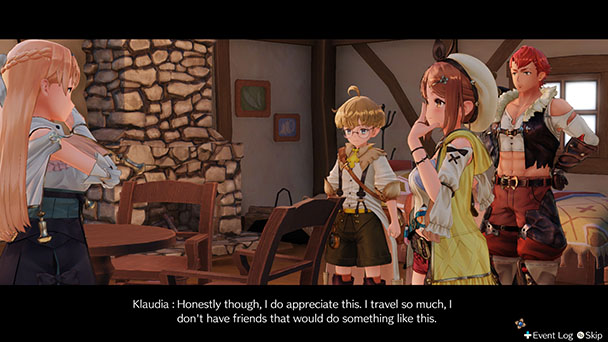 Where disfunction has rarely been incorporated into the radiant realms of each Atelier entry, its appearance elevates Ryza's storytelling over previous iterations. While not everyone might identify with the issues faced by the cast members, the inclusion of topics like alcoholism, bullying, and the strain of pursuing your own aspirations against your family's wishes have a chance to resonate with a wide audience.
But even if you've never faced these issues, Atelier Ryza makes some deft expositional decisions. Typically, we learn about characters mainly through their interactions with the lead. But here, characters converse and bond with one another, providing a bit of authenticity. And when the title makes a leap from slice-of-life adventure to a larger menace that threatens the island, you've already developed an affinity for the cast.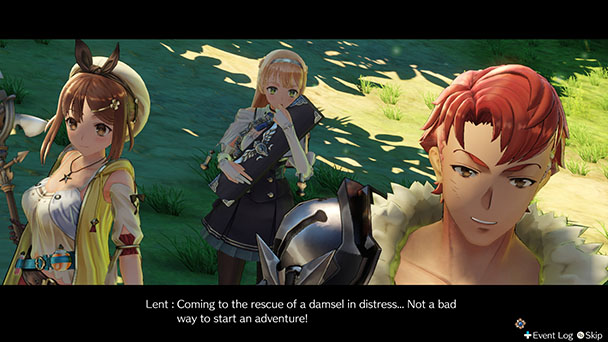 Alchemy's place in the world provides another interesting twist. We first witness its potential when your adventuring party is nearly defeated, causing a character to toss an explosive at the creature. Far from the symbolic pyrotechnics of previous outings, it detonates with startling power. We soon learn that the art isn't universally understood, with many island residents thinking it's a rather peculiar pursuit.
Players will discover than alchemy is an engaging vocation, with Ryza applying some widespread changes to the way it's accomplished. The Linkage Synthesis system expresses item creation through a visual representation of linked nodes. Placement of an item on an intersection opens up new paths, allowing for the rapid creation of items from gathered raw materials like water, flowers, and wood.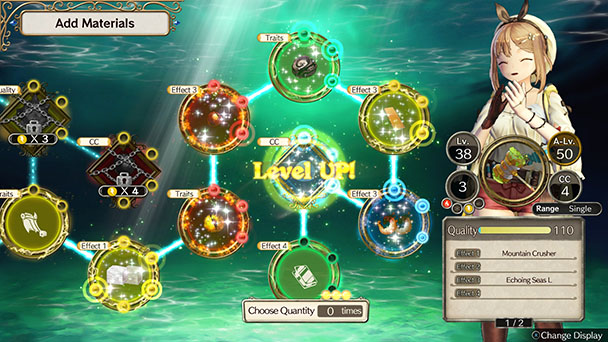 Although the approach is simplified from previous Atelier entries, there's still nuance found in synthesis. Stacking multiple materials on each node can level the intersection up, potentially opening new paths. Naturally, as your alchemical skills grow, so does your inventory, allowing for new recipes. Previously crafted items can be rebuilt, increasing their capability. However, you have to be careful not to do this too many times, or else your creations will require elevated stats for use. Much like Disgaea's Item World, Ryza embraces the recursive, granting the ability to create your own gather fields, where you can cultivate rare materials or even certain types of monsters.
Combat has been revamped too, with Ever Darkness & the Secret Hideout incorporating a system that similar to the Active Time Battles of the Final Fantasy series. Although players can freely shift between a trio of party members, you'll control one character while the AI handles the other two. A gauge on the right side of the screen exposes a fluid turn order and when it's time for your character to act, you can select between attacking, relocating, using magic or items. Most of these orders are regulated by two different point pools, with Action Points (AP) for attacking and magic, while Core Charges govern item usage.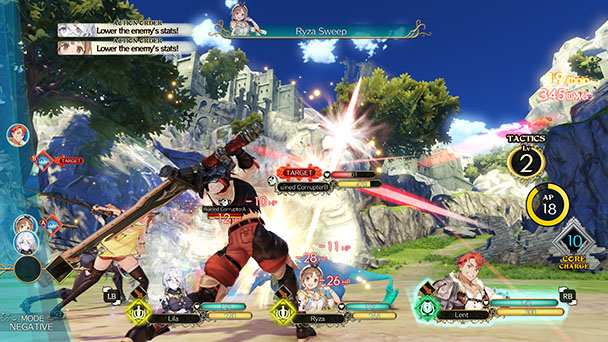 Although it's tempting to spend AP assaulting enemies, if you're able to store ten Action Points, you're provided with the possibility of increasing your tactics level, with give access to superior skills or even dish out consecutive attacks. Another pleasing possibility are Action Orders, which allow your party members to extend attacks into devastating combos by responding to an on-screen prompt. Largely, combat feels lively, finding an attractive balance between the urgency of real time combat and some of the strategy found in turn-based approaches.
Traditionally, budgetary limitations restrained the franchise's aesthetic ambitions. From dodgy framerates to the evident reuse of assets, the Atelier series sporadically broke a sense of immersion. Generally, that's not the case here. On PC, Ever Darkness & the Secret Hideout's multitude of milieus are delightfully lush, brimming with color, and exude a pleasing sense of variety, with only a bit of shimmer and jaggies undermining the delivery.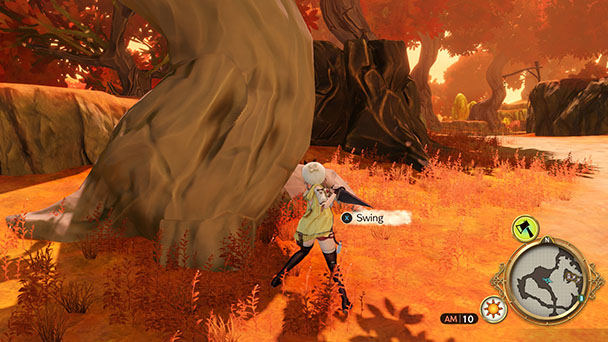 Likewise, the game's character models are sumptuously detailed, with animations that speaks just as much as the game's Japanese-only dialog. What's especially impressive is the game's framing, with the kind of extreme close-ups and shot composition often limited to Hollywood films. Unsurprisingly, the game's soundtrack is a winner, with pieces transcending the customary folksy fluting. While the game's uncapped framerate held up well on most rigs, there was a few sub-60 frame-per-second instances during combat.
As good as Ryza's fundamentals are, they are still a few minor blemishes poised to irk players. Although the navigational system is habitually quite helpful, intermittently it will point you in the wrong direction, forcing you to track down an NPC on your own. The game could also be a bit more forthcoming about the location of materials. Assistance is buried in the menu system, when it should be immediately accessible. Naturally, the pace of the game might be decisive. While some will appreciate the protracted approach, less patient players might feel that the plot moves a bit too slowly. Likely, your stance is contingent on experience with context-heavy JRPGs.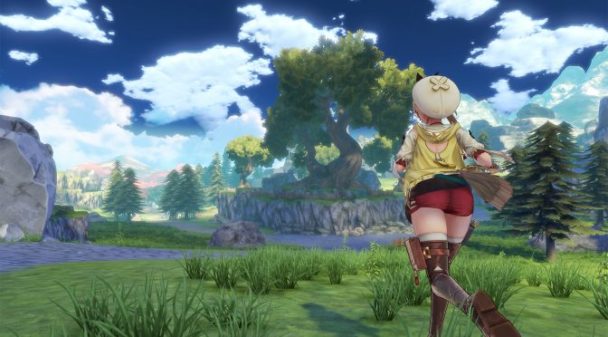 Atelier Ryza: Ever Darkness & the Secret Hideout could have played it safe, offering perfunctory deviation from previous entries. But Gust reconsidered each component in the franchise, delivering an effort that offers a sweeping departure in theme and play. Whether you're an Atelier aficionado or merely an alchemical apprentice, Ryza is a first-rate experience.
Atelier Ryza: Ever Darkness & the Secret Hideout was
played on PC with review code provided by the publisher. 
Review Overview
Summary : With sweeping changes to storytelling, alchemy, and combat, Atelier Ryza: Ever Darkness & the Secret Hideout delivers an innovative take on Gust's prolific property.