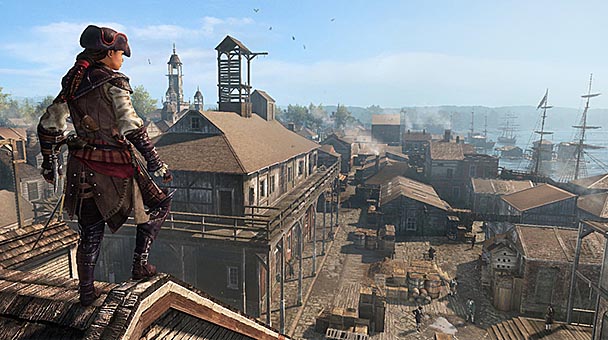 Although adaptations like Assassin's Creed II: Discovery and Assassin's Creed: Bloodlines have tried to translate the allure of Ubisoft's flagship franchise onto portable screens, the DS and PSP hardware weren't quite able to capture the splendor demonstrated by their console and PC-based brethren. 2012's Assassin's Creed: Liberation for the PS Vita was the first time a transportable system was able to truly recreate series trademarks like the enthusiastic scamper up the side of a soaring building or the grandeur of the panoramic revolution which accompanies a synchronization. Hoping to bring the title to a larger audience, developer Ubisoft Sofia has given the original title an overhaul- providing high-definition output, some slight mission modifications, and marketed the title at a discounted, twenty dollar price. Although devoted franchise followers will appreciate the journey, those expecting a satiated sandbox filled with side-quests might still bemoan Liberation's downscaled ambitions, especially if they've recently visited Black Flag's absorbing atolls.
In concept, Liberation's context is one of the richest settings to be found across Ubisoft's prolific series. Set in Louisiana amidst the conclusion of the French and Indian War, tension abounds- both from the recent takeover of the territory by the Spanish, but also with the racial prejudice and sexism that were rampant during the era. Certainly, the game's mixed-race, female protagonist, Aveline de Grandpré, is the ideal heroine to survey the setting- as she's able to blend as both socialite and slave.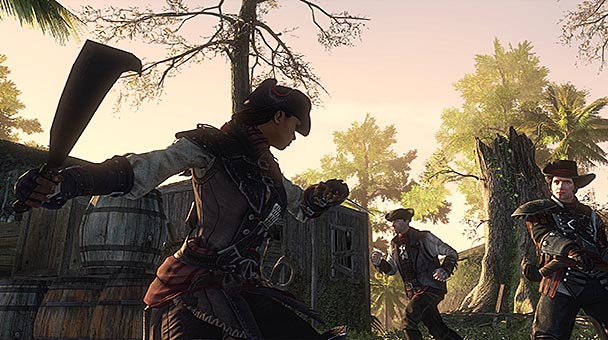 The title is at its best when Aveline is cleaving through the jugular of social injustice, using the Assassin's characteristic toolset to upset the flow of human trafficking and colonial tyranny. Much like 2009's The Saboteur, the furtive disruption of inequality feels gratifying- as if the player's actions could somehow diminish some of the most shameful events in history. Unfortunately, Liberation's storyline doesn't always support this fantastical ambition, sporadically pushing player through successions of waypoints with little narrative impetus.
Worse, the plot can often feel disjointed- a consequence which stems from the design decisions of the portable version. Missions were built to provide variety to commute time gamers and often lack continuity, jumping from one mission to the next with scant transition. Elsewhere, brief cinematics deliver only a modicum of character development. Most inexplicably, Aveline's own backstory is largely confined to the in-game codex. Woefully, Ubisoft Sofia's newly added side missions rarely soothe this ailment- instead offered bizarre assignments like tasking players with attacking townsfolk who have become inflected. In execution, the undertaking is probably more enjoyable than a fetch question to collect pharmaceuticals, but the absurdity of the errand mars Liberation's ambitions.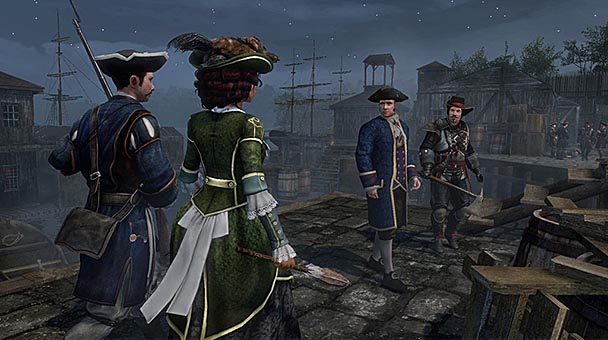 Whether striking at innocents or the insolent, Aveline is well equipped to take on all opponents through Liberation's Persona system. By changing costumes at preset destination, she can adapt one of three different identifies. As an Assassin, Aveline is equipped with an engaging loadout of a machete, blow-darts, and whip, the downside is that her costume and arsenal swells her notoriety gauge. Dressing as an elegant debutante gives access to a blow-dart firing parasol and the ability to charm guards, effective creating shifting stealth spots. Unfortunately, her ornate gowns prohibit Aveline from climbing or even running- so a large amount of the lady's time is spent sashaying up New Orleans streets. Finally, infiltration into rural compounds can be accomplished with the slave attire, where Aveline can feign working to slip past groups of suspicious guards.
Although the Persona system adds diversity to the game, there are some drawbacks. Liberation often requires a specific identify for a mission. Ideally, the game would have provided a Deus Ex: Human Revolution-style mechanic allowing gamers to choose the Persona which suits their own play style. Another downside is that until players unlock additional changing stations, they can find themselves in situations where they will have to trek to the nearest changing room. For those with Assassin's Creed III or IV fresh on their minds, they're likely to miss the flood of involving distractions and numerous side quests to chase after. Whereas these titles beguiled gamers with an assortment of ancillary activities, Liberation scales back these undertakings, transforming the game into a more linear journey.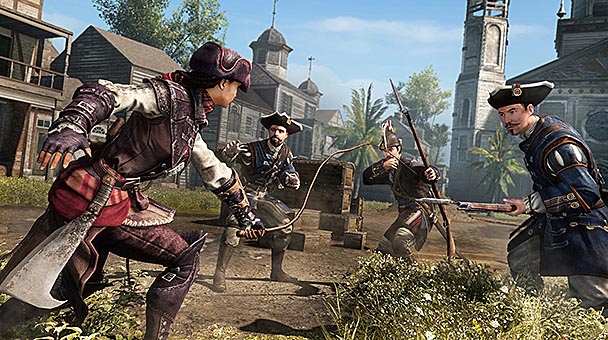 One of these supplementary missions requires gamers to rip wanted posters from walls- a process that becomes more slightly more difficult with the shift to high-definition. Largely, Liberation's upscaled texture work looks good- with moments where the game looks like it was it built from the ground up for console and PC. Yet, when the perspective involves a deeper draw distance, the title uses a hazy filter to render the background, giving remote objects an unnaturally gauzy appearance. That said, the improved framerate and inclusion of HDR effects are pleasing enhancements. Sonically, Winifred Phillips score is the game's most virtuous element, providing a dynamic soundtrack that swells and shrinks in accordance with the on-screen action.
Assassin's Creed: Liberation was a muted success of the PS Vita, translating the franchise's core elements onto the portable screen. Yet, the game was unmistakably designed for portable play- extending fleeting cinematics and largely linear missions that were intended for abbreviated play sessions. At home, this structure remains unchanged, making the game's ten to twelve hour campaign feel a bit irregular. As long as players purchase Liberation expecting a conventional port and not a comprehensive reimaging, they should be able to enjoy Aveline's adventure.
Assassin's Creed Liberation HD was played on the Xbox 360 with review code provided by the publisher.
Review Overview
Summary : While Ubisoft Sofia did a respectable job of transforming elements such as touch screen input, Liberation's larger design decisions divulge the game's portable origins.