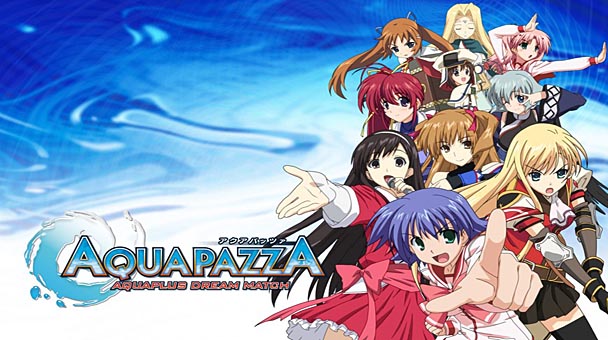 As titles like Street Fighter X Tekken, Ultimate Marvel vs. Capcom 3, and The King of Fighters XIII have demonstrated, two-dimensional fighters filled with familiar pugilists have their charm. Certainly, it's gratifying for players to starting dishing out devastating combos with their favorite characters. On the other hand, few things can trump the excitement of discovering the assailing arsenal for a new character- gradually mastering the execution and timing for each special move. Like learning the nuances of the Tatsunoko roster or identifying the quirks of Persona 4: Arena's cast of combatants, AquaPazza: AquaPlus Dream Match delivers the exhilaration of acquiring new techniques, as gamers take control of a cast of wonderfully quirky assailants.
Originally a Japanese arcade cabinet released in 2011, AquaPazza unites the cast of Leaf's eroge and visual novels, plucking twenty-six characters from Utawarerumono, Tears to Tiara, To Heart, Comic Party, and White Album. Fortunately, a knowledge of source material isn't vital to the enjoyment of AquaPazza. Merely being amused at seifuku-clad girls attacking with stacks of textbooks, schoolbags, or mops is the only requisite. Lest anyone dismiss the title as little more than a loli-fighter, there are several imposing male fighters in AquaPazza's roster as well.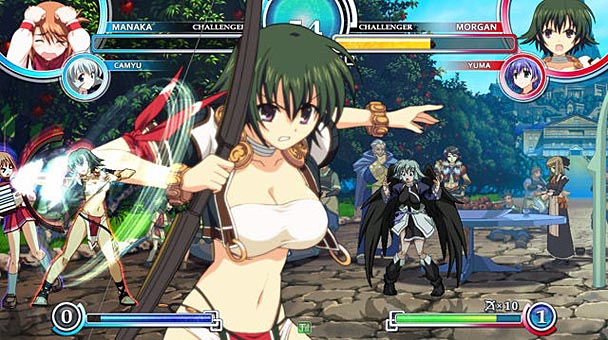 Notably, a few core mechanics endow Dream Match with distinctiveness. Each bout is governed by color-coded health bars. Initially, each player's meter glows a brilliant blue, converting to green once opponents land a hit. When the jade-colored gauge is depleted, it's filled one last time with an urgent yellow hue. Although it's a seemingly small deviation from fighting custom, the multi-toned life bar does play into the psychology of each match, making gamers feel like dominators or underdogs.
Stimulation is also spurred through AquaPazza's Active Emotion System (AES), sending combatants into one of three conditions. Landing a succession of blows or nailing perfectly times guard pushes players in a positive state of mind- where their strikes will do more damage and the super meter fills a bit more rapidly. Conversely, turtling or taking damage shifts characters into a negative state which weakens the strength of their attacks as well as the effectiveness of their defense. Luckily, shifting to a neutral or positive state is relatively easy- it's rare to feel victimized by the emotion system. More often, the AES goads gamers into playing aggressively and taking calculated risks.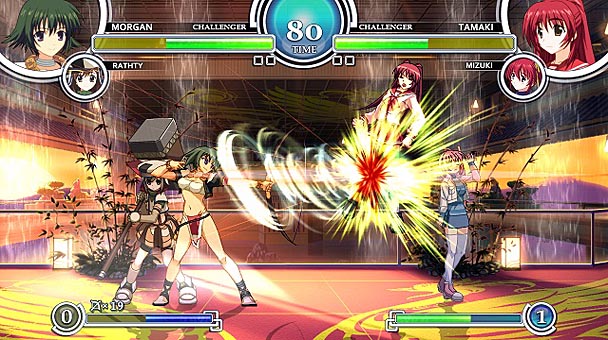 Beyond the capacities of each of the game's thirteen playable characters, there's also variability to be found in the game's unique roster of partners. These supporters don't require summoning, lingering in the background of each match. Interesting, their movement follows character-determined patterns- with some locked in place while other closely shadow players. Once the call for assistance is made, players are provided with a devastating strike often presented in whimsical fashion. From To Heart 2's Yuna Tonami who careens into foes while riding her bicycle to Comic Party's Yu Inagawa- who beats opponents to the ground with a giant paper fan, the strikes are often the highlights of a match. Largely,  the inclusion of partners proves to be a deft touch, adding additional strategy to each match without forcing players to study absorb yet another move-set.
AquaPlus Dream Match's defining mechanics are well conceived; fortunately the fundamentals prove just as adept. The four face buttons on a DualShock controller issue up light, medium, and heavy attacks, with the "X" button instigating partner assaults. The creation of combos is an easily understood task, with players simplify canceling to the next level of ferocity. For better or worse, Developer Examu steps away from the incessant airdashing and juggling of Arcana Heart 3, allowing AquaPlus' ground-based matches to proceed at a manageable pace. One caveat to fighting fans: while basic quarter circle movements could be pulled off with Sony's standard controller, the title's special moves will require the precision of a fighting stick, so make sure you have a suitable peripheral ready. For those who just want to view a bit of teen-rated jiggle during straightforward skirmishes, AquaPlus does indulge. The game's rudiments are easily absorbed while a 'Simple' control scheme allows accessibility (at the cost of a constrained super move gauge).
Visually, the title's collection of playable characters and supporting partners exhibit a respectable amount of animation. Although the number of individual frames may pale when placed beside competitors, each sprite is charmingly drawn and thoroughly expressive. AquaPazza's backgrounds deserve recognition for creativity, set in venues such as a J-pop concert, comic convention, and picnic where a giant crab is being boiled. Musically, the game's arrangements are invigorating, but not quite memorable enough to warrant a separate soundtrack release.
Regretfully, a number of blemishes across AquaPazza's framework sully the overall experience. A story mode allows players to follow character-specific narratives which are driven by visual novel-styled cutscenes. Beyond unlocking a new story option upon completion, there's little payoff during the tedious expositional excursion. The title's training mode is a bit of a disappointment, providing an autonomous forum for fighting CPU-controller characters, but offering no actual tutorial. For gamers that purchase the digital version of AquaPlus Dream Match, the lack of lessons is exacerbated by the lack of any kind of e-manual. Finally, the game's netplay can be spotty. Lacking GGPO, cross-continental or weak ping speeds can provoke enough lag to damage a competition.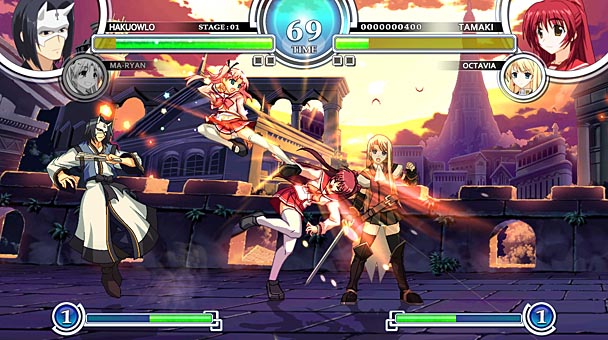 AquaPazza: AquaPlus Dream Match succeeds in the essentials, delivering a fighting game that's engaging, full of charming characters, and reasonably balanced. While a more compelling campaign, more resilient netcode, and a manual or interactive coaching that explained the essentials would be welcome, these omissions are at least partially offset by the title's thirty-dollar MSRP. As such, AquaPazza is recommended to fighting game fanatics as well as patient players prepared to do a bit of FAQ reading.
Review Overview
Summary : Capcom, SNK, and Arc System Works, make room for Examu. The developer's latest reveals a rising star in the struggle for fighting game supremacy.