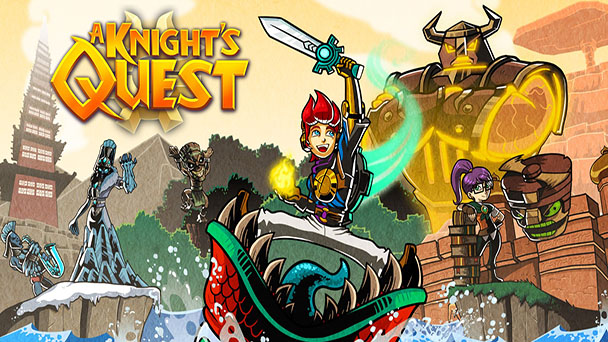 Delve into A Knight's Quest, the latest efforts from the two-person developer team of Sky9 Games, and you might be reminded of a Ridley Scott film. No, not Blade Runner, Alien, or even Gladiator. We're talking about the director's more problematic, late career fare like Kingdom of Heaven, Robin Hood, or perhaps Exodus: Gods and Kings. Undoubtedly, A Knight's Quest periodically dazzles with visual dexterity or delivers a melodic piece that's far more interesting than anything the plot or dialog is doing. Like some of Scott's films from the last two decades, you can sense potential that's never quite met.
An opening cinematic depicts the game's protagonist, Rusty, accidentally releasing a plague of maliciousness sealed into a pink crystal. Being the Mayor's son, the obligation to fix this predicament is urgent, lest you soil your dad's political standing. So, you're sent out to get the assistance of a threesome of fabled warriors known as the Forceful Triad.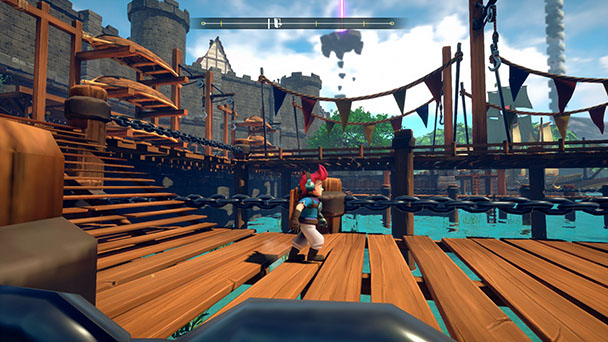 That's intended to parody The Legend of Zelda's Triforce, and just one gag in a game that attempts to shoehorn in as much humor as possible. While some of the one-liners land, the majority don't, making A Knight's Quest's dialog rather tedious at times. Perhaps if Sky9 would have hired some talent voice actors for delivery, there might have been a few giggles. But being an action-adventure game, it's possible to overlook the writing, as it's a small portion of your playtime.
But some of the issues with combat are less forgivable. Certainly, A Knight's Quest aspirations are sound, with real time encounters settled with an upgrade sword and shield sets. Locking onto enemies ensures that you won't be whiffing through the air too often, instead of landing a hit on enemies. With the ability to power up swings, parry, and land a leaping attack, it might seem like your given a potent arsenal.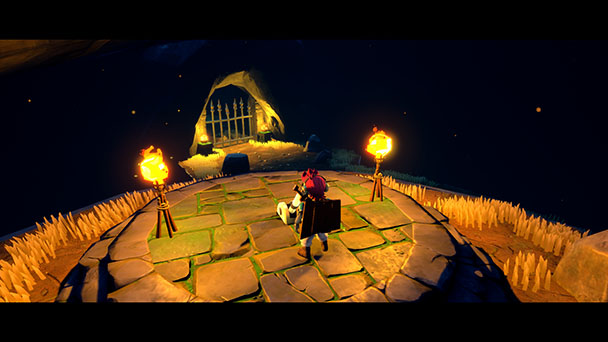 But there's a small issue with nearly every different attack. Your basic strikes habitually feel weak, and you'll often find Rusty hitting opponents ten times before they're defeated. To make matters worse, many foes don't put up much resistance. Often, they'll attack very intermittently, leaving you plenty of time to dash out of harm's way. Parries can send arrows back to archers or stun sword-carrying skeletons, but the game doesn't tell you that you must be locked onto an adversary for the mechanic to work. Meanwhile, powered-up or jumping attacks don't daze opponents. So you'll habitually hit with a medium attack and leave yourself prone for a counter. Collectively, these faults make fighting feel rather lackluster.
But fortunately, battle also plays a subordinate role in A Knight's Quest. Most of the time Rusty will be exploring areas and solving puzzles. And it's here, that the Ridley Scott comparison is most apt. Undoubtedly, the game's visuals impress, with a wealth of sprawling stages that flaunt verticality. As such, you won't just be walking on flat pathways in Quest. Instead, you'll be ascending massive staircases seemingly built inside mountains. Not only are areas vast, but they're textured to make it look like construction was made from a myriad of massive blocks or adorned with torches that realistically cast flickering light on the all behind them.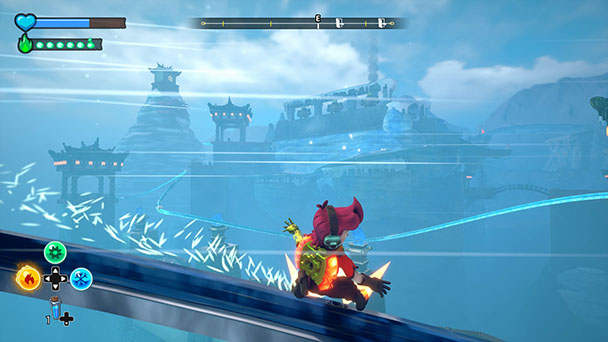 Often the game's striking visuals are complemented by an unexpectedly beautiful orchestrated soundtrack. Filled with evocative crescendos and moments of unassuming beauty when the melody is pared down to a single instrument, A Knight's Quest's musical selection might loop a bit too often, but it's consistently exquisite. But like Scott's direction of late, the synergy of sight and sound is often undermined by a wayward mechanic.
Typically, the sense of exploration is fulfilling with large levels testing a player's puzzling, platforming, and navigational skills. Here, challenges involve the kind of lightweight cerebral tasks of pushing blocks and triggering switches, the kind of tests you'd find in any title inspired by The Legend of Zelda. But it's obvious that A Knight's Quest could have used a bit more focus testing. Instead of grabbing a giant block and pushing or pulling it along a track, you'll have to move it one space at a time, sitting through a protracted animation sequence. While platforming is usually obedient, sometimes Rusty won't catch the edge of a platform and fall into the abyss below.
Dozens of game characters fall into charms without too much injury. However, that's not the case with A Knight's Quest. A single fall can reset progress, reverting switches, and undoing close to an hours' worth of progress because the game saves only when you enter or exit one of its massive stages. Hopefully, Sky9 Games can mend this, because at present it's a deal-breaker that can bring momentum to a screeching halt.
But when or if you do return, A Knight's Quest extends a figurative olive branch, using in the form of an upgrade. From being able to toss tornados at foes and objects, riding on rails Ratchet & Clank-style, or being able to toss fireballs that can melt ice, there always something interesting around the next corner. Whether you opt to undergo The Knight's Quest ultimately hinges on your patience and how eager you are to see the next tool the game gives you. Or perhaps you're like me and are susceptible to the union of stunning visuals and an evocative score. We know that our next media selection won't be Gladiator, but a competent blend of aesthetics that asks the same rhetorical question as Maximus. Yes, we are reasonably entertained.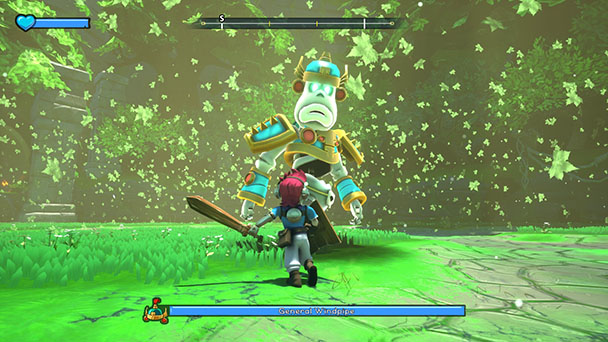 A Knight's Quest was played on PC with
review code provided by the publisher. 
Review Overview
Summary : There are moments were A Knight's Quest suggests Link's determined stride and handling of puzzles. But these instances are all too fleeting. You might have fun with the title, but you'll be thinking about the games it references amidst the backtracking and tedious bits.