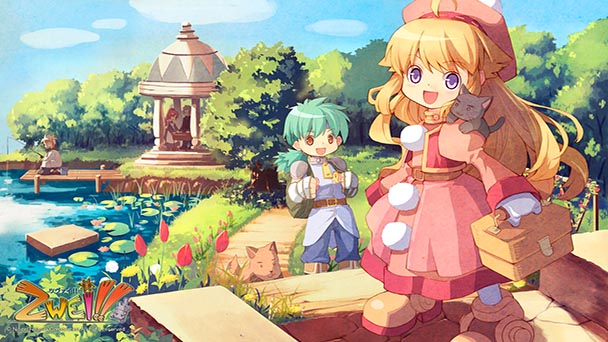 Steadily, Nihon Falcom's body of work has been transported stateside, cultivating a legion of fans with expertly crafted franchises like Ys and Legend of Heroes. In turn, critical and commercial success has prompted publishers to reach into Falcom's fertile back-catalog, introducing Western players to decade-old gems like Zwei: The Ilvard Insurrection.
With the Steam release of Zwei: The Arges Adventure, XSEED stretches back even further, localizing Insurrection's predecessor, a title that was originally released in 2001. Retro enthusiasts will know that the early years of the new millennium were a radically different era for PC gaming. Video cards were still in their infancy, controller support was a rarity, and widescreen output was even more of an oddity. As such, it took longer to adapt The Arges Adventure for contemporary hardware, which is a bit of shame. After playing the thoroughly delightful The Ilvard Insurrection. Arges can seems like a step backward. But that said, there's still enough of the signature Falcom charm evident throughout the twenty-hour experience, which will undoubtedly delight the developer's devotees.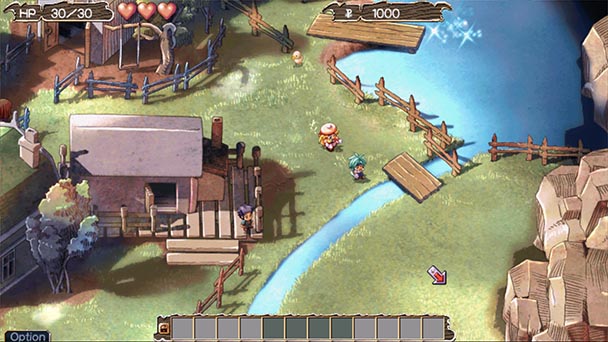 On the upside, The Arges Adventure functions as a standalone adventure. Beyond the appearance of Pipiro and Pokkle in Insurrection, there's little expositional elements to connect the two titles. This time out, the pair witness a mysterious masked interloper stealing six idols from the local shrine. Once a reward is offered, the siblings step up to recover the figurines, prompting a procession of action-driven dungeon crawls.
Arges Adventure lacks affecting character arcs or insightful introspection, favoring an easy to follow storyline, that's brimming with whimsy. Pleasingly, the lighthearted narrative receives a localization that's constantly delightful. Filled with contemporary idioms and a playful approach, XSEED's adaptation remains faithful to the spirit of the original release while ensuring that dialog is spirited. Although many of the game's other components can seem a bit dated, conversations are funny, fresh, and persistently entertaining. At least some of the charm stems from the interplay between Pipiro and Pokkle, with the duo's divergent personalities mined for maximum effect, and the latter delivering a steady succession of puns, even when exploring parts of the overland environment.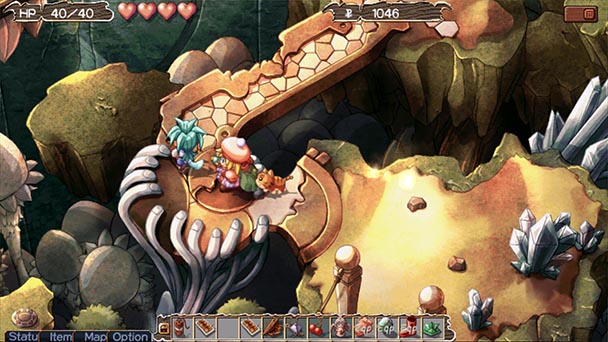 One of the fundamental ways that The Arges Adventure feels regressive is rooted in the game's two-dimensional approach. Sure, the game's super-deformed, doe-eyed sprites channel the charm of late '90s gaming, but all too often protagonists, enemies, and items become obscured in the game's overhead perspective. Arges' dungeons are comprised of large rooms connected by long hallways, and when moving horizontally, walls hide details- making it all too easy to accidently run into a foe and lose a portion of your health bar. If you've play through The Ilvard Insurrection's polygon-powered adventure, Arges' approach takes some getting used to, and lacks some of the nuance.
Players can freely switch between Pipiro and Pokkle, with the former issuing ranged magical attacks while the damages foes by smashing into them. While there's a menu option for auto-fire and the ability to charge your attacks, combat is often distressingly simplistic, and you might find yourself mashing the single attack button every time enemies appear. Not only is the tactic surprisingly effective, but regularly, Arges becomes a visual cacophony. Spell shots, characters, and adversaries dart around small spaces, synchronized to a framerate that's just slow enough tracking each object a bit difficult.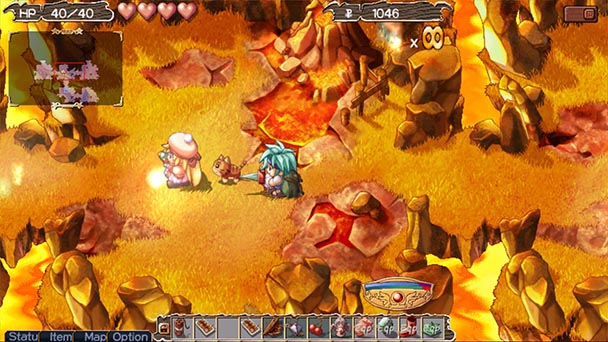 Yet, there's enjoyment to be found across the game's dungeons, as defeated enemies sporadically leave behind food items. Just like The Ilvard Insurrection, these edibles play into the game's progression system; eating food not only recovers health but also gives experience. Collect ten edibles and you can exchange the provisions for a grand piece of grub that devotes even more experience. Largely, it's an inventive take on the traditional experience system because it encourages you not to item hoard. Another upside are the game's watercolor-hued background titles, which offering a cordial supply of sunny milieus for players to explore. The original resolutions have been agreeably upscaled, making Arges a visual charmer. Similarly, the game's soundtrack is up to traditional Falcom standards, offering a gratifying compilation of remarkable songs.
While most modern boss fights require a tactical approach from players, Arges' showdowns can be completed by finding a relatively safe spot, hammering on the attack button, and refreshing your health bar before it becomes exhausted. As such, these fights aren't as salient as they should be. Yet, for every minor fault, The Arges Adventure is poised to make amends. From the ability to bring a pet along with you to help fight foes and grab collectables to keeping track of every enemy you encounter, the game provides a lot of perks. Probably the best is the incorporation of a selection of mini-games that previously were separate programs. One even brings back a certain red-haired adventurer, which will undoubtedly gratify faithful Falcom fans.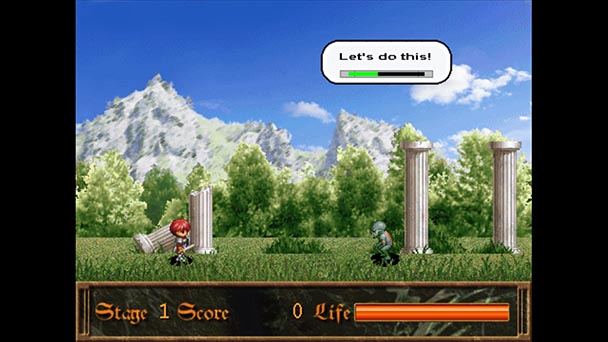 Unlike other mediums which immortalize older efforts, the game industry video doesn't always preserve the past. As such, the release of Zwei: The Arges Adventure commemorates one of Nihon Falcom's older titles. As long as you approach the title knowing the game's imperfections, there is fun to be found, especially with the interactions between the two main leads. For those less interested in history and more concerned with having a good time, you're better off with Zwei: The Ilvard Insurrection.
Zwei: The Arges Adventure was played on PC with review code provided by the publisher.
Zwei: The Arges Adventure

Platform: PC


Developer:

 Nihon Falcom

Publisher:

 XSEED Games

Release date:

 January 24, 2018

Price:

 $19.99 via

Steam

, currently on sale for $17.99

Difficulty:

 Easy to moderate

Zwei: The Arges Adventure review
Review Overview
Gameplay - 70%
Controls - 70%
Aesthetics - 75%
Content - 80%
Accessibility - 75%
Innovation - 80%
75
75%
GOOD
Summary : Despite a valiant attempt to modernize Zwei: The Arges Adventure, the title can feel a bit rusty at times. Pick it up if you're a Falcom completionist or revere sprite-based, retro titles.

User Rating:

4.3 ( 3 votes)