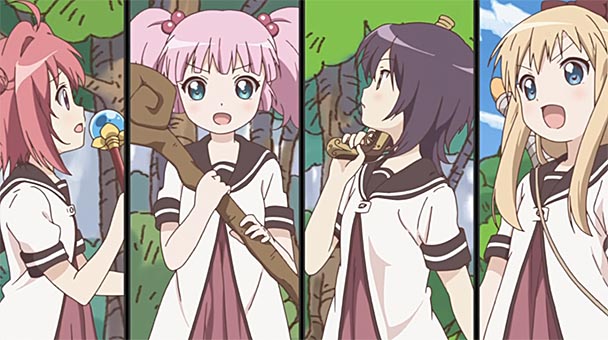 Last August NIS America published The Secret Lives of High School Boys, a thoroughly charming anime which cultivated humor from the unexceptional existence of a trio of good-natured friends. In execution, the series was unfalteringly frothy- shirking any kind of story arc for a succession of rapid-fire vignettes.  A month later, NISA complemented High School Boys with YURUYURI: Happy Go Lily, a comedic slice-of-life production which offered similar observations, as viewers followed the everyday actions of four enduringly effervescent girls. The release of a second season continues the series' coquettish appeal, with the delightfully quirky troupe back at Nanamori Middle School's amusement club.
Mirroring the series' light-hearted approach to plot, YURUYURI's opening episodes offered a breezy introduction to the affable foursome. With vibrantly-hued red hair worn odango-style, Akari Akaza would seem to implore attention, yet the running joke is that her unassuming personality often renders her invisible to others. Nose bleed-prone Chinatsu Yoshikawa has a similarly charming coiffure with fluffy pink pigtails which ravenously consumes small objects. Meanwhile, Kyōko Toshinō is the anime's requisite otaku, frequently drawing dōjinshi based on her favorite anime witchgirl, Mirakurun (who shares a striking resemblance with Chinatsu). With an amble supple of eccentricity, the enduringly rational Yui Funami represents the series' tsukkomi, offering an oft-amusing counterbalance for the rest of the girls.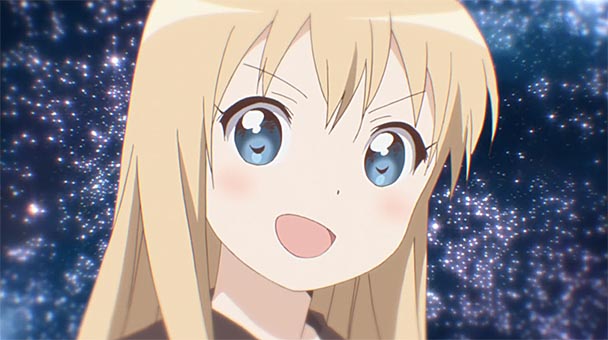 For better or worse, the second season of YURUYURI offers little in the way of character development. While viewers do gain a bit of insight into the lives of the girls' classmates and family members, none of the four main protagonists demonstrates any tangible growth; recreational and social interests are largely the same. While it would have been pleasing to witness a bit of progression or twists in the anime's tangle of girl crushes, the upside is that watching the first season isn't a requirement- viewers could easily jump into the thirteenth episode without detriment. Similarly, focused viewing isn't a necessity, each episode works as a standalone series of anecdotes with few allusions to previous installments.
In lieu of protagonist progression, viewers do get to see the girls in a number of variety of comical setups. Beyond the expected shenanigans at school, the girls also visit a hot springs inn, celebrate Valentine's Day and Christmas, discover a time machine, and in the season closer- offer their own interpretation of a famous children's story. Although many of these moments bring laughs, season two isn't always persistently funny. Occasionally, YURUYURI can take a while to set up a joke before delivering a lackluster or predictable punchline.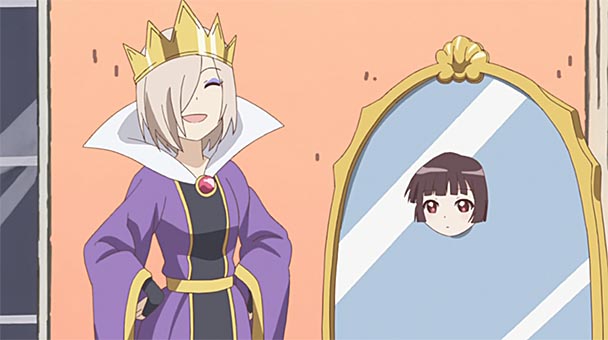 That said, waiting for a payoff isn't always without reward. Unquestionably, Dogakobo's characters designs will gratify moe fans, with the girls appearing consistently adorable. Non-verbals are certainly one of the anime's strengths, with members of the amusement club offering some truly communicative and habitually comical facial expressions. In fact, the only weakness in the animation is the attention devoted to background details which can be nondescript or lifeless. Advantageously, the premium edition's two Blu-ray disks provide a vivid, artifact-free 1080P output which adeptly captures the anime's lighthearted mood. YURUYURI's Japanese soundtrack in delivered in two track LPCM audio, providing a flawless mix of the show's admirable voice-acting, sound effects, and untiringly cheery musical tracks.
Beyond a skilled localization, NIS America also did a standout job with the supplementals. The accompanying hardcover book extends episode synopses delivered by the anime's protagonists, concept art, pre-production sketches, as well as a collection of light yuri shots of the frolicking cast. Additionally, disk two provides a clean opening and ending, episode previews, and video art collections for the girls as well as their major student council cohorts.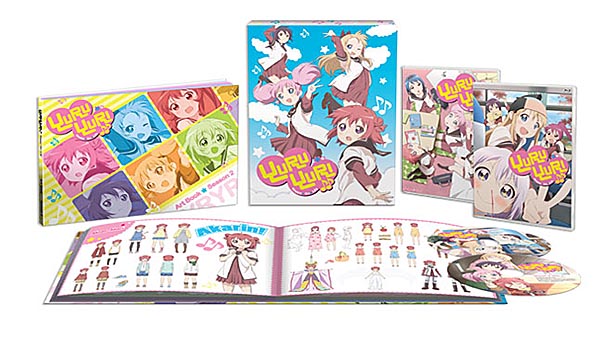 Although YURUYURI: Happy Go Lily's lack of cohesive storyline or occasional lackluster segment may not please some, those seeking a lighthearted romp might just appreciate the series. Blending slapstick humor, eccentric whimsy, along with slice-of-life naturalness, YURUYURI certainly has its charms and doesn't always have to depend on fan service to charm viewers.