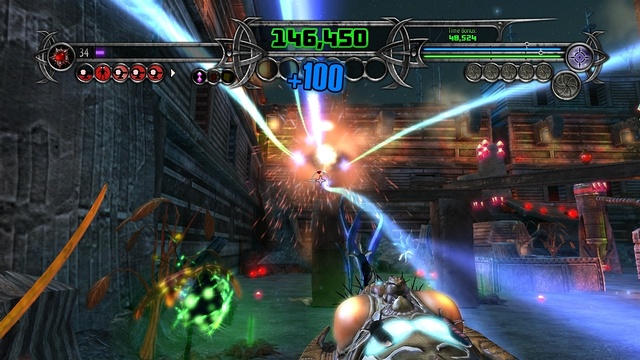 What is the concept? Whereas most first-person shooters are conduits for militaristic, cinematic set- pieces, WXP Games' Xotic draws inspiration from the leaderboard driven diversions of classic coin-operated titles. As such, the title offers more than gunning down platoons of antagonistic soldiers. With an emphasis on maintaining combo chains, players are compelled to approach Xotic with a shmup-like mentality, surveying each stage for opportunities to improve their score.
Levels challenge games with accomplishing a number of assignments, as a bonus timer dwindles away. The most perceptible errand is eliminating scabs; red pustules which start a chain-reaction when shot, exploding like a string of firecrackers. Detonating another succession before a gauge in the top left of the screen depletes, escalates the player's combo meter, prompting heated hunts for more of the boils on floors, walls, or elevated walkways.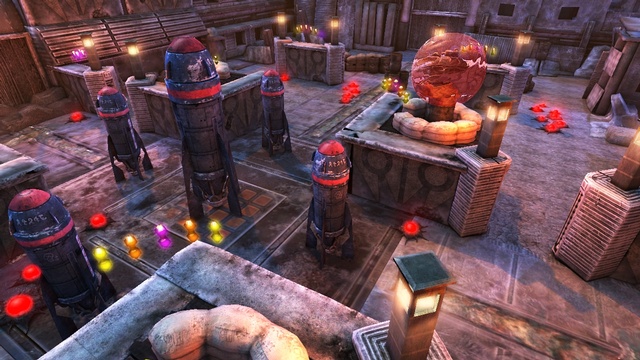 Brightly colored, floating crystals task gamers with collecting adjoining clusters, prompting the possibility for an aerial combo. Orb brains lurk in the recesses of each level, challenging a player's attentiveness. Adding a bit of confrontation are three different types of walking enemies and well as a handful of stationary provocateurs like exploding-spider producing dunes or fireball hurling turrets. With stages concluding after foes have been eliminating, skirmishes cannot be circumvented.
Would I enjoy the game? Xotic's concept isn't new. Games such as The Club, Bodycount, and even Bulletstorm have offered similar score-run themed game with a first-person perspective. Yet, the title's emphasis on level memorization, strategic use of power-ups, and predominance of static objects to shoot endow Xotic with a distinctive ambiance. Certainty, players who have ever felt the urge to repeat a stage in the hopes of bettering their score, will want to try the XBLA demo.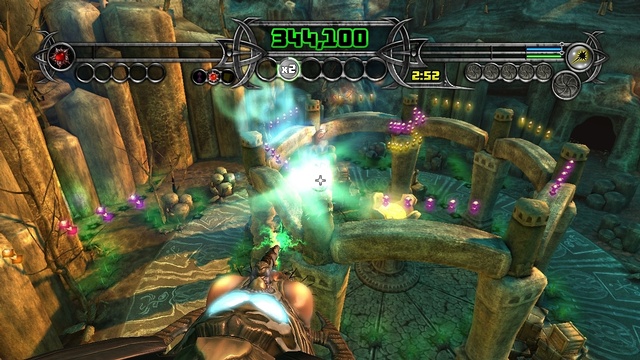 What are the game's strengths?  Despite problems with the game's visual execution, Xotic's landscapes are certainly inspired. Forgoing the earthbound aspirations of most games, the title's environments look wonderfully alien, with plenty of Stonehenge-esque setting and rocky obelisks which reach into a hazy sky. Even the player's weapon- the insect launching Macroterra, is exceptional, resembles a beetle more than a typical firearm. Deliberately or not, Xotic's strange surroundings and color choices serve to camouflage some of the title's objects. More than a few times, I stepped right over a darkened exploding spider hill which blending into a murky ground texture. Still, the process of terraforming each stage in certainly gratifying, as players replace malevolent alien organisms with sustaining flora.
Victory in each level rewards experience points which gamers can spend on a substantial set of weapon upgrades and physical augmentations to the main character. Pleasingly, skills such as "absorption" which attracts nearby score-swelling objects encourage players to revisit previously vanquished territories in hopes improving their place on the game's online scoreboards.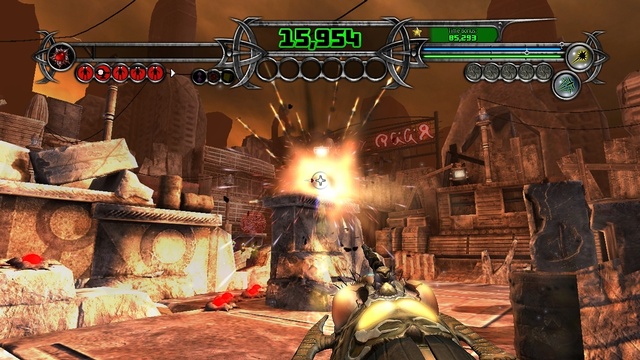 What could have been improved? Xotic's presentation is a major stumbling block. Considering the game's consistently low resolution output and a limited number of on-screen characters, the title's frame rate should be significantly higher. Regretfully, an encounter with even a single entity can cause Xotic to sputter, marring the precision needed to accurately pursue both opponents and scoring targets.
Control problems also persist when the title leaves the ground. With a high percentage of suspended crystals to collect, navigation upon elevated walkways is habitually unwieldy. While Xotic allows players to build holograms which allow stepping stone-like access to raised areas (in addition these devices also serve as a makeshift shield), platforming in a first-person perspective sporadically leads to the title's character getting stuck on a piece of the environment. In a game where a single second can make a large difference in leaderboard ranking, these hindrances can be aggravating. Additionally, opponent AI is lacking; although adversaries intermittently take cover, usually they charge the player mindlessly.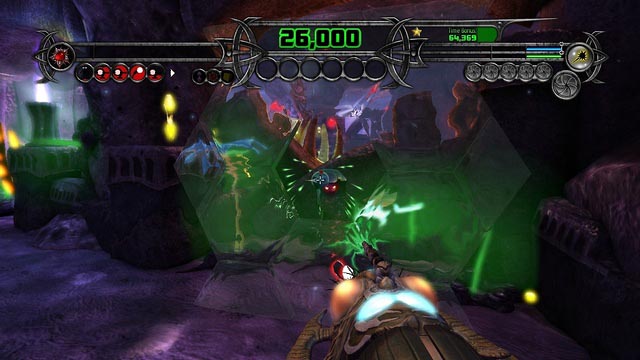 Is it worth the money? Despite a number of intriguing gameplay mechanics, Xotic's performance issues are a major stumbling block on the Xbox 360. Unless WXP Games releases a patch to drastically improve the title's refresh rate, players are better off with the PC iteration, which runs remarkably faster on even a mid-level machine. That said, Xotic's core concept is compelling enough to make a sequel worthy of a day-one look.