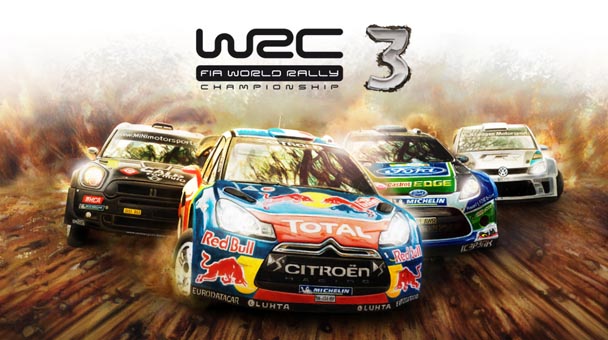 Amidst the last console generation, Codemaster's DiRT franchise has become the dominant off-road racing title, thanks to its refined driving physics and accomplished visuals. Yet, the descendant of the Colin McCrae series has gradually deserted its rallying foundations. 2011's DiRT 3 coerced gamers into maneuvering massive trucks across its Land Rush competitions, which was painful for players who just wanted to steer a lithe Citroën across a serpentine clay path. Even more worrisome, last year's DiRT Showdown shirked rally racing completely, extending demolition derbies and Gymkhana events intended for a broader audience.
With the release of WRC 3 FIA World Rally Championship, developer Milestone (Corvette Evolution GT, Superstars V8 Racing) counters Codies' mainstream approach, offering a title squarely focused on rally racing. Although the game's licensing authenticity is peerless- offering an accurate collection of 83 tracks, 50 drivers, as well as a robust collection of cars and liveries, WRC 3's core driving mechanics aren't quite as convincing as its content.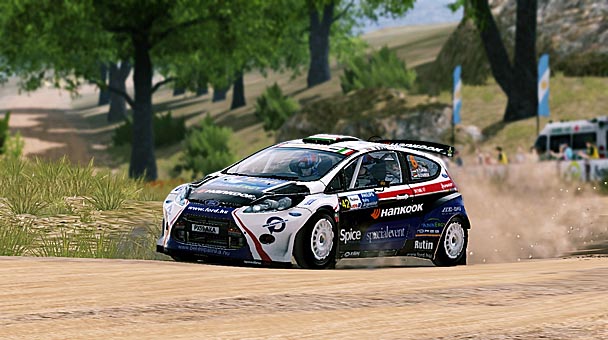 The game's campaign, entitled Road To Glory, provides a bit of provocation- as players steer a rookie driver toward unrivaled success. Although dialog and storyline are absent, the modes assortment of challenges are varied- sending players through special stages, super special stages, and multistage rallies. Beyond a bit of variability offered by cycling through different decades (where a Hannu Mikkola-era Ford Escort Mark II handles substantially different than Jari-Matti Latvala's Ford Fiesta RS WRC) the mode also gives gamers activities like the Gate Contest events. These engaging tests task drivers with crashing through breakaway boards, plowing through green panels while avoiding red ones.  Precision in Road to Glory is prodded through a star ranking system, which rewards race performance, drifts, and collision-free runs.
While WRC 3's neglects the typical team management and sponsor negation options, players can venture out of the driver's seat for a bit of pre-race tuning. Stepping into game's garage allows players to tune front and rear suspension, as well as tweak gear ratios and body design.  While fanatical gearheads might be underwhelmed by the number of options, the game does strikes a sensible balance between convenience and complication. Pleasingly, modifications actually have a palpable effect on performance, potentially giving players the edge they need to earn a top ranking on the online leaderboards.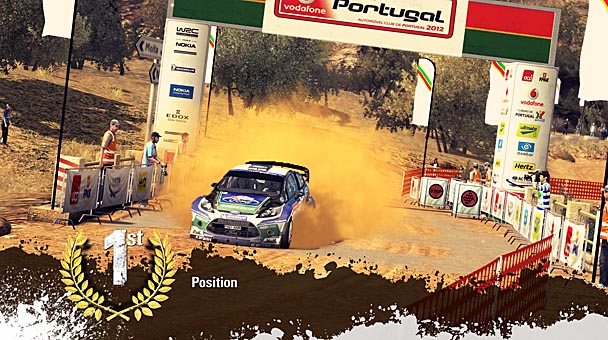 That said, rally purists may be slightly disappointed with WRC 3's handling model. While there is a perceptible difference between driving surfaces, the communication of traction on various terrain isn't articulated as well as Codemaster's offerings. Drifting on tarmac is especially suspect, exhibiting the same lack of friction as gravel or sand. Even racing on icy surfaces, which should instigate a white-knuckle grip on the controller is relatively innocuous. Although the game's visual display of damage modeling is adept thanks to convincingly crunched front-ends, webbed windshields, and dangling bumpers, the actual event which determine crashes seem overestimated. More than once, I've skimmed a guard rail, sending my Lancer into an unlikely corkscrew.
Those without the time or patience to jump into a full career may opt for the title's WRC Experience component, which permits players to set up single stage, rally, or championship events for up to four local participants. Online, World Rally Championship handles up to sixteen competitors, although the game's servers (as well as rankings leaderboards) appear to be a bit desolate at the present time. One clever visual effect is that ghost cars become increasingly translucent as you near, prohibiting opponents from obscuring adjacent environmental details.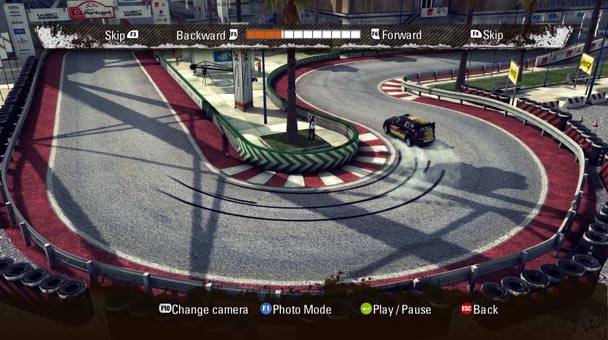 Technically, WRC 3 is a bit of a mixed bag. Although the PlayStation 3 iteration (publisher Namco-Bandai isn't publishing the Xbox 360 version in the U.S.) doesn't require an install, load times are a bit lengthy. While these intervals are offset by what the game refers to as 'generic  tips', forcing players to endure a limited number of dubstep drenched songs. Visually, the game is competent- with a solid thirty frame-per second refresh rate, pleasing sense of speed, and superior car models which flaunt reflective capabilities. However, the game's environments tend to undermine the overall experience, with the sporadic low-resolution texture and recycled asset.
Considering the dearth of dedicated rally racers, WRC 3 FIA World Rally Championship is a worthwhile purchase for the sports' stalwart supporters. Much like the developer's other recent release, MUD FIM Motocross World Championship, WRC 3's strength is found in its license, which delivers a sense of authenticity through the use of actual tracks, drivers, and cars. If Milestone could tune its car handling model and polish its visual output, the next version of WRC could help us forget that Codemasters has abandoned the world's most mesmerizing motorsport.