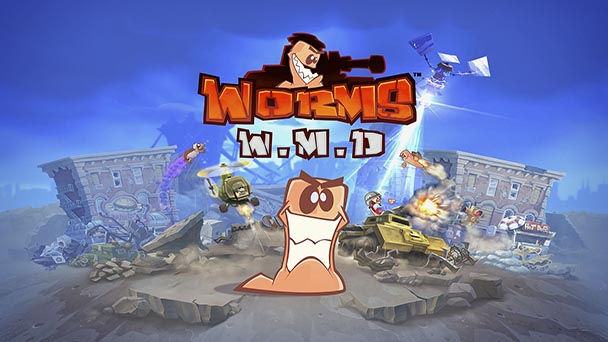 When Team17 released Worms onto the Commodore Amiga in 1994, it was hardly the first game to flaunt the turn-based exchange of aerial weaponry. Games like Artillery Duel and Scorched Earth had helped establish the artillery genre, tasking players with manipulating the angle and velocity of their shots to bring down a feisty foe on the other side of the map. But after a twenty-one-year succession of sequels and reboots, it's easy to envision the little pink invertebrates succumbing to the forces of stagnation.
The release of Worms W.M.D. onto PlayStation 4, Xbox One, and PC reveals the antagonistic annelids fighting a winning battle against dormancy. Thanks to a graphical overhaul, the inclusion of vehicles, and even crafting, the worms have the upper hand, resulting in an experience that's largely poised to please series fans. As with previous entries, a purchase grants gamers access to a towering crag of content that should keep matches feeling fresh for months.  Hardcore gamers will undoubtedly appreciate W.M.D.'s nods to a everything from Broforce, Goat Simulator, to Team17's own The Escapists.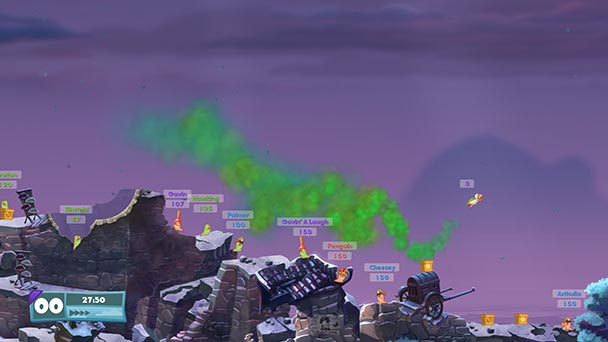 Delving into the game reveals an intuitive menu system which allows players to quickly get into the game's single-player campaign, multiplayer modes, or options menu. Selecting the former presents a sizable selection of pursuits for the individualist, along with a selection of sub-quests that task gamers with accomplishments like taking no damage or completing a match with their entire team sheltered inside a structure. Goals revolve around two types of objectives- with players either attempting to kill all enemies or protect friendlies. Fortunately, the shortage of variants is overshadowed by the sheer selection of weaponry, with W.M.D. extending over 80 different devices to combatants. Enjoyably, traditional tools are augmented by a variety of number of new, creative items.
The campaign also doubles as a tutorial, with missions that familiarize players with both worm movement as well as the functionality for tool and firearm. It's here that W.M.D. shows the narrowest amount of change, with the navigation of your teammates still being deliberately slow and clunky. Whether players use a keyboard or controller, the input scheme still takes some getting used to, with the occasional button blunder resulting in a dose of comic relief. After all these years, Team17's gag continues to be amusing, especially when a local rival whose hell-bent on revenge inadvertently murders most of their own team with inadvertent mortar fire.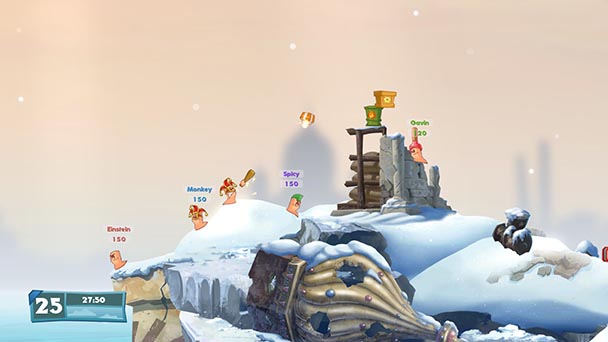 Stick with it, and you'll be ninja-roping and jet-packing your way to a decisive victory. Alternatively, players can also jump into the game's collection of vehicles, which range from helicopters, tanks, mechs, and even one of the cars from Rocket League. While they have the tendency to get stuck on craggy parts of ravaged environments, each drivable extends few tactical possibilities to players, augmenting Worms established antagonism. Similarly, crafting extends a few new strategies, allowing players to augment their arsenal with weapons that do fire or poison damage, or even have a expanded blast radius.
While environments tend to lack topographical diversity and can place the lone friendly surrounded by a throng of opponents, the game's visual makeover is thoroughly pleasing. Landscape, combatants, and weaponry have all been given an upgrade in fidelity, allowing players to spy a detailed, zoomed-out map to plan their attacks. Success triggers a drip-feed of cosmetic unlockables, which offer everything from quirky sound banks to skins culled from a number of the aforementioned game properties. On the PC, the game runs agreeably, with only a single crash during twenty-hours of play. Likewise, W.M.D.'s netcode is capable of supporting a sextet of players, although Worms diehards know that local matches are the only way to play.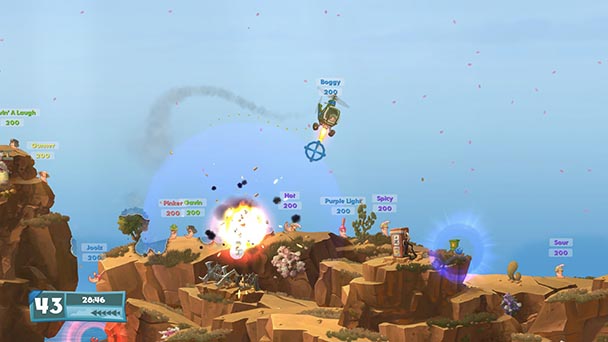 Following a barrage of sequels and re-imaginings over the franchise's twenty-one year legacy, Worms W.M.D. does the prudent thing, maintaining the series' signature playability while adding a substantial amount of new content. Worms enthusiasts are bound to rekindle their appreciation for spirited warfare while newcomers are likely to enjoy the journey of mastering the game's gaggle of weapons. As the case with fishing worms, the odds of getting hooked are remarkably high.
Worms W.M.D. was played on the PC with review code provided by the publisher
Worms W.M.D.
Platform:
 PlayStation 4, Xbox One, PC
Developer:
 Team17 Digital
Publisher:
 Team 17 Digital
Release Date:
 August 23rd, 2016
Price:
$29.99 via PSN, XGS, and
Steam
Review Overview
Summary : Unlike the invertebrates uneasy trek into 3D, Worms W.M.D. stays true to tenet, extending familiar mechanics while new content bolsters your strategic options.