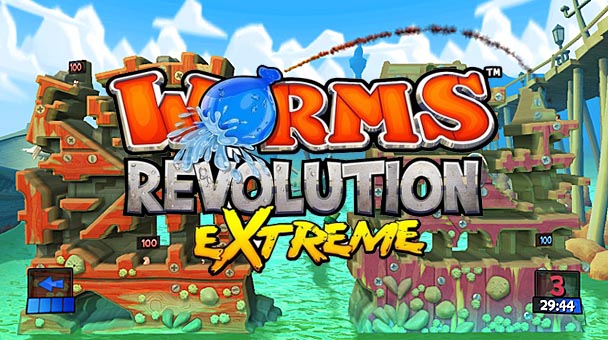 Across the past nineteen years, Team17's Worms franchise has endowed the oft-solemn artillery genre with a much-needed dose of personality and humor. The actions and absurdity of the antagonistic annelids have undoubtedly struck a chord with gamers- since its inception, the series has been adapted for a succession of console, portables, and computers. Naturally, this extended trek has brought its share of adjustments and amendments, such as the series' excursion into the third-dimension during the early part of the millennium. 2012's Worms Revolution aimed to return the series to its roots, while advancing the game's physics-modeling and visual elements. The recently released Worms Revolution: Extreme adapts the console and PC title onto PS Vita screens, bundling a healthy amount of downloadable content in the process.
Despite its radical moniker, Worms Revolution: Extreme doesn't tamper with franchise tenets. Maintaining core mechanics, teams of earthworms employ a myriad of weapons and tools as they gradually push each other toward annihilation. Each turn consists of two elements: first players prod their worm across the randomly generated landscape before engaging an armament or apparatus. Much of the amusement stems from Worms' bombastic and often erratic arsenal, which habitually removes large chucks of the environment. Other times, haphazardly aimed weapons can induce uproarious instances of friendly fire.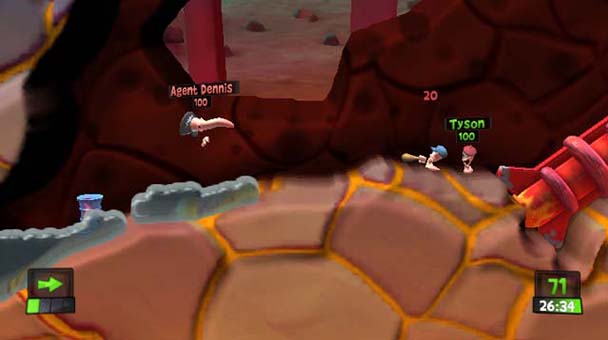 After completing a lesson which imparts Worms fundamentals, followed by an eight-part tutorial which demonstrates the use of a portion of the game's weapons and tools, players are able to inch their way into the game's comprehensive single-player component. Here, variations abound. Gamers can tackle the Revolution's Puzzle missions, or the collection of conundrums across the All the Fun of The Fair!, Missions on Mars, and Medieval Tales supplements. Each of these stages pit earthworms against challenging pre-made levels. Survival hinges on a mastery of maneuvering as well as an adept command of your arsenal, as the margin of error becomes increasingly minimal.
Arguably the highlight among the content is Medieval Tales which situates gameplay around a lighthearted role-playing storyline, complete with Tolkien-esque bits of dialog. Of course, gamers eager to take on a squad of randomized CPU-controller drones can find an abundance of antagonists. Games can be tailored to suit tastes, providing three AI levels as well as the ability to customize loadouts, drop rates, and match settings.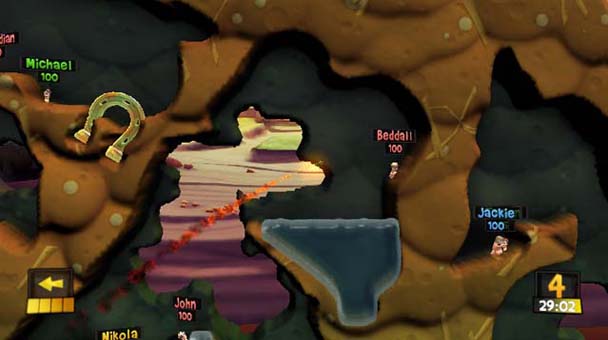 Although there's plenty of material for solitary gamers to digest, Worms' solo content has always stood in the shadow of its lively multiplayer matches. Worms Revolution: Extreme provides all the expected rudiments for competitions, offering both online multiplayer as well as pass-the-portable style contests for local groups. When preparing for these battles, players can now do more than just modify the look and voice banks of their combatants.
Worms Revolution: Extreme's warriors can now be either a basic soldier or enlist in one of three new classes: Scientist, Scout, and Heavy. Each type of new worm is privy to a few exclusive perks. Scouts, for instance, can create burrows that are too small for other fighters to move through and are able to move lithely. Meanwhile, scientists recoup a bit of health after each turn and are able to utilize superior magnets and sentries. Oddly, the class system is only available after players use their earned in-game currency to unlock the variant.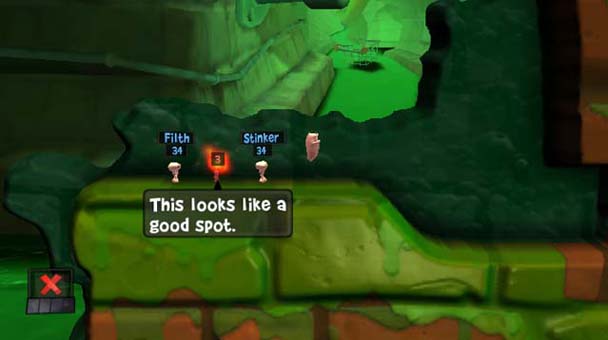 As a port of the Xbox 360, PlayStation 3, and PC title, Team17's adaption to the PS Vita iteration is a mixed bag. Touch screen support permits players to use their finger to scroll across the map, as well as use pinching gestures to resize the viewing perspective. Although the controls generally offer a way to view the action on the Vita's smaller screen, Revolution: Extreme sporadically alters the camera view when firing, which can stymie a shot. Optional rear touch support allows finger sweeps to adjust firing angles with fidelity, although those with long, wayward digits will probably want to turn the preference off.
Visually, Worms Revolution: Extreme is crude looking, exhibiting ambiguous environmental edges that can make navigation a bit difficult. Even the game's other new component, liquid physics, are hindered in the conversion.  It's often hard to tell if your worm is above water or submerged in the droplets. Moreover, water lacks fluidity, appearing less like pools and more like a collection of angular beads. Framerates can also be a bit dodgy, with the screen scrolling in fits as the AI contemplates its next move.  Although Extreme doesn't offer any cross-buy capacity with its PlayStation brethren, the game does offer cross-save functionality and offers ten additional customization bits. These are split between ten treasure chests and corresponding keys which are tied to in-game achievements across each iteration of the game.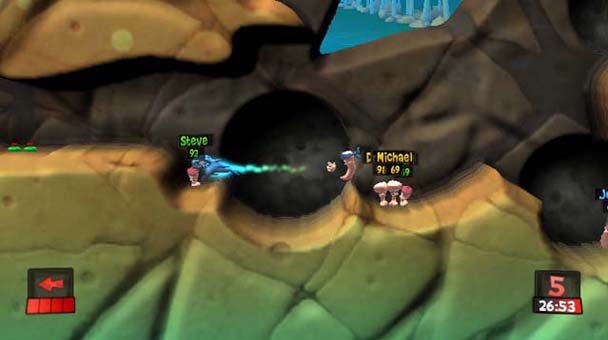 As the franchise's inaugural PS Vita outing, Worms Revolution: Extreme excels by providing portable players with a plethora of content.  The downside is that the title is neither revolutionary nor extreme, offering an experience that's not wildly different from previous versions. Another concern is the game's visual fidelity; Extreme is rendered in broad strokes, lacking the detail which flaunts the resolution of Sony's OLED screen. If players can overlook those blemishes, the title has the capacity to tide you over until the next inevitable iteration of larvae develops.
Review Overview
Summary : Worms Revolution: Extreme ports the game and DLC, but loses a bit of vitality due to its downgraded visuals and idiosyncratic camera.