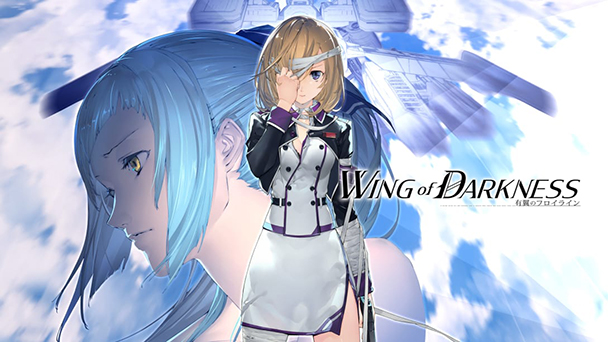 Too often, when games depict war, the focus in on battlefield heroics. While Wing of Darkness mechanized battles fills the bulk of playtime, the developers understand that context can be just as important as combat.
Wing of Darkness
Platform:
PC, also on PlayStation 4 and Switch
Developer:
Production Exabilities
Publisher:
Clouded Leopard Entertainment
Release date:
June 2nd, 2021
Price:
$29.99
Digital availability:
Steam
 and other digital storefronts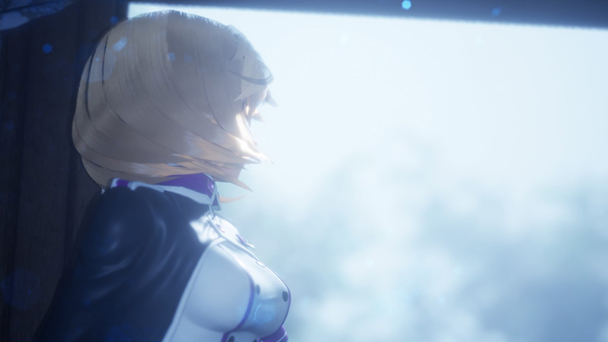 With Unreal Engine 4-powered visuals that render gorgeous environments, eye-catching mechs, and massive enemy airwings, it's easy to mistake Wing of Darkness for air-based combat simulation. Much like Bandai Namco's celebrated Ace Combat series, the game boosts an ample arsenal of weaponry. From machine guns that spray enemies with ravaging projectiles, volatile ordnance which denotes in a loud and fiery blast, or missiles that dogged pursue enemies, the game offers the kind of customization well-established by futuristic dogfighting games.
But those looking for a straight-ahead action game might be better off with a title like Daemon X Machina or Project Nimbus, or War Tech Fighters. While there's plenty of airborne confrontations in Wing of Darkness, combat lacks difficulty. But this motivation behind this deficiency of challenge is twofold. First, the design decision demonstrates the power and agility of the suits you'll control. All too often when mechs take on more traditional enemies, there's a parity of power.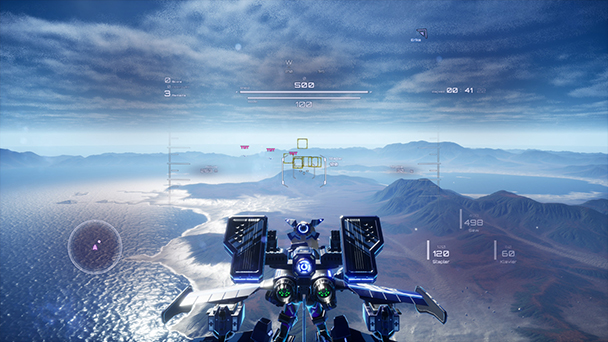 But not here, where you'll slaughter subordinates by the dozens or gradually outmaneuver and outgun humongous adversaries. In these David and Goliath-like duels, you buzz around opponents, destroying them piece by piece until the entire craft is reduced to a ghostly, flaming frame that drifts downward. Instead of a mimicking the experience of a rookie taking control of mind-boggling hardware, you're one of the chosen few to capable of operating the machinery, called Held Systems. Instead of fumbling about, Darkness makes you feel like an ace who is the ideal candidate for combat.  Well, at least most of the time, venturing outside of the mission area can abruptly halt the proceedings.
A Plotline That's Just as Satisfying as Play
Significantly, Wing of Darkness reminds us that the stories about the people who serve in war are just as crucial as the spectacle of technology. The game knows that repeatedly losing a mission can shift the focus away from the storyline. As such, you might balk at the lack of challenge or the brevity of the experience, which can be completed in two and a half hours. Instead, it might be better to think of Darkness as a succinct visual novel that happens to have some amazingly realized interactive sections.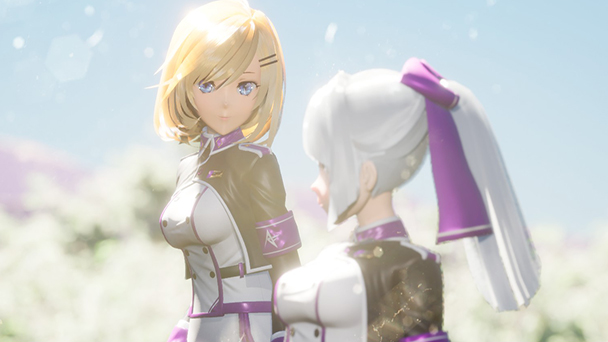 With an abundance of soft focus lavished on its attractive protagonists, Wing of Darkness might draw comparison to the work of Kyoto Animation, especially the quiet introspection of Liz and The Blue Bird. Far removed from the bravado commonly associated with battle, Darkness' storyline studies the susceptibilities of leads Klara and Erika. Initially, their relationship is strained, but mutual admiration is borne from their unswerving commitment in saving humanity. Known as "Frauleins", Darkness hints at how individuals protect the interests of elite groups, unabashedly referring to new the members as family. Watching the main relationship mature is one of the game's most satisfying elements, and showcases outstanding voice work from Kiyono Yasuno (Macross Delta, My Hero Academia) and Chihira Mochida (Gekidol).
The still imagery that bookends each sortie is expectedly beautiful, awash in muted colors and preoccupied with the pristine, wrinkle-free uniforms worn by the Frauleins. However, it's the writing that the real clincher, that punctuates each section of dialog with a powerful or furtive proclamation that will keep you entranced until the next storytelling sequence. Interestingly, narration shifts between the two leads, revealing the perspective of each lead.  It's a powerful technique, and it's hard not to image Wing of Darkness given an episodic, animated adaptation.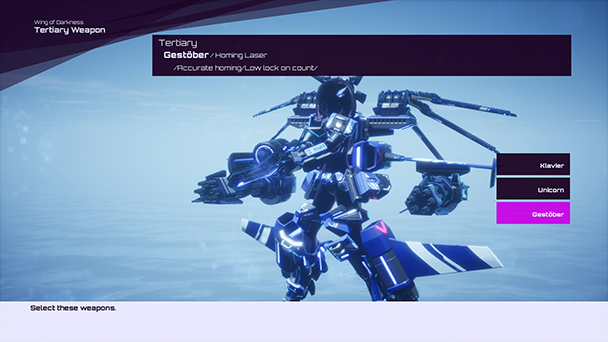 Guten Tag, Frauleins!
Undoubtedly, the game is just as technically efficient boosting a third-person perspective that flaunts the detail of your Held System and the beauty of the environment. Control eliminates concerns about things like momentum. When using a controller, you'll use face button to increase or drop your altitude, while the left analog stick moves your craft around in three-dimensional space.
As such, targeting Blankers in rather easy. A press of the right analog stick triggers a lock on, while guiding a cross hair over an aiming indicator aligns your weaponry up for a killing shot on the small, insect-like one. But the bigger Blankers are a bit trickier, and you'll have to spin and weave around them, eliminating parts until the craft in completely inoperative. When using your defensive thrusters to dash out of the way, you'll feel like a nimble but potent craft taking down a slow-moving battleship.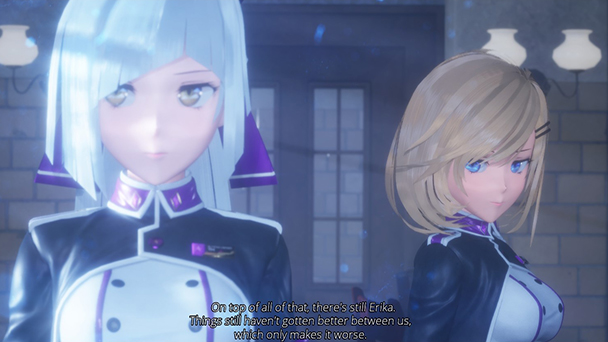 Who is the Assailant, Here?
Perhaps, cargo freighters would make for a better comparison. The large Blankers have minimal defense systems and later, don't even put up much of a fight. Instead, they'll delay their inevitable defeat through health regeneration, which can make the protracted battles drawn out even further. As such, it's hard to perceive them as the ultimate threat to humanity. While ground-based targets add variety to combat, they don't display aggression, making it seem like The Fraulines are the aggressors here.
As such, there's a perceptible disconnect with Wing of Darkness. While the relationship between the two leads is absorbing, there's little interconnection with the larger war. Sure, success in battle is a catalyst for the two leads, but many of the events outside the relationship remain unexplained. I appreciated this dissonance, thinking of how our vocations can be a secondary topic when socializing with coworkers, but others might be put off by the subtlety of the approach.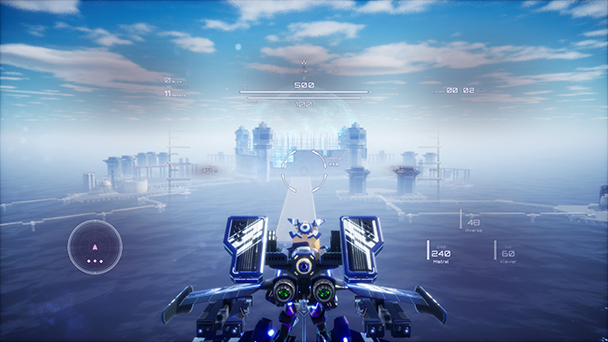 Wing of Darkness was played on PC with
review code provided by the publisher. 
Review Overview
Summary : Wing of Darkness' approach to mechanized battle is going to be divisive, especially for those accustomed to relentless adversity and repeated 'game over' screens. But for those who value storytelling, this is a war worth enlisting in.