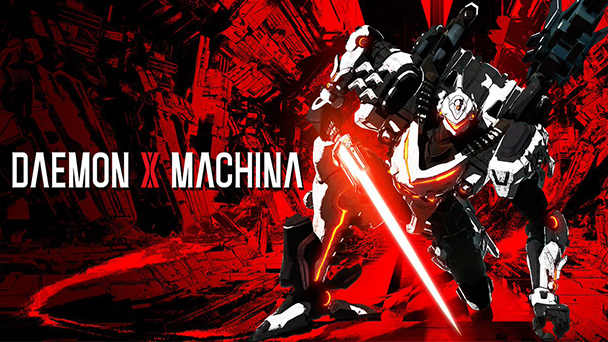 Mecha Exodus
Not long ago, mech-based games were exceedingly prevalent. Franchises like MechWarrior, Armored Core, Zone of the Enders, Steel Battalion, and Titanfall let players live out their futuristic fantasies. Each provided the opportunity to pilot a hulking robot capable of cleaving through legions of adversaries.
But over the ensuing years, interests seemingly have waned, diminishing opportunities for fiery combat, wanton destruction, and mech customization. Last September, Kenichiro Tsukuda, producer of the Armored Core series and the team at Marvelous First Studio hoped to reinvigorate the genre with Daemon X Machina. But woefully, the Switch game struggled with stiff competition among titles like Astral Chain, Ni no Kuni: Wrath of the White Witch, and even The Legend of Zelda: Link's Awakening.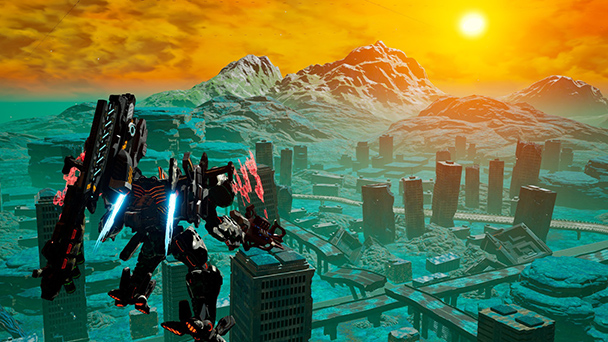 A Second Chance at Triumph
Gratifyingly, the PC port of Daemon X Machina provides the game with a second chance at player appreciation. In hindsight, the transportability and diminutive screen size of the Switch probably wasn't an ideal platform for the title's cooperative play. Moreover, the game's PvP mode wasn't available until a month after launch. But now the game is in a complete state and it's easier to admire the vibrantly colored battlefields on a larger monitor. Exploiting the scalability of the Unreal Engine, Daemon X Machina sporadically seems like it was built from the ground up for play on PC, especially with the precision extended by mouse and keyboard controls.
Machina's opening cinematic sets up the game's cataclysmic context, where a chunk of the moon breaks off and collides with the Earth. After a respite in the character creation suite, you're thrown into the thick of things, with an AI assistant sending you out on an appraisal mission to test your skills as a mercenary. Habitually, the game's storytelling feels like a B-grade anime, with a jumble of characters appearing with little introduction. Pay attention during the in-mission chatter and explore dialog options between each raid and you'll eventually be rewarded by a plotline that melds together. But I suspect many will focus on the action, rather than the storyline that pits AI against contentious human factions.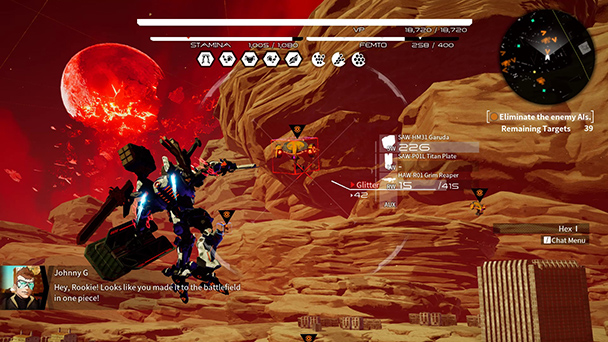 A Highly Lethal Arsenal
Gameplay wise, Daemon X Machina fares much better. Assignments range from story-based assignment that push the plot along or free missions that help build your inventory of weapons and armor. The game's mechs, called Arsenals, are highly maneuverable and feel more at home in the air than shambling across Earth's derelict surfaces. A button press sends your hardware skyward, where you'll rotate and move freely, occasionally dropping down to pick up ammo left by defeated enemies. Between the sense of fluidity and a framerate that can hit up to 200 FPS, piloting your nimble Arsenal feels satisfying.
While you can use on-screen crosshairs to target distant enemies with your ranged weapons, efficiency is found in the lock-on system. Like Ace Combat, your simulated HUD highlights and tracks challengers that are within the range of your weapon systems, eliminating the need to lead your target. Those who favor the might of melee weapons are in luck too, with Machina extending the ability to swing powerful swords to punish arrogant adversaries who venture too close.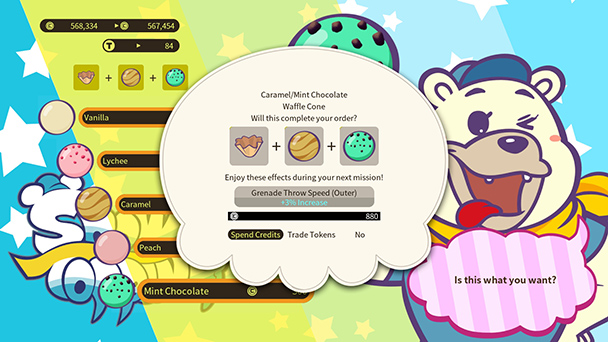 Akimbo Arsenals are an Option
With possibilities like bazookas that produce splash damage, arc weapons that can stun opponents, recycling equipment from downed foes, and even developing your own offensive devices, they game supports a wide range of tactics. When coupled with the ability to toss explosive objects at adversaries, create healing zones, and use a resource called Femto to do things like increase your damage output or increase your shielding, fights can feel delightfully improvisational. You can even step outside of your Arsenal, allowing a drone companion to take down enemies. The stratagem is especially useful when playing cooperatively, with prone players acting as a decoy while allies come in for the kill.
Machina aims for a variety of undertaking across it's fifteen four campaign. Beyond the requisite elimination, survival, and defense-type assignments, there are also side-goals to strike for, as well. However, the number of enemy types undermines the game's ambitions for variability. Small subordinates, whether air- or ground-based, rarely put up much of a fight, and exist a munition-replenishing fodder. Tension comes from fighting rival Arsenal and Colossal Immortals, although the later tend to feel like bullet sponges. Completionists will have to fight these bosses more than once to unlock every item.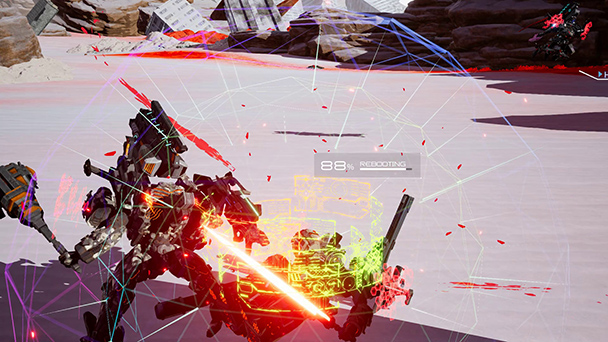 Friendly (Post-Mission) Fire
Delve in Daemon X Machina's PvP arena, and you'll might discover a lack of balance, but no dearth of gratification. Ranged weapons dominate these battlefields and you'll probably witness pros sticking with certain guns. With Ranked Match Play to earn a place on the leaderboards and custom matches for testing out your Arsenal's capabilities, you can opt for one-on-one or two-on-two battles. Additionally, the title provides for some spirited pugnacious after a co-op mission ends, which should be an inclusion is more games.
With selections for key and controller rebinding, a wealth of visual options, and even support for ultra-widescreen monitors, Machina's port is dexterous. While the inability to use a mouse for menu navigation is odd, it's a small blemish that seems poised to be fixed in a future update. But more imperative elements, like netcode responsiveness and visual delivery have been prioritized, providing Daemon X Machina with the potential for winning over audiences. If you overlooked the Switch iteration, here's an opportunity for heavily armored, punchy wish fulfillment.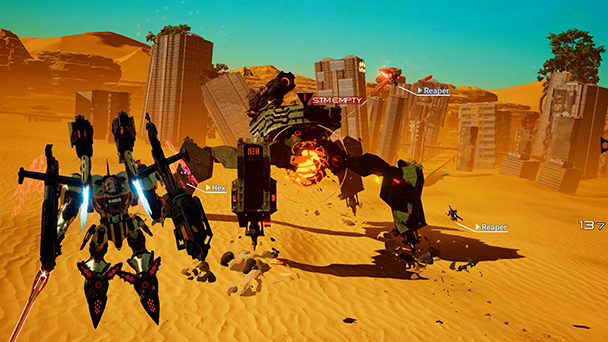 Daemon X Machina was played on PC with review code provided by the publisher. 
Daemon X Machina

Platform:
PC, previously on Switch

Developer:
Marvelous Inc.
Publisher:
XSEED Games, Marvelous USA, Inc.
Release date:
February 13th, 2020

Availability:
Digitally via
Steam
Review Overview
Summary : Daemon X Machina never quite found the audience it deserved when it debuted last September on the Switch. The PC version provides a much deserved second chance, with visceral combat and enough customization to satisfying most mecha-maniacs.