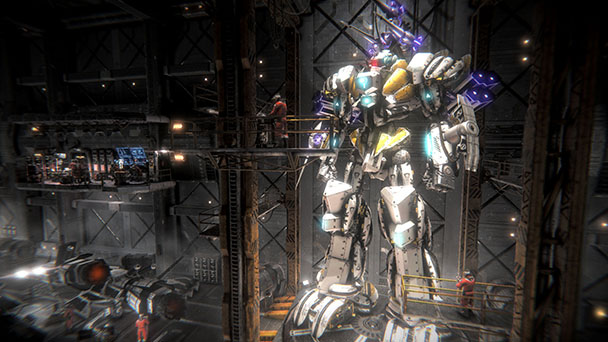 When it comes to depicting massive mechanized robotic suits, gaming has delivered a wide assortment of adaptations. From Software's seemingly lapsed Armored Core series focused on the customizability of its mecha, with players swapping a multitude of modular components across an array of missions. Capcom's Steel Battalion conveyed the complexity of controlling a hulking, bipedal machine. Launched alongside a forty-button, the title demanded proficiency for budding pilots, where making a quick turn could topple your vertical tank over.
The release of War Tech Fighters for the Nintendo Switch offers an experience rooted that's rooted in accessibility. Make your way through the game's campaign, and you'll be able to research and subsequently purchase new parts. These are attached to the game's trio of player War Techs, which fall into archetypal light, medium, and heavy divisions. But you'll barely have to worry about your loadout overtaking your energy system, which was a prevalent problem in Armored Core games. Worries like power consumption and weight are largely absent from play. While simulation fans might bemoan the simplicity, the result is more mecha fighting and less struggling to make decisions in menu systems.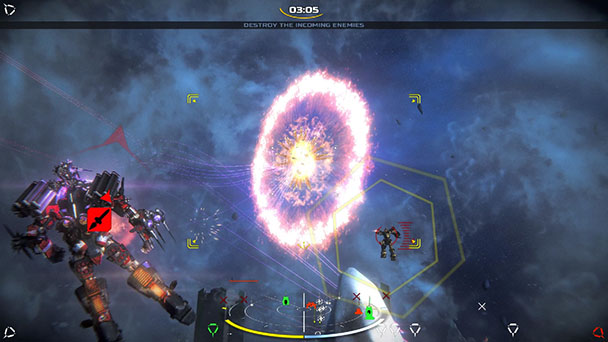 Likewise, piloting your War Tech is shockingly easy. With space as your battleground, you won't have to worry about lumbering across terrain, wondering if the knoll in front of you is concealing an opponent. Here, you'll have six degrees of navigational freedom as you glide around with the Joy-Con two analog sticks. Should you need to move faster, a press of the left stick initiates your thrusters, which guzzle power from your energy meter.
This persistently replenishing resource also powers your offensive systems. Lashing at foes with homing missiles, light, or heavy rounds also depletes energy. Mercifully, you'll never half to worry about being miserly with your munitions. While each consumes some of your precious power, ammo is unlimited, typically refilling as you track the next enemy on the game's simulated heads-up display. The only real tension is ensuring you don't take too much damage. Evading enemy guns can be difficult when ballstics are hitting you from multiple directions.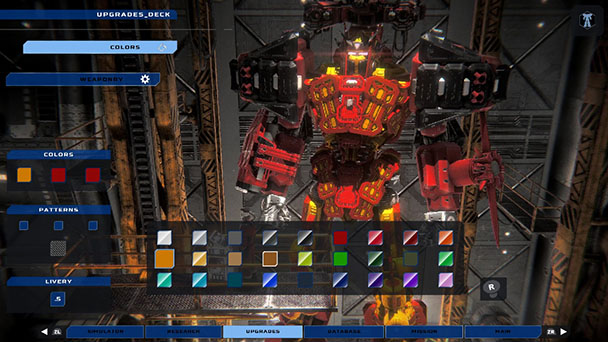 But thanks to a liberal about of lock-on with your guns, War Tech Fighters consistently feels like an even match. Often, you'll be confronted with a horde of subordinate foes. Once these vessels are damaged, a well-timed button press allows you to instantly destroy adversaries. This feat rewards players with resources as well as replenishes a bit of health. The other incentive is a short cinematic, which shows your Mobile Suit Gundam-like fighter demolishing opponents. You'll punch out flying fighters and cleave your sword through other craft, which will probably produce a dozen or so enthusiastic profanities.
When your target for destruction is another War Tech, the game temporarily suspends combat, as the two mecha become locked in a fighting-game like showdown. Outfitted with heavy and light attacks, as well as shielding, the action shifted to melee battles. Naturally, these conflicts lack the finesse or responsiveness of a full-fledges fighting game. Although these bits are visually appealing, showing off the game's well done mecha modeling, they're not as thrilling as they should be. On the upside, it won't take long before you're comfortable in your War Tech, taking down gangs of enemies like Gundam's Heero Yuy.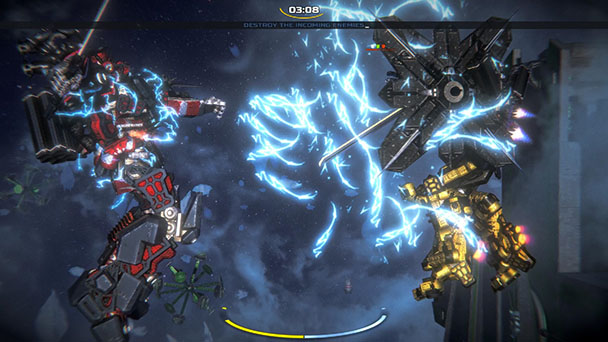 Beyond the game's main campaign, you can tackle challenge and survival missions to grind for experience points and currency. These are used for the research and purchase of new components, beefing up your War Tech Fighters offensive, defensive, energy, and miscellaneous functions. Throughout, you'll see that the game doesn't have a wide variety of undertakings. Beyond taking down a variety of enemies and boss warships, you'll periodically hunt for items in marked areas. While it might seem like a welcome reprieve from the carnage, occasionally, searching can slow down the action. Once you do approach the designated part, prepare for a mini-game that recalls Splinter Cell's lock-picking, where you rotate both analog sticks.
Performance-wise, War Tech Fighters shows a few significant problems. Occasionally, the game's framerate can sputter. Usually this happens when the screen there's a number of on-screen objects, but It can even happen in the game's menu system. While that's infrequent enough to overlook, the game's load times are not. With level loads that exceed a minute and mission retries that can approach that duration, War Tech Fighters is in desperate need of optimization. All too often, the waits are long enough to break the game's momentum.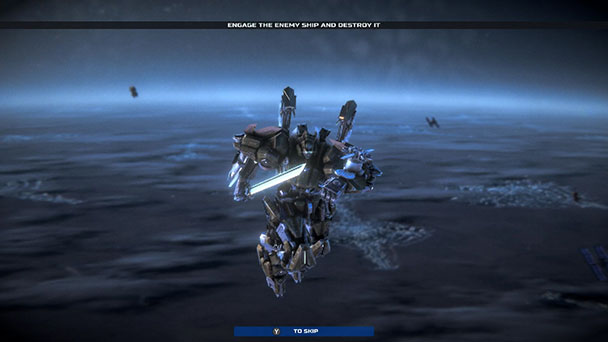 Fortunately, your patience is rewarded by a good-looking experience. War Tech's mecha are quite detailed, unabashedly drawing inspiration from Gundam. With visual perks like missile trails, explosions that fill the screen, and even dithering effects, the title delivers a number of graphical treats as well as a decent soundtrack that supplies invigorating guitar riffs. Too bad the game's UI isn't as adept as it's visual assets. By constantly using different face buttons for confirmation, you'll be forced to study the screen when playing War Tech. The game's diminutive font isn't going to win over those who like playing in handheld mode, either.
Undoubtedly, War Tech Fighters has a lot of potential. While there are some issues with mission diversity and load times, occasionally you might overlook these issues as your fighter slices a foe in half with a plasma sword. If you're looking for an approachable mech experience for your Switch, War Tech Fighters can gratify, especially if your patience is as strong as your passion for mecha.
War Tech Fighters was played on Switch with review code provided by the publisher. 
Review Overview
Summary : War Tech Fighters adopts an accessible, arcade-style approach to mechanized warfare. While this port of the PC delivers the action, it also sporadically struggles on Nintendo's hybrid, making for a muted recommendation.