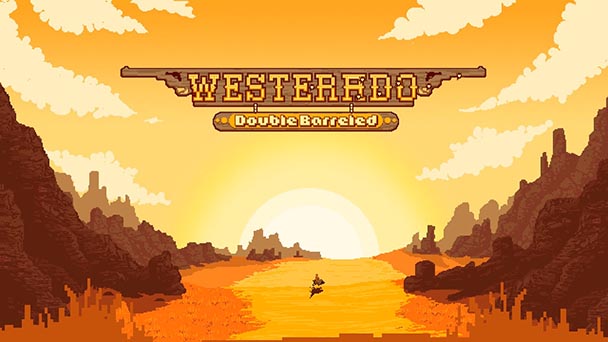 Quality games featuring a wild west theme are few and far between. While Rockstar's Red Dead Redemption and Konami's Sunset Riders respectively recreate the freedom and shooting frenzy of Hollywood's classic blockbusters, no title has yet to both parody and simultaneously revere them as effectively as Westerado: Double Barreled. Originally launched as a free flash game on Adult Swim Games' online platform, Westerado quickly built a cult following culminating in this enhanced edition adding new playable characters, more quests and cosmetic improvements.
Westerado sets the story for a basic revenge plot, you play as an unnamed buffalo rancher whose family was murdered by an unknown bandit with only a random clue given as to his or her appearance. From there, players must roam the untamed west in search of clues as to murderer's appearance and whereabouts. The plot may be simple, but it's remarkably well made considering the simplistic visuals, the moment when you lose your family is tense and surprisingly melancholic, providing ample motivation to find this mystery person and exact revenge.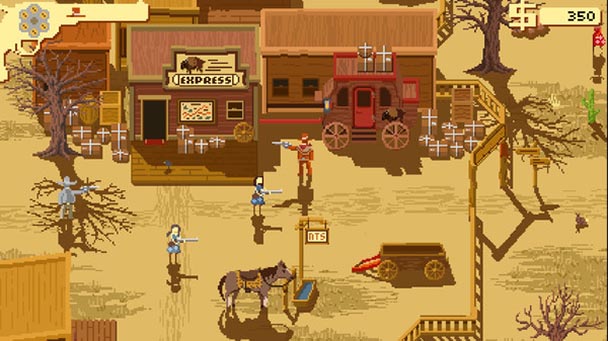 Both tense and campy moments are a common sight and are further enhanced by a fitting soundtrack. All songs are performed by real instruments often found in classic Western Spaghettis though the main theme suffers from repetition.
Clues are given by Westerado's many NPCs as you gain their confidence, this is done by performing tasks on their behalf which can range from simple fetch quests to clearing out bandit encampments, finding items or even through a rousing game of Poker. Both your murderer and clues provided as to his description are randomized with each playthrough, as we slowly build an image of the mystery man's appearance it soon becomes an 8-bit game of guess who.
During conversations, players can cock their guns at NPCs as a bargaining/threatening tool, providing more information or increasing the occasional quest reward at the expense of permanently alienating or even killing said NPC. It should be noted all characters can be murdered in cold blood once encountered and that deaths are permanent, reckless players who shoot first and ask questions later may soon find themselves alone in the world in a possibly unwinnable situation. You can also accuse most NPCs of being your family's killer though your allegations are generally mocked and ignored without any solid evidence.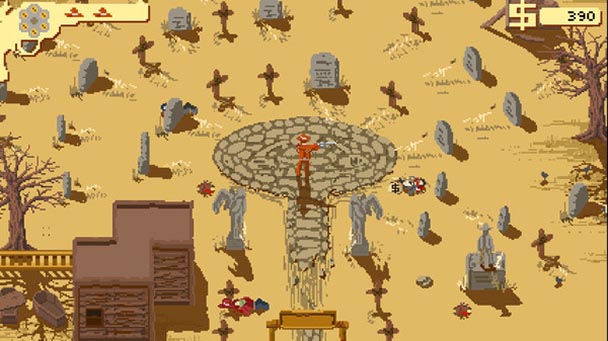 Towns are amply populated and feel livelier than many large budget games out there, as each area actively encourages player exploration for either secrets or subtle (and not so subtle) references to movies, games and TV shows ranging from the town of 'East Clintwood' to Doctor Who references. Further enhancing the campy feel are the townsfolks' dialogues which can be funny, serious, useless or insightful.
The great west is a dangerous place and often survival only comes to those who best know how to handle a gun, Westerado takes a unique approach on how gunplay is handled though it comes with several flaws. Weapons must be unholstered and cocked before shooting, players may shoot left or right but never vertically or diagonally. This occasionally creates situations in which enemies place themselves in impossible to shoot locations, moreover, pressing the reload button only replenishes one bullet, requiring multiple presses to fully replenish your ammunition. When using a controller this properly replicates pistols of their time, sadly the same cannot be said on a keyboard, requiring too many button combinations which hinder any quick movements necessary for survival. This isn't to say the game is unplayable with a keyboard, regardless, a controller is highly recommended.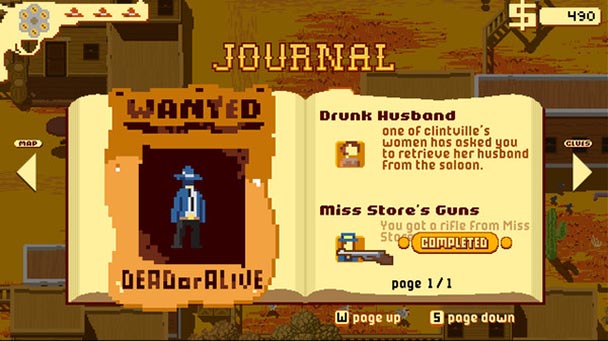 Health is displayed via the number of hats you own. Once shot, your player loses one and quickly replaces it with another if available. Enemies also carry hats and will often drop theirs when hit, picking them up is likely the cheapest way of replenishing health, the other method being the option to purchase more in town. You can also buy new weapons including rifles, shotguns, dual-wielding pistols and bolas though characters can only simultaneously carry three guns.
Players who tire of repeating the main quest over and over can unlock three new characters, each with their own story and motivation, furthermore, those who seek a greater challenge can set an "iron-man" mode in which dying deletes your save file. Finally, Westerado: Double Barreled offers offline co-op mode making the experience that much more chaotic and hectic.
Exploring the world and meeting its characters is equal parts funny and engaging in an adventure that is obviously self-aware. The retro-look may draw some away but players venture further will no doubt spend hours exploring every nook and cranny.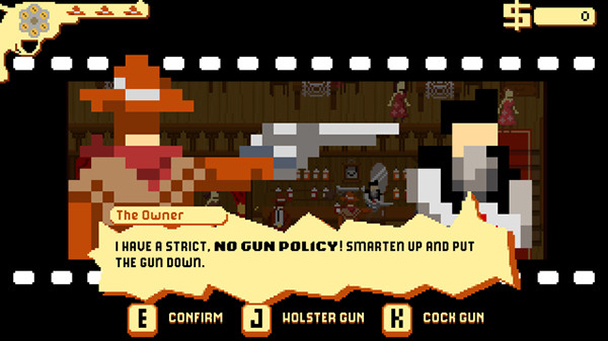 Westerado: Double Barreled was played on the PC with review code provided by the publisher.
Westerado: Double Barreled
Platform:
 PC
Developer:
 Ostrich Banditos
Publisher:
Adult Swim Games
Release date:
April 16th, 2015
Price: $11.99, Available via
Steam
Review Overview
Summary : Westerado: Double Barreled may have begun as a free flash title but it's worthy of a purchase regardless of whether or not you're a western fan.