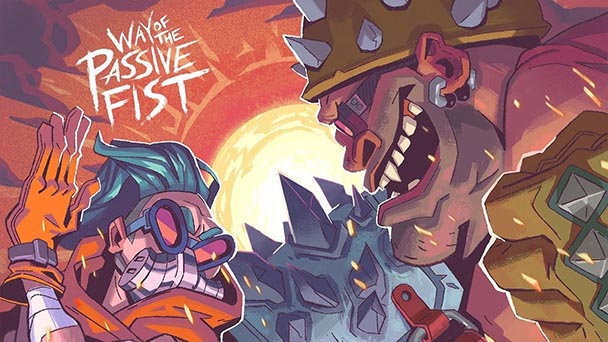 At first glance, Way of the Passive Fist might resemble just another side-scrolling brawler.  But the game's moniker signals how an offensive takes a backseat, as the game's protagonist fights by wearing down his opponent before issuing a single, graceful but trouncing attack. As such, the game feels like an eccentric mash-up between a traditional beat 'em up and the classic arcade/NES title, Punch-Out!!  Save for boss battles that can get a little too chaotic, Passive Fist is an unexpectedly engaging experience.
An introductory text crawl accompanied by pixelated images disclose the dystopian wastelands of Zircon V- a colonial outpost assumed to be near-inhabitable. But settlement proved to be a Sisyphean task. When assistance inevitably waned, the planet became a dusty wasteland, and the populace fell into rule by mutants, monsters, punks, as well as the type of nefarious, larger-than-life villain who feels plucked from a nineties action flick.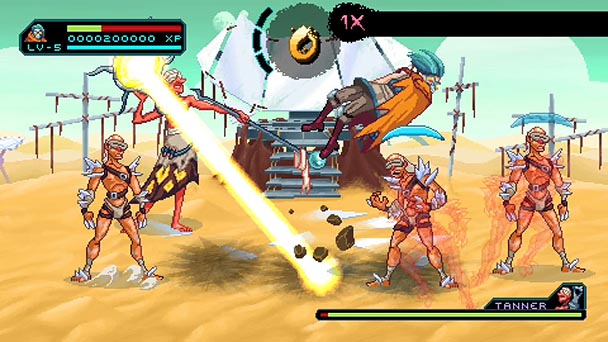 The game's tutorial provides a respectable overview of the game's constrained mechanics. Here, you'll understand that foes move either in front of behind you and attack with two different approaches. Strikes are the most common assault, typically telegraphed by enemy sprites revealing a winding-up animation before issuing a punch. Grabs and weapon tosses are the other type of assault and are indicated just as clearly, with a flash and sound effect divulging an adversary who's about to put you in a hold before inflicting a bit of punishment.
The game's silent protagonist, named the Wanderer, has a few moves to repel both attacks. Parries show the half-cyborg hero performing a Wing Chun-style deflection, as the Wanderer nimbly pushes away the incoming attack. Dodges are effective when an enemy is about to grab you, as the cloaked combat slides out of striking distance. Your last standard move is a shove that causes no damage but can give you a bit of breathing room when things become heated.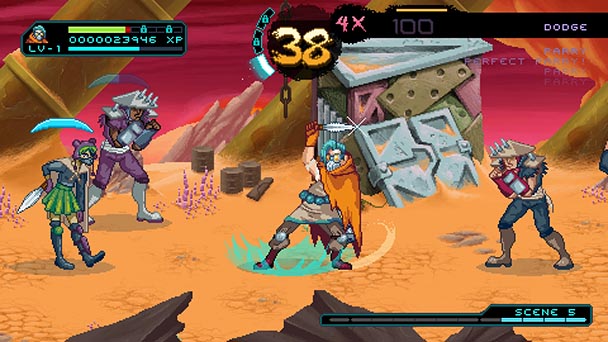 Ideally, you'll chain parries and dodges without interruption, gradually building a three-tiered meter, which will deplete if your combo if broken by an adversary or disrupt the timing of your defense. Fill one third of your Super Meter, and you'll be privy to everything from a formidable punch that can topple multiple foes to an over-the-top move so potent that you can annihilate every subordinate opponent on-screen.
And against lesser foes, Way of the Passive Fist can be a lot of fun. Like a cheesy action film, enemies wait their turn and strike with clock-like and predictable patterns, making the elimination of a gang feel almost like a music-based game as you tap away in a rhythmic cadence. Sure, the game's stages stretch on for longer than they should, and tend to reuse graphical assets, but the repetition in counterbalanced by an experience system that regularly provides new perks for the Wanderer.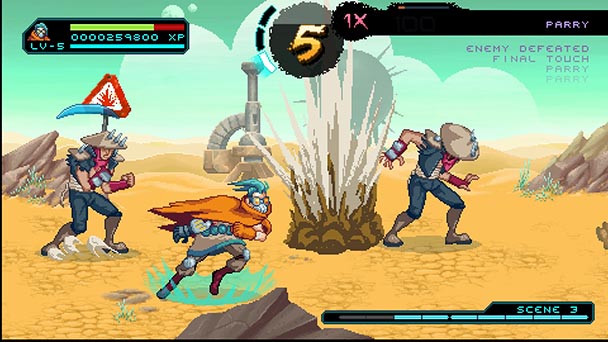 But Passive Fist's biggest drawbacks are the boss fights, which are a bit too frenzied. While the proceeding areas have enemies that politely wait in cues to take potshot at players, these sections throw multiple adversaries who attack simultaneously. Since a single missed parry or guard can deplete your Super Meter, these bouts can become extended affairs that test your patience. Typically, boss battles test your proficiency at handling a game's basic mechanics. But these confrontations feel radically different throw the typical pummeling of successions of contenders.
Head into the game's menus, and you'll find a feature that aims alleviate the exertion. Inside you'll find four sliders which permit you to tweak everything from the strength of enemies, the number of encounters, the amount of precision needed for parries, and even the frequency of checkpointing during levels. But as much as I modified the settings, I couldn't make the end-of-stage showdowns enjoyable without completely diluting the difficulty.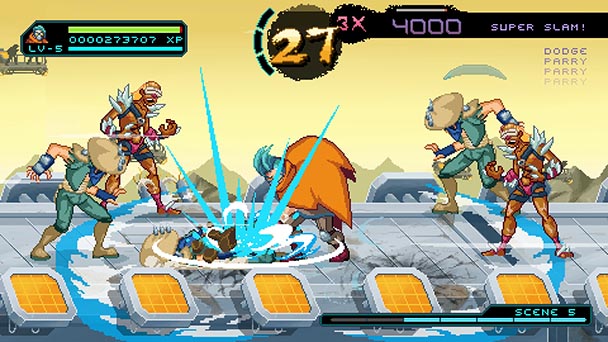 But that's not to say that this will be a permanent problem. Developer Household Games seems committed to Passive Fist's success, and recently added a five-stage epilogue as well as the Passiverse. The latter adds a rogue-like mode to the proceedings, permitting players to select from one of three different encounters. Unsurprisingly, the harder fights offer a quicker way to the final faceoff, while the cooler conflicts prolong the proceedings. Pleasingly, these new modes are given their own leaderboards, letting you know how weak or weighty your Wanderer truly is.
Players able to ascent into Zen-like states might have the mental prowess to pummel Way of the Passive Fist's bosses. But for those less enlightened, these engagements can feel like wars of attribution, as your struggle to keep your Super Meter from being drained by an errant move. Certainly, Passive Fist's merging of brawler and rhythm game is imaginative, but if you struggle with multitasking, make you have the patience of a monk before committing.
Way of the Passive Fist was played on the PC
with review code provided by the publisher. 
Way of the Passive Fist
Platform: PC, also available on PS4, Xbox One
Developer: Household Games
Publisher: Household Games
Release date: March 6th, 2018, updated June 21st, 2018
Price: $14.99 via digital download
Review Overview
Summary : Kudos to Household Games for augmenting Way of the Passive Fist with extra modes. Now if they developers can soften the struggle during boss showdowns, the path of wearing down opponents might be worth pursuing.