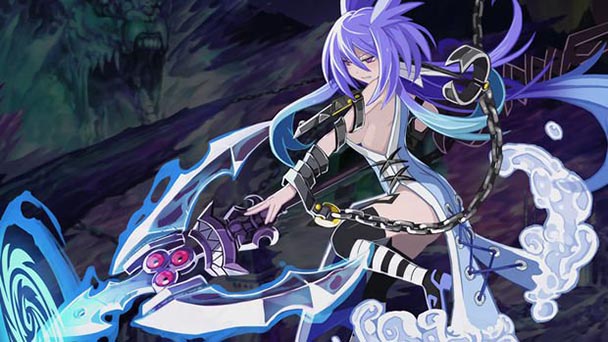 While overlooked by scientists, the tenets of Darwinism have slowly crept into video games. In real life, numerous insects have developed a resistance toward pesticide or as Cope's Rule suggests, a collection of species that are gradually growing in size. In game worlds a similar advancement can be perceived, with final bosses increasing in ferocity and fortitude. Whereas the mothership in 1980's Phoenix could be defeated with a few well-placed shots, with the release of Trillion: God of Destruction, players are tasked with defeating an unforgiving fiend who is fortified with no less than 1012 hit points. Undeniably, enemies are growing increasingly resilient, threatening to dominate players who haven't undergone the same level of evolutionary growth.
Trillion: God of Destruction does an exceptional job at setting the stage for the upsurge of antagonism and anguish which lays ahead. When the game's eponymous heavy shows up at the Underworld's gates, little concern is raised, since thousands of guards along with the Supreme Overlord's brother seems capable to stopping the threat. But when both soldiers and sibling are defeated, Overlord Zeabolos tries to take on the God of Destruction himself, but succumbs in the process.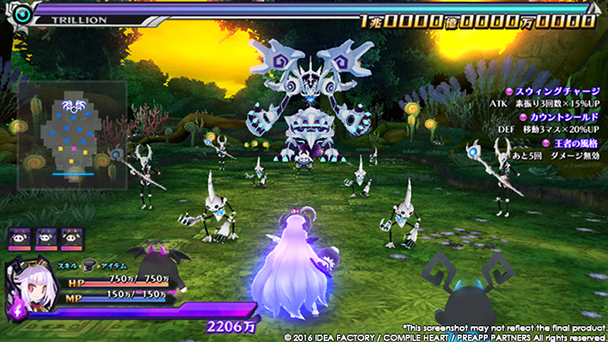 With heavy losses and the entire Underworld in danger of being devoured by the Beast of a Trillion Curses, the resurrected Overlord strikes a precarious deal with a character named Faust, who offers to trade his soul for assistance in overcoming the seemingly insurmountable opponent. Desperate and vengeful, Zeabolos is told that victory just might be possible through the training and sacrifice of a throng of prodigious underlings. As set-ups go, Trillion extends a prolonged prologue, offering little gameplay during the game's first hour and half. But a moment isn't squandered; by the time you're able to select your first heroine for training, Zeabolos' fateful decision is wholly justified.
Yet, at this junction, you'll discover that Trillion: God of Destruction's gameplay isn't as compelling as its engaging impetus. The main issue stems from a training regimen that isn't as enjoyable as it should be, primarily relying on menu selections where players bolster their stats while keeping their level of fatigue in check. While the mechanic bestows the requisite boost to character attributes, skills, and weapons, it's largely lifeless due to the limited amount of interaction and strategy involved.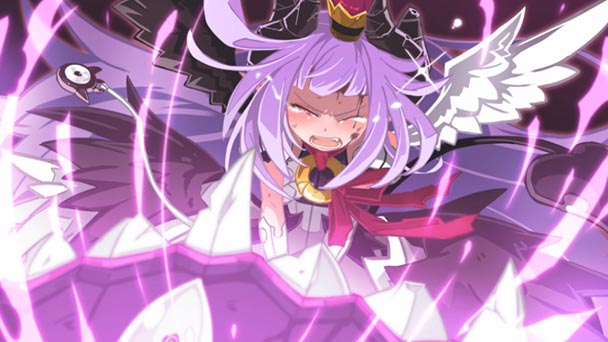 Mercifully, Trillion isn't particularly determined in his conquest of the underworld, periodically taking naps between moments of malevolent marches. During these multi-day rests, your selected heroine determines her idea course of action while a countdown details how long before the Evil One wakes. It's an intriguing setup, putting a promising gameplay loop into action, but regretfully a constricted amount of interactivity makes is unevenly engaging.
On the upside, there are a number of occupying elements. Head into the Valley of Swords and you'll enter a randomly-generated dungeon where players must defeat monsters and collect items in a constrained number of turns. Tension is rooted in the amount of turns needed to clear the stage. Take too long and you'll forge any experience points. Race through recklessly and you're likely to overlook an item that provides an assistive edge. Similarly, battling Mokujin- a giant training dummy, can be a good way to judge preparedness, while getting your Lords battle-ready.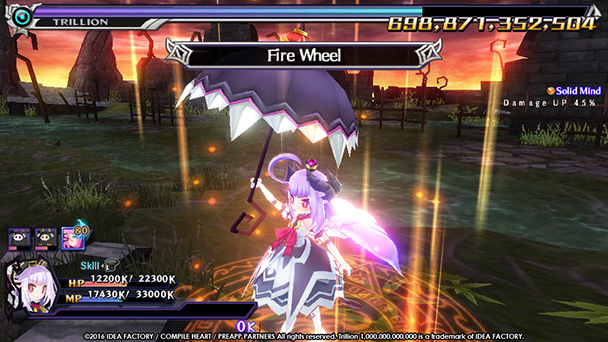 Whether you're skulking for XP in the Valley of Swords, taking on a Trillion mockup, or battling the big beast himself, combat remains consistent. Conflicts are played out on gridded battlefields, with turns alternating between players and enemies. For every turn you take, foes move as well, keeping the pace breezy. And while it's a system that easily comprehended and offers a bit of nuance- there are a few quibbles that are poised to irk players.
Both trash mobs and Trillion's devastating attacks are clearly foreshadowed, using color-coding to denote danger zones. But a single move errant can prove fatal, so when the game misreads a diagonal input, gamers are destined to issue about a million curses. But peer past that flaw and confrontations are largely pleasing, with players able to earn extra turns through defeating enemies or use their pool of Affection Points so they won't suffer injury or a depletion of their spell casting powers. When it comes to Magic Points, players can lash out at mobs to make their way toward Trillion or banking their spell points to strike at the beast a few extra times. Nicely, you don't even have to fight the God of Destruction alone. While Devil Envoys can help with clearing out some of the more persistent foes, don't expect the AI of these melee or ranged-based drones to make a huge difference, especially when the big guy changes form.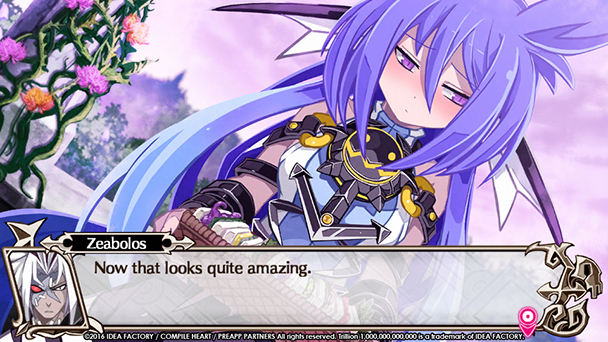 Unsurprisingly, whittling away at a trillion hit points probably isn't going to be accomplished by a single heroine. Death in God of Destruction is as inevitable as it is in real life. But in keeping with the game's themes of honor and sacrifice, when is character is killed by Trillion, loss doesn't occur in vein. Instead, mortality make a final, formidable strike at Trillion, binding one of the beast's limbs, slowing his evil encroachment, or even bestowing your ability set to the next brave heroine. Like Fire Emblem, death feels sufficiently poignant, typically occurring after you get to know and appreciate your lord. Whether players save at every junction or try to power their way through Trillion's execution, there are a dozen endings to be earned, providing the potential for replay, if that's your thing.
Graphically, God of Destruction is a mix of the magnificent and the middling. During dialog sections, the game's portraits are charmingly rendered, offering some of Kei Nanameda best efforts. But during combat sequences, the polygonal recreations look lackluster, with characters losing a notable amount of detail. On the upside, Tenpai Sato's score is consistently excellent, with the Disgaea and Phantom Brave composer delivering works drenched in string and choral voices. In execution, they're the perfect accompaniment to depict the imminent unraveling of the underworld. Pleasingly, the game offer both Japanese and English voice acting, with both performances demonstrating skilled deliveries.
Built upon a prodigious premise, Trillion: God of Destruction's gameplay never quite delivers on the game's potential. Although the title conveys sentiment and the sporadic burst of enjoyment, too much playtime is devoted to menu fiddling rather that fiend fighting. That said, Trillion's foundation isn't without merit. Certainly, Idea Factory and Compile Heart should revisit the concept, layering interactivity on top of foundation of ingenuity.
Trillion: God of Destruction was played on the PS Vita with review code provided by the publisher.
Trillion: God of Destruction
Platform: PS Vita
Developer: Compile Heart, Idea Factory
Publisher: Idea Factory
Release date: March 29th, 2016
Price: $39.99 via retail or via PlayStation Store
Language(s): Japanese or English voice, English text
Review Overview
Summary : Trillion: God of Destruction is poised to produce a range of emotion- from glee, sorrow, to worry. Woefully, it's the unintended attitudes like tedium and frustration that dampen the experience.