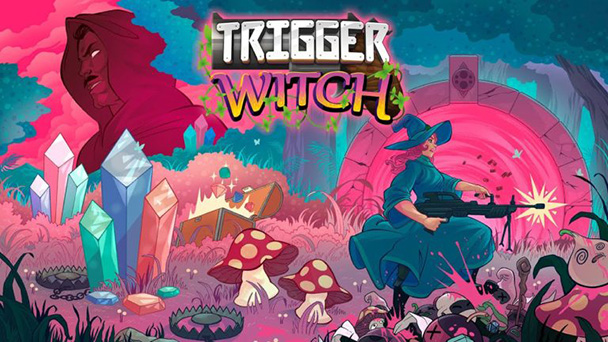 Trigger Witch is a remarkable amalgam, shrewdly mixing twin-stick gunplay, exploration, and even some shoot 'em up action. Despite a few hiccups, the different ingredients gel together as seamlessly as a magic potion.
Trigger Witch


Platform:
Switch, PlayStation 4, Xbox One
Developer:
Rainbite

Publisher:
EastAsiaSoft
Release date:
July 29th, 2021
Availability:
Digital
Price:
$14.99 Nintendo
eShop
and other digital marketplaces, $13.49 launch discount price
Over the last decade, role-playing mechanics have creeped into almost every genre. From sports games that task players with gradually improving the stats of their created athletes to loot-shooters like Borderlands, customary mechanics like grinding and item management are quite commonplace. With the release of Trigger Witch on the PlayStation 4, Switch, and Xbox One, Auckland-based Rainbite offers an unlikely integration. Imagine The Legend of Zelda's Link trading in his trusty sword for an arsenal of modern weaponry and you'll have a decent idea what's in store.
But unlike the original Zelda, there's a bit more expositional substance in Trigger Witch. You'll play as Colette, a young witch tasked with passing The Gauntlet, a series of tests demonstrating your offensive prowess. Sure, it serves as a tutorial, teaching the fundamentals of dashing out of danger and shooting at foes. But it's far more interactive than the lessons offered by most games.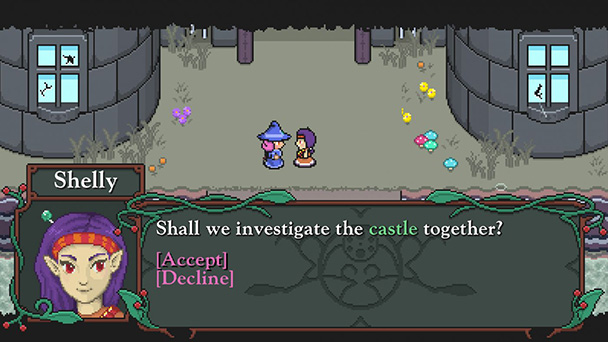 Join The Clip to Receive a Monthly Magazine
Passing the Gauntlet means membership in The Clip, an organization of gun-toting witches who dutifully protect the land. But poor Collette barely gets enough time for celebration and interaction with her envious peers. A mysterious man dressed in black seemingly enters the world through a rift, propelling the protagonist into action. What follows is a quest that will send players chasing clues on an overworld map and periodically delving into dungeons.
While the game's script isn't Shakespeare, it is consistently amusing. NPCs are based around simple tropes. But interaction supplies a steady stream of puns and there's even some character arcs. Often, Colette will be confronted with dialog choices. While they don't have much impact on the direction of the story, it offers an opportunity for the lead character to be valiant or sassy.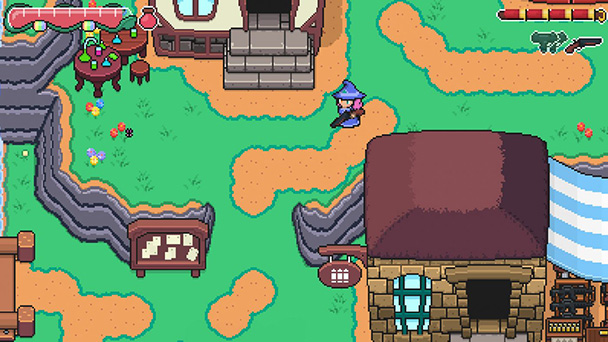 Witch Waypoint?
Using an in-game map, you'll be trekking across Trigger Witch's landscape, chasing red "X"s that mark your next point of interest. Periodically, you'll face a pack of enemies in the wild, leading to a shootout that helps keep the hiking interesting. Whether you're in the overworld or reconnoitering the labyrinthine pathways of a dungeon, firefights are engaging.
Success stems from Trigger Witch's tendency to toss different types of adversaries at you. As such, you'll have to prioritize between flying enemies that can soar above walls, monster generators, projectile-launching foes, and those who fling themselves at you. When the game mixes different enemy varieties along with environmental traps like bear traps and movement-sensing spikes, the action becomes absorbing. Any game where opponents can be lured into ensnarements earns bonus points.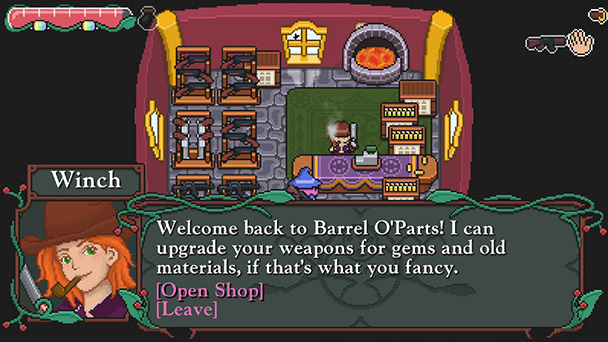 Navigation That's Not Quite Spellbinding
Expectedly, a few blemishes tarnish the adventure. Although the game's simplistic visuals certainly have their charm, it can be difficult to discern when walls are elevated or flush with the floor. Similarly, puzzles are rather simplistic, often revolving around gating different sections of dungeons. Occasionally, these riddles can be more frustrating than fun, especially when it comes to time-based challenges. Fortunately, saving occurs often as occasionally Colette's actions won't trigger a gate, forcing a restart from the last checkpoint.
Although Trigger Witch attempts to inject variety with some broom-riding, scrolling shoot 'em up sequences, they feel underdeveloped when compared to the twin-stick action. At least the boss battles are suitable showcases that ratchet up the intensity quite nicely.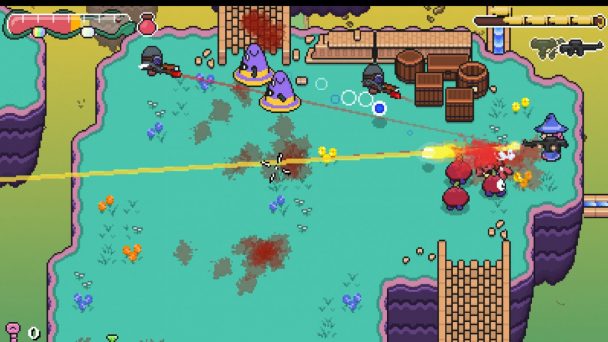 Unsurprisingly, eliminating enemies and discovering hidden chests provides a constant drip feed of dividends. With found currency, you'll be able to augment the damage output, firing rate, reload speed, and magazine size for your weapons. While Trigger Witch begins the game with a basic revolver, she'll eventually earn new arms like an automatic rifle and a grenade launcher. The game's ammo system is rather unique. Once you're spent all the munitions in one gun, you'll have to switch over to another while the first firearm reloads. The system is a bit awkward at first, but it's evident the developers want you to try everything in Colette's offensive toolset.
Conclusion
Whether played individually or with an optional cooperative partner, Trigger Witch's is a thoroughly enjoyable adventure. Elevated by a humorous script, solid gunplay, and entertaining exploration, the title feels at home on Switch thanks to a fluid framerate and responsive controls. Surely, it's no less bewitching on other consoles, either.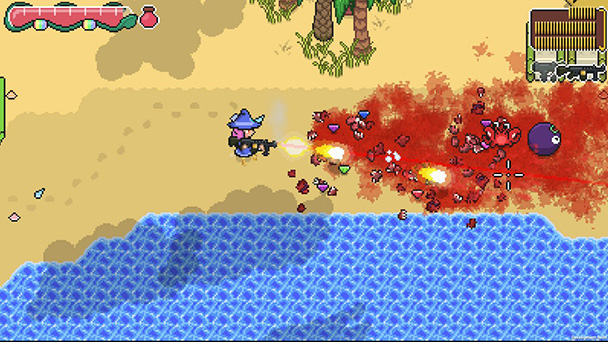 Trigger Witch was played on Switch with
review code provided by the publisher. 
Review Overview
Summary : Fan of stick-stick shooters? What about Zelda-like adventures? If you answered yes to at least one of these questions, Trigger Witch is worth investigating. If you like both, it's a near-obligatory purchase.