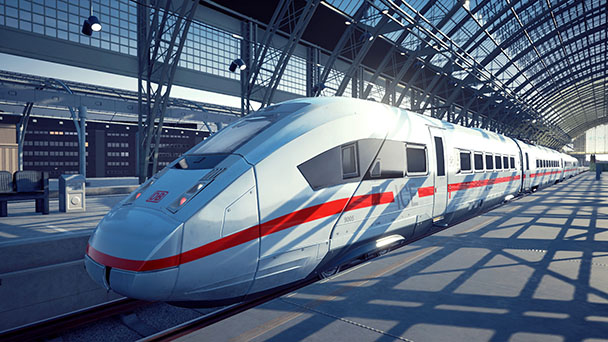 Whether you're racing down the rails from the confines of a cab or calling the shots from the confines of your company offices, Train Life: A Railway Simulator offers affordable, Early Access enjoyment that largely on track. 
Sure, the car is the dominant method of personal transportation in the US. But as someone lucky enough to have lived in cities with robust passenger rail lines, trains will always be my favorite way to get around. As such, I tackle nearly every locomotive simulation I can get my hands on. Some like Train Sim World and the Japanese Rail Sim titles let players assume the role of an engineer, shuttling cargo and commuters across cities. Others like Railway Empire and A-Train 3D: City Simulator whisk you out of the cab. Across these titles, you'll assume the role of fledging rail magnate, attempting to build a profitable company from the ground up.
Currently in Early Access, Train Life: A Railway Simulator bundles both vocations. Initially, you'll undergo training in contemporary Germany, driving a locomotive across branching stretches of rail. Whether you opt to use your keyboard, a mouse to interact with the cab's virtual throttle and brake, or even use a controller, getting your train moving is a rather simple task.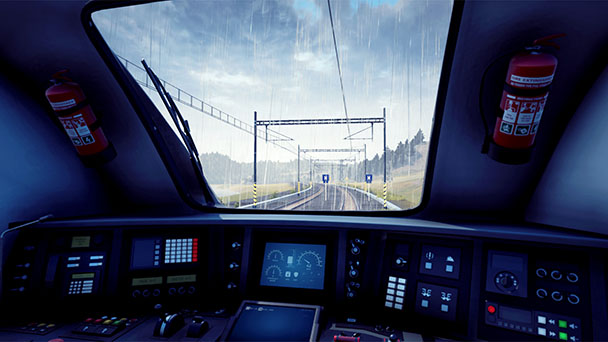 Descent Into Danger
But as you'll soon learn, stopping and maneuvering the 200-ton locomotive up and down grades is a more challenging task. Train Life's environmental signs, pop-ups, and HUD warn you of speed limits. While you won't get penalized for momentarily going a few kilometers-per-hour over limit the threshold, fines are assessed for extended disobedience, so be careful to watch those downhill rails. Conversely, you'll discover that momentum is needed to go up hills. Cut power on an incline due to a hazard on the track and you'll find that gravity can be merciless. If you're not careful, you can burn through your fuel or power supply trying to creep back up that grade.
You can also be fined for entering restricted areas without radioing ahead. Communication isn't exactly intuitive in Train Life. You'll use number keys to select things like stations and purposes, which can feel like navigating a confusing voice mail system instead of having a conversation with a person. Track switches can also give you problems, as your train's GPS system doesn't indicate junctions. On their own, none of these actions are overly difficult. But when you're hurtling down the track at 120 km/h, it can be easy to miss a window of opportunity.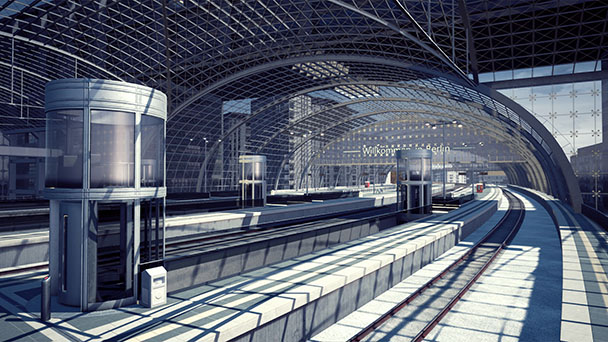 Pulling the E-Brake on Wastefulness
But that's not to say that Train Life lacks enjoyment. Once you've mastered the fundamentals and absorbed some of the functions that the game's tutorial overlooked, riding the rails can be an enjoyable experience. After you've completed the tutorial, you'll have to cover the cost of your own actions, so hitting the emergency brake and squandering fuel isn't as alluring. What is appealing is the game's sense of scope.
Beyond Germany, a November 18th update extended routes tinto London, Paris, Amsterdam, and Brussels, mirroring the Eurostar line. Hopefully, we'll be able to visit Lyon, Avignon, and Marseille soon. Currently, there are ten different locomotives and a multitude of different engines, bogies, chassis, and fuel tanks. Beyond being prohibitively expensive for a fledging freight company, you'll need to reach a specific level to purchase upgrades.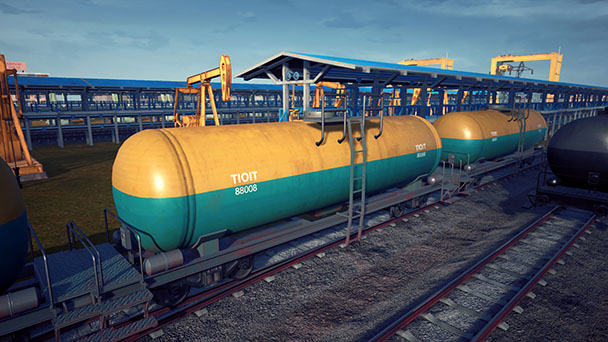 Riding the Rails to Success
But once you pass the tutorial, the game's business simulation emerges, as you take the reigns of owning your own rail company. At present, you'll be able to pick a name and logo for your business as you strive make a bit of a profit transporting passengers or raw materials. At present, your pursuits in the rail world don't have a lot of focus with motivation largely confined to amassing a sizable fleet of engines and employees.
I did appreciate how Train Life made a distinction between timed contracts (which provide a bonus for being speedy) and non-timed deliveries.  One downside is that the game's high-speed InterCity Express trains are isolated in separate scenarios, rather than the game's career mode and don't operate at a real-world speed of 300km/h. But other than that issue, Train Life scales time and space remarkably well.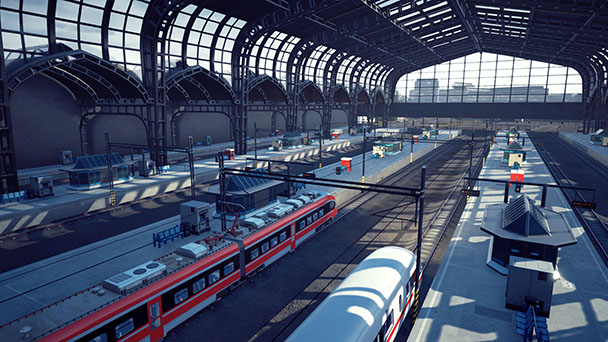 Conclusion
In the game's current state, A Railway Simulator is a decidedly mixed performer. The interior of cabs are impressively rendered while moving the game's camera outside of the train flaunts some impressive modeling. But Train Life's landscapes can be a bit bland, with generic smokestacks and drab environments habitually filling your journeys. Luckily, the occasional Ferris wheel or transit hub offers some visual variety. Even on a RTX 3070 running at 1080p, the game is prone to an occasional stutter, which tarnishes the sense of realism. Hopefully, developer Simteract can work out the performance bug across the four planned updates leading up to the retail release.
As it stands, Train Life: A Railway Simulator offers a lot of ambition for its reasonable fifteen-dollar price. While it's always possible for a studio to halt its efforts and chase after the next big project, the current build provides enough train driving and business modelling to justify its current purchase price. If the developers can persevere and continuing building the Orient Express' lapsed routes to Istanbul and Athens as well as streamline the title, Train Life might become a must-play experience for rail fans.
Train Life: A Railway Simulator was played on
PC with review code provided by the publisher