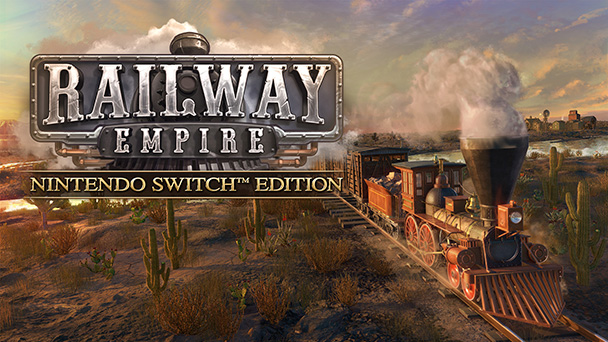 Railway Empire rolls onto Switch with a largely proficient port that bundles a trio of DLC. If you're seeking an engaging mix of construction and financial sim, then you might want to make this your next stop.
Railway Empire
Platform:
Switch, previously on PlayStation 4, Xbox One, PC
Developer:
Gaming Minds Studios
Publisher:
Kalypso Media
Release date:
June 19th, 2020
Price:
$39.99 via physical or digital download
Availability:
Nintendo eShop
Given the abundance of commercial jets and access to a network of freeways, many in the United States view trains as little more than a dusty relic. That's a shame since railroads played an imperative role in the development of the country. In 1862, the Pacific Railway Act entrusted two companies with the construction of the first transcontinental railroad. A feat of finance as much as engineering, the result was transportation system that made travel between coasts affordable to the masses, while reducing the duration of the journey from months to mere weeks.
Delve into the Switch port of Railway Empire, and you'll be able to face the same hurdles surmounted by the Central Pacific and the Union Pacific railroad companies. Arriving a year and a half after the original PC game was released, the physical and digital release bundles a trio of downloadable content, so you'll also be able to transport coffee and sugar across Mexico, forge through the treacherous Andes, and even stretch out rail lines past the Great Lakes into Canada. While realizing your steam-powered ambitions on Switch might make you miss the luxury of keyboard and mouse control, the portability of this edition helps to justify the compromise.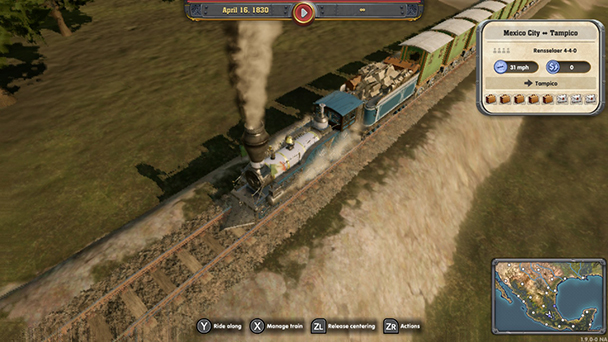 An Obstinate User Interface
If you're newcomer to Railway, you'll undoubtedly want to head into the game's five-part campaign first. Here you'll encounter a tutorial that explains the multiple of tasks you'll need to juggle. After surveying a landscape, you'll need to build stations, lay down tracks to connect these depots, and add signals to guide a growing fleet of locomotives. Initially, progress can be slow as you wrestle with learning the game's controls. While the radial menu works fine, pop-up instructions are a bit ambiguous when it comes to specific button presses. Tip pop-ups can pervade maps and thieve your attention, while some actions take a second or two to provide feedback. You'll eventually grow familiarized with the game but know that your first few hours with Railway Empire will feel more like work than fun.
Eventually, the fundamentals of construction become routine, letting you focus on the more stimulating details. Sure, you can cleave a tunnel through that mighty mountain with dynamite, creating a direct connection between two cities. Alternatively, you can wind your away around the obstacle. This might save some money upfront, but you'll sacrifice efficiency in the long run. Steadily, you'll mimic the principles used by actual rail lines, creating parallel routes. This allows a shorter, faster trains to pass larger ones or even lets an engine that doesn't need water to circumvent one that's stopped to refill.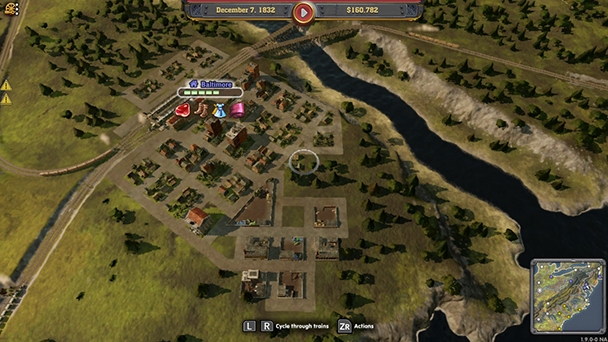 Cities Need Resources to Develop
Undeniably, there's satisfaction in taking a podunk town, providing them with lumber, grains, and beer, and progressively watch them grow. But when it begins to mature into a bustling town, the insatiable populace begins wanting manufactured goods. These often require resources to be shuttled around, fostering a need for express (passenger) trains and freight lines. Finding the best solutions is challenging, but when you factor in rivals who will persistently mettle, it can become quite captivating. Like the best simulations, Railway Empire doesn't hold back on the cruelty of pure capitalism. While you can keep it clean, I loved role-playing as a nefarious industrialist. After bribing reporters to write bad things about the competition I sent in saboteurs to ruin their trainyard.
Others might appreciate working the financial side of the equation. Besides investing in local business and seizing a share of the supply-side, you can purchase stock in rival companies, making potential buyouts easier. Success also means you'll open advancements in the game's detailed tech-tree. Find the number of passengers falling? Then try adding a bit of luxury to some of your passenger cars. Typically, there's a myriad of ways to improve efficiency or income. Discovering the best route is what makes Empire enjoyable. Of course, if you have no patience for monetary matters, you can head in the game's sandbox mode and build without worry of a budget.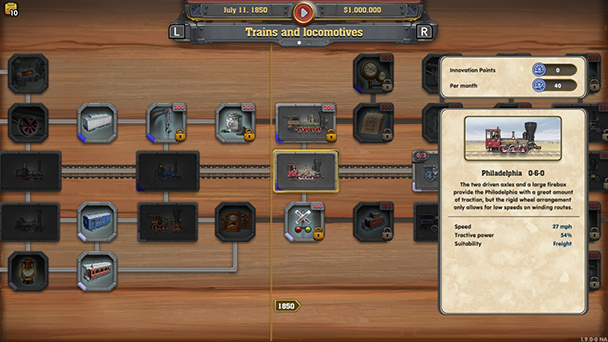 Beware the Occasional Crash
Play Railway Empire in handheld mode and you'll find a largely stable framerate as well as 720p output. But woefully, the game's text is on the small side (especially on the Switch Lite), and there's no option to increase the font size. When docked, the title puts out 1080p, extending a bit more detail on those trestle bridge, faux water reflections, and forty different types of trains. Like any respectable rail sim, there's a first- and third person perspective for enjoying your steam-powered empire. Although the title regularly auto-saves, crashes can impede progress. I experienced two demoralizing stoppages during 22 hours of play.
Railway Empire's first few hours aren't too charming. But once you'll learn how to use the interface and start understanding how to success in the rail business, play becomes drastically more enjoyable. Considering the game's $40 USD price, there's a wealth of substance, with a core campaign, geographically-based scenarios, Free and Sandbox modes, as well as three DLCs that add variety. It took six years of tireless work to build the transcontinental railroad. Expect at least six weeks of solid enjoyment from this one.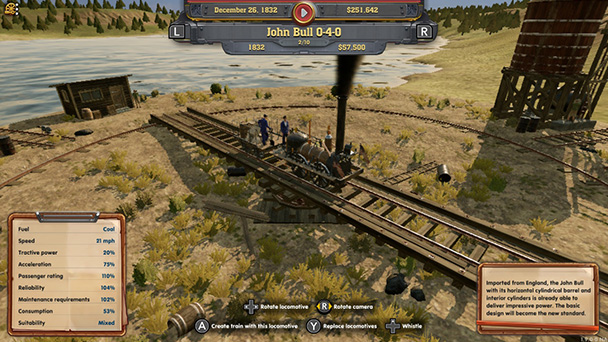 Review Overview
Summary : There's not a lot of large-scale sims on the Switch; some of the existing ones are disappointingly lackluster. Railway Empire doesn't succeed by default but by engaging play that offers a lot of different ways to be train mogul.