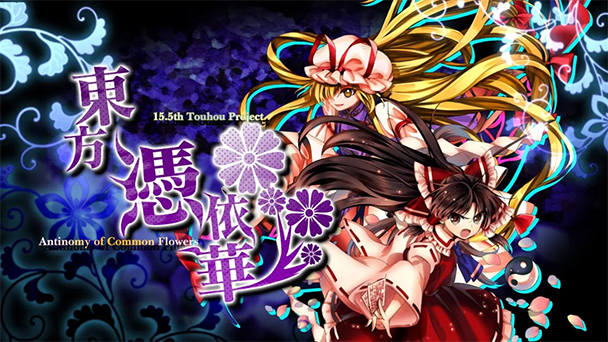 Touhou Hyouibana: Antinomy of Common Flowers pits the Gensokyo girls against one another in an aerial, tag-team based fighter. Despite the exquisiteness of the 2D spritework, players should expect a few rough edges.
Touhou Hyouibana: Antinomy of Common Flowers
Platform:
Switch, PlayStation 4, previously on PC
Developer:
Twilight Frontier
Publisher:
Phoenixx
Release date:
April 22nd, 2021
Price:
$34.99 via digital download
Availability:
Nintendo eShop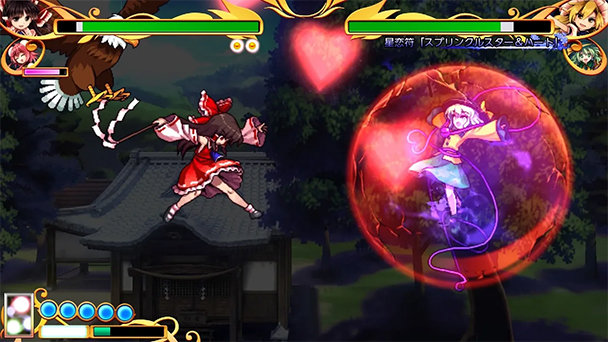 The Touhou Project began with a collection of meticulously coded bullet-hell shooters, or danmaku. Built by a former Taito programmer who operated under the moniker of Team Shanghai Alice, the games earned distinction not just for the mind-boggling number of on-screen projectiles thrown at the player, but also for their inventive setting and characters. Set in a fictional land named Gensokyo, where feudal tradition, folk lore, and pop culture intermingle, Touhou quickly resonated with players. When coupled with creator's refreshingly lax approach to protection of his intellectual property, fan-crafted efforts soon proliferated.
Over the past two decades, conventional lead Reimu Hakurei's adventures are remarkable diverse. No longer just the lead in shooters, she and her Gensokyo-based brethren have starred in platformers, racers, rogue-likes, seemingly entering every major genre in gaming. Touhou Hyouibana: Antinomy of Common Flowers is Twilight Frontier's (AKA Tasofro), sixth Touhou Project fighter, building on the doujin circle's experience.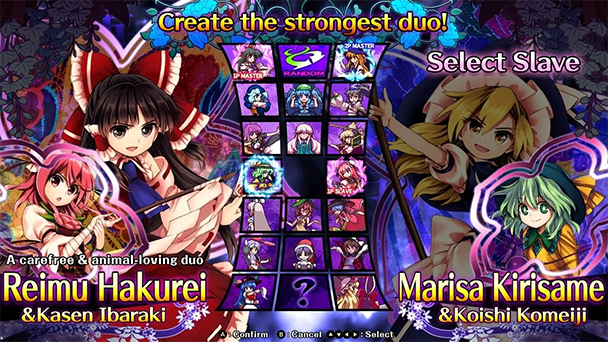 Dropped into Gensokyo without Guidance
But whereas most fighting franchises typically have a handle on everything outside of combat by the second iteration, Hyouibana still lacks some key elements. Coupled with a half-hearted localization, this effort will probably only be appreciated by those who are well-acquainted with Reimu, Marissa, and the rest of the Gensokyo girls.
From the game's main menu, Hyouibana's story mode seems like the most logical place to start. Here, you'll find a storyline that centers on "Perfect Possession", where one character takes over the body and will of another. There's deliberation on consent and competitive banter between the two-girl tag teams. But you won't find an iota of instruction in this mode or anywhere else. The closest you'll come to a hint is a display of button commands in the game's configuration menu. It's explained that face buttons allow for melee, shot, and skill attacks as well as partner tagging.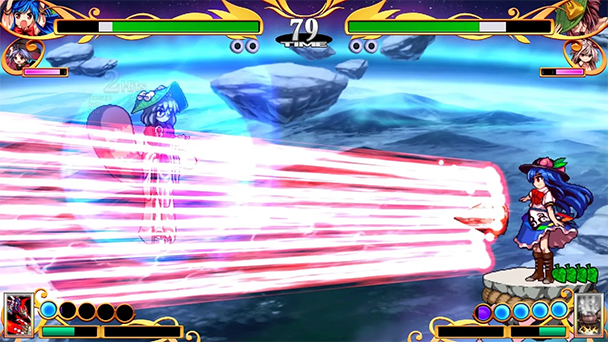 Pushover Rivals Line the Path of Wisdom
You'll also have access to an evasive dash, while the Switch's bumpers and triggers default to different two-button inputs. Coupled with different attacks available through button holds and in conjunction with the left Joy Con pushed in different directions, there's a lot to learn. Additionally, there's a power-meter that prohibits players from spamming attacks; sporadically, you'll have to pause a second or two to recharge. Fortunately, the AI is a pushover on at least half of the game's four difficulty settings, so you'll have time to experiment as you take down trash-talking rival teams.
In execution, Touhou Hyouibana feels like Super Smash Bros. reimagined as an aerial fighter. While the basic moves in each character's arsenal are easily accessed, skill is embedded in learning the best moment for each attack. Eventually, you'll grasp the range and direction of each attack, commanding Reimu to fling giant yin-yang symbols or Marissa to summon a substantial area-of-effect spell. Accessibility definitely helps given the lack of any in-game moveset listing.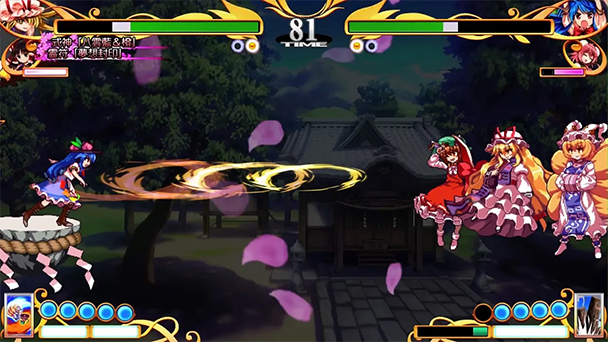 Get Bowled Over by Shinmyoumaru Sukuna
During Story Mode battles, matches culminate with adversaries in protective spheres, necessitating players to vary their tactics. That doesn't occur in the game's versus mode, which lets you tackle either CPU-driven foes or online opponents. While Hyouibana appears to have a modest community at launch, I was able to find a few matches, and they were mostly lag-free.
With a bit of practice, the game's showdowns are enjoyable affairs, filling the screen with vibrant and sporadically comical attacks. While there's not much balance across the game's 19-combatant roster, there is enjoyment when sending a torrent of attacks at opponents. The screen never gets as crowded as most Touhou Project danmaku, but characters such as Ichirin Kumoi and Nitori Kawashiro issue projectile-pushing attacks that refence the source material.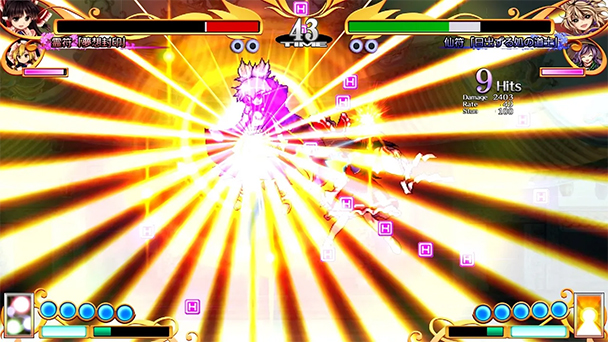 These Common Flowers are Quite Gorgeous
Undoubtedly, one of Antinomy of Common Flowers best features is the game's visuals. Sprites are devotedly rendered, echoing the fidelity and animation style of classic Capcom and SNK fighters. Habitually clad in frilly dresses and fancy bonnets, each of the Gensokyo gals is instantly recognizable, even if players opt to change the color of their signature attire. Backgrounds opt for polygonal rendering and offering a range of context from quint shrines to sophisticated nighttime cityscapes, while the game's soundtrack extends skilled remixes of classic Touhou jams.
That said, Phoenixx's localization is lacking. The decision to keep preserve most kana throughout the game is understandable, with the publisher adding subtitles for dialog sequences. But occasionally, the interchanges display a noticeable lack of grammatical editing or can be unnecessarily dry. In the case of one in-game instruction ("Slave does not hit black bullet"), you might wonder if Google Translate was referenced.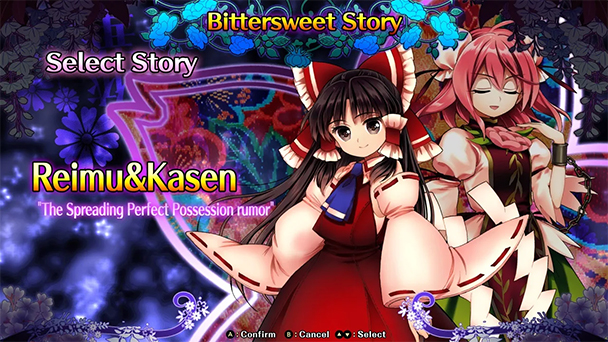 Conclusion
A lack of guidance and a haphazard localization only marginally dimmish Touhou Hyouibana: Antinomy of Common Flowers' entertaining fights. Fortunately, matches are accessible, shirking the technical approach favored by many genre entries. Even through the game might have a limited audience, it would be gratifying to see a bit more care applied to publishing.
Touhou Hyouibana: Antinomy of Common Flowers was
played on Switch with review code provided by the publisher. 
Review Overview
Summary : Touhou Hyouibana: Antinomy of Common Flowers offers spirited, tag-team combat with fighters armed with spells, small tanuki or serving plates. While it's not an especially balanced fighters, it's definitely enjoyable, especially with friends, either local or online.