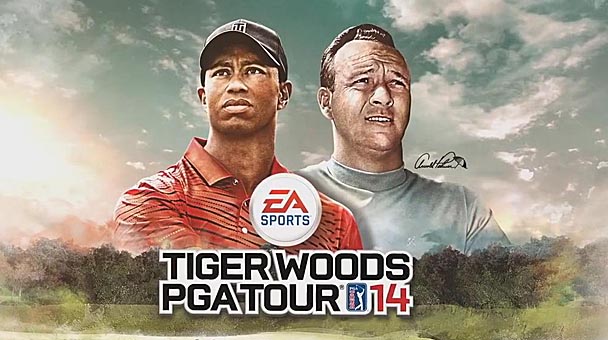 Following Tiger Woods' five month exodus from professional golf in early 2010, the athlete exhibited an anomalous stumble- dropping to a position of fifty-eighth in the world rankings. Resolutely, the record- breaking golfer scaled his way back up the rankings. With back-to-back wins at the WGC-Cadillac Championship and the Arnold Palmer Invitational, Woods achieved redemption, reclaiming his position at the top of the global leaderboard.
Sharing a similar restorative trajectory is the game which bears the superstar's moniker- Tiger Woods PGA Tour. Whereas recent iterations have floundered with quizzical additions- from slapdash support for motion-sensing peripherals to a mode where gamers control a preschool-age Tiger, this year's entry shows the series regaining its composure. While the actual golfer has miraculously revived his reign, Tiger Woods PGA Tour 14 delivers a strong showing, undermined by only a few, minor design decisions.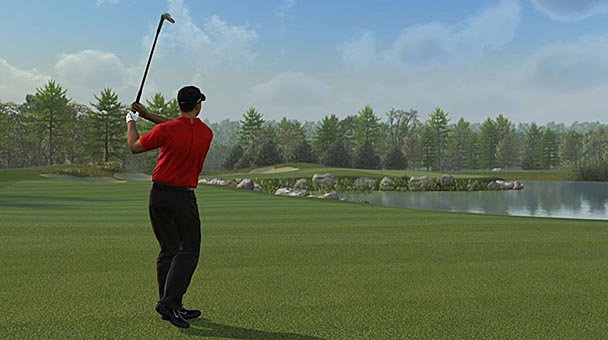 One of the best qualities of the Tiger Woods games are their scalability. On the lowest difficulty setting, the titles recall Golden Tee's easygoing escapes, with rookies able to disregard many of the sport's intricacies, as they snap the left analog stick with wild abandon. Miscalculated or botched drives can even be compensated for by adding spin to an in-flight ball. Alternatively, PGA Tour can also act as a staunch simulation, pushing players to master draw and fade shots and meticulously read greens- if they hope to remain competitive.
Peculiarly, a few elements suited for casual audiences have remained in Tiger Wood's elevated challenge levels, such as clothing and accessories giving virtual duffers an unrealistic statistical boost.  Although promotional club sets and boost pins still bestow bonuses, PGA Tour 14 strips away some of this nonsense, focusing on the attainment and distribution of XP (experience points). While those wishing to cultivate a custom golfer will appreciate that athletes level up at a quick clip, some will take issue with the ability to use real-world currency to acquire XP. As such, those with deep pockets are positioning to dominate online competitions- at least until the rest of us catch up.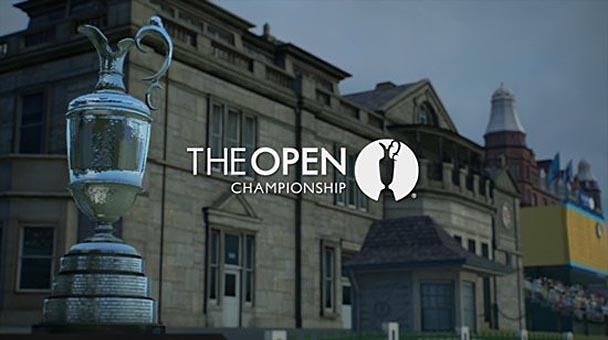 Over the years, Tiger Wood's 'net-enabled tournaments were enjoyable, if players could look past the often plodding pace. With PGA Tour 14, these matches have been reshaped in lively contests, with the game displaying the shot arcs up to 23 other participants for each hole. Coupled with expanded Country Club memberships for up to a hundred golfers, bonuses for participation across successive days, as well as the ability to chat (and mute) colleagues, PGA Tour 14 has all the elements in place to encourage an enduring online community.
For returning pros, Tiger Woods 14 provides a new peak difficulty setting, which removes most of the amenities associated with an interactive recreation of the sport, such as putt previews, green grids and wind velocities. Mid-level franchise followers should appreciate the adjustments made to Tiger Woods swing meter, which now examines tempo and terrain slope to determine the path of the ball. Now, gamers have to adjust for ball lie, with a Strike Meter which stipulates increased precision across each elevated challenge setting. If the Advanced Shot Shaping option is turned on, players will have to put a bit of draw or fade into their swings, mimicking the form of actual athletes. Pleasingly, both created golfers and well as recreations of pros have distinctive Swing Styles- influencing dynamics such as height, accuracy, and the ability to bow shots. While it seems like an insignificant adjustment, in execution the inclusion of the mechanic mean there no definitive swing. Instead, players are forced to accentuate their strengths while minimizing shots that test their weaknesses.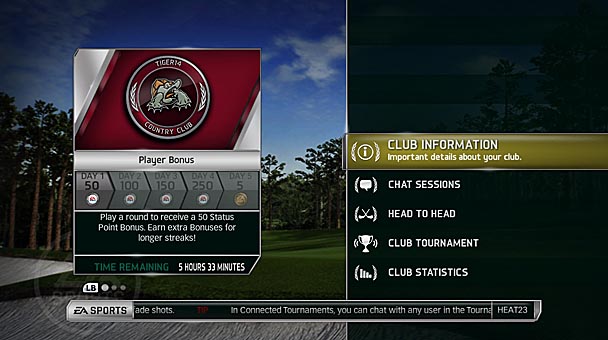 Considering golf's rich legacy, the inclusion of the Legends of the Masters mode is an inspired choice. Here, gamers take a journey through the sport's rich 140 year legacy, either challenging or stepping into the cleats of luminaries for brief skill challenges, multi-hole showdowns, and complete course competitions. Although seeing superstars such as Nicklaus, Palmer, Trevino, and Hogan accurately rendered is delightful, it's the era indicators which really elevate the component. From sepia filters, period-specific clothing and clubs, to commentary that sounds like it's emanating from a 1930's wooden box radio, Legends of the Masters is an impeccable tribute to the sport. Unlocking the nine-golfer roster for use in the game's contemporary context is a pleasant gratuity as well.
After the backlash against PGA Tour 13's opportunity to use in-game coin to unlock courses (which, admittedly could take weeks of play to procure), developer EA Tiburon has returned to its traditional marketing model, complementing its itinerary of 20 on-disk courses with 22 downloadable ones. Gamers willing to ante up at additional $10 for the Masters Historic Edition receive access to Augusta's radically altered 1934 layout, the 'little' par three course, and well as four other venues. While the additions are agreeable, know there's plenty of content on the optical disk to keep players busy. With the inclusion of all four golf majors, as well as LPGA athletes, to elective motion controls, Tiger Woods 14 offers a satisfying amount of content.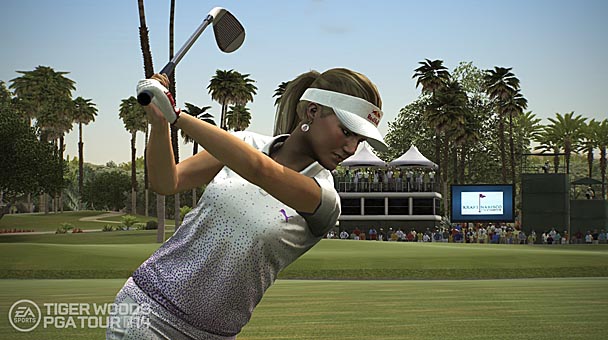 Aesthetically, the title's rousing presentation is still held back by the occasional fault. While landscapes and course are generally attractive, the game exhibits the immersion breaking close-up of a low-resolution tree texture. Crowds still move in improbable unison and applaud wildly for unremarkable tasks. The game's largest new graphical feature, variable time of day, adds an interesting new wrinkle, altering visibility and even allowing night games. Sonically, Jim Nantz and David Feherty's cordial commentary has been augmented. Although there's a bit less repetition, the duos still don't always seem to be sitting in the same broadcast booth. Hopefully, next year's iteration bring a bit more interplay between these two capable analysts.
Imitating the athlete's recent rebound, Tiger Woods PGA Tour 14 demonstrates a fine return to form. From revising the game's fundamentals- which can mirror the complexity and difficulty of a real golf swing to paying homage to the pastime's rich legacy, the title excels in a multitude of areas. Coupled with a bounty of content and the possibility of an involving online community, and PGA Tour 14 is an easy recommendation for both actual golf aficionados as well as those who only appreciate simulations of the sport.