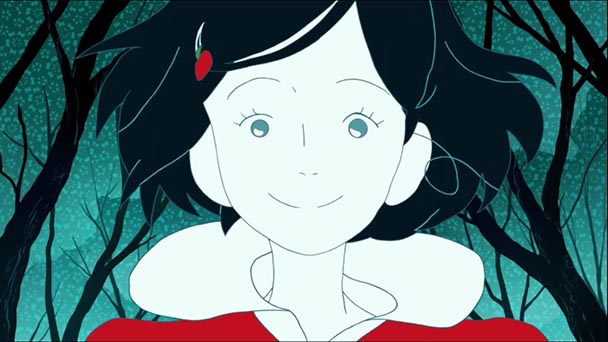 For many, there's a salient period between the twilight of youth and the dawn of adulthood. Before we allow marriage and mortgage to administer our lives, nights of bacchian revelry offer a spirited eulogy to a lapsing adolescence. Often, its one of the last times we are able to 'live in the moment', unburdened by relational commitments or hectic work schedules. These free-spirited nights are often teeming with possibility. New experiences await, we are destined to meet a multitude of strangers, and potentially, meet someone who remains in our lives for quite a bit longer.
The Night Is Short, Walk on Girl is a spirited ode to these madcap evenings. Based on Tomohiko Mori's novel of the same name, director Masaaki Yuasa's (The Tatami Galaxy, Devilman Crybaby) adaptation channels the spirit of French New Wave cinema. For those accustomed to films that submissively follow the traditional three-act structure, Walk on Girl first few minutes might require adjustment to your viewing style. But heed the film's message, let go of expectations, and you'll thoroughly enjoy its breakneck pace and cheeky irreverence.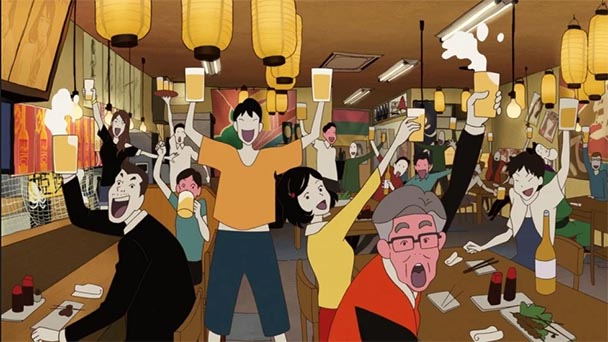 The film's opening scenes introduces us to the unrequited interest that dominates the ninety-two-minute running time. At one table is the Girl with the Black Hair, a perpetually positive college student who occasionally moves her arms like the crankshaft of a locomotive. But these actions aren't just comical folly. Growing up, the Girl adored a book about a strong-minded train, and she obviously took the life lesson to heart. She dashes from once scene to the next, knocking out perverts with a 'friendship' fist, downs massive amounts of alcohol without impairment, and leaves positivity in her wake, like a smoke trail from a speeding steam engine.
Her counterpart at another table is Senpai, an upperclassman who has been trying to win her heart by plotting seemingly coincidental encounters. While some of Senpai's actions might border on the stalkerish, his misdeeds are almost always chastised, providing an ample amount of comic relief. One particularly amusing endeavor has the character trying to win back the The Girl's cherished book by engaging in a contest of eating spicy hot pot. Here, his deceit results in hallucinations and flavors so strong that Senpai's lips and speech become distorted.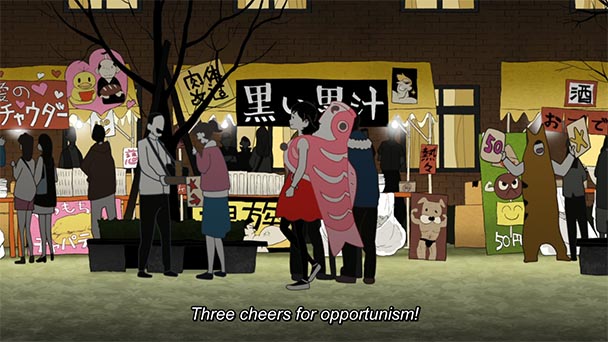 Adhering to French New Wave style, The Night Is Short, Walk on Girl is less concerned about plot than exhibiting the eccentricity of everyday life. Additional humor stems a Senpai's friend, a helpless romantic who refuses to change his underwear until he is reunited with a chance encounter. There are also oddballs like a collector of erotic woodprints, a troupe of guerrilla theatre performers, a student body member who runs an NSA-like surveillance network, and possibly, a vengeful god of used books.
Thankfully, these personalities aren't just included for the sake of being weird. Each permits Walk on Girl to do some gentle moralizing. Whether it's the police shutting down innocuous (and entertaining) street musicals or advocating against collectors seizing possession of books, the film has plenty to say. But pleasingly, it never etches into the precinct of preachiness thanks to Yuasa's deft handling and rapid-fire pace. Occasionally, dialog and image arrive so fast, that a second viewing of the film might be recommended truly absorb everything that whizzes by. Those with quick comprehension skills will want to keep an eye out for cameos by The Tatami Galaxy characters.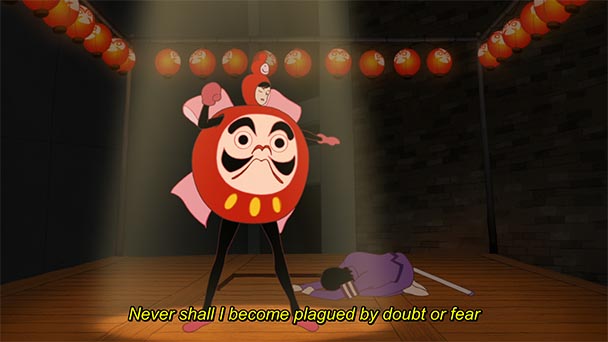 Science Saru, the production studio behind, Walk on Girl opts for a hallucinatory style, channeling the inebriated mind state of most of its characters. Working with a palette of bright hues and simplistic figures, the film recalls the psychedelia of George Dunning's Yellow Submarine. Like that film, Yuasa draws distinction by the use of a hazy subjective reality. When characters swill spirits you can see the liquid collect in their throat, before moving down to their stomach, recalling Popeye's spinach-consuming transformation in the Max Fleischer shorts. Since characters are rendered without much detail, the film's voice cast must help shape each personality. Here, Kana Hanazawa (The Girl) and singer Gen Hoshino (Senpai) display competency, helping to define the driving forces that inspire character.
The debaucherous evenings of late youth have the tendency to create lifelong memories. The Night Is Short, Walk on Girl finds significance in these bouts of supposed irresponsibility. Far from a straightforward narrative, Yuasa's film evokes the freeform style and youthful rebelliousness of the French New Wave. It's a celebration of life and peculiarity and for snubbing convention, it's worth raising a tall glass to Masaaki Yuasa and Science Saru.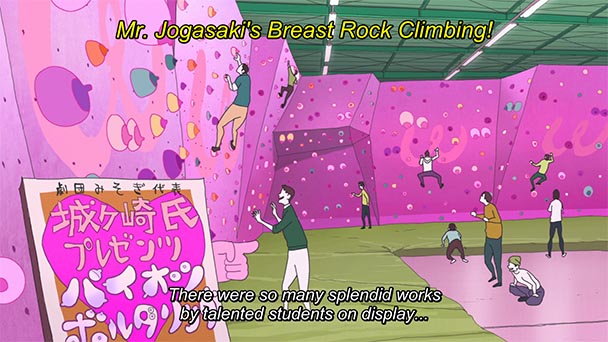 The Night Is Short, Walk on Girl opens in select theaters on August 21st, 2018