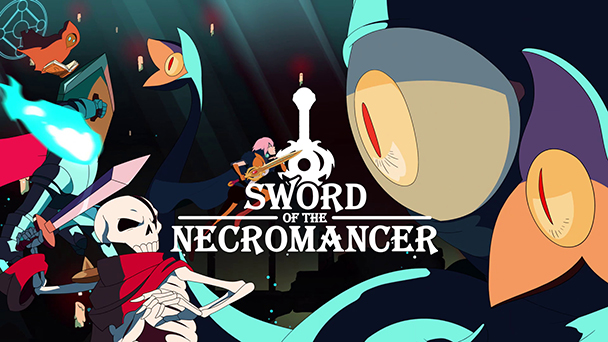 Driven by an unexpectedly solid story and the ability to resurrect your defeated enemies, Sword of the Necromancer is an intriguing title. While influences are evident, they're also varied enough to deliver distinction.
Sword of the Necromancer
Platform:
PC (reviewed), PlayStation 4, Switch, Xbox One
Developer:
Grimorio of Games
Publisher:
JanduSoft, Game Seer Ventures
Release date:
January 28th, 2021
Availability:
Digital
Price:
$14.99 via
Steam
,
PlayStation Store
,
eShop
,
Microsoft Store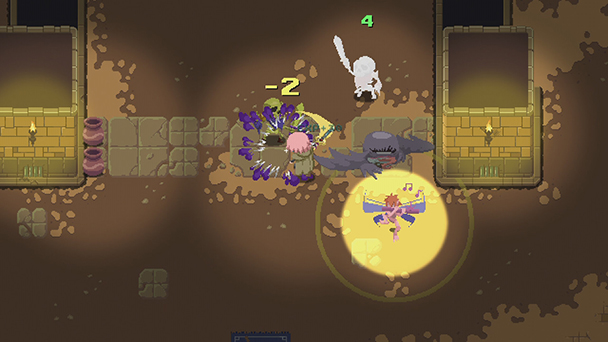 Within minutes of loading up Sword of the Necromancer, you might think that you have the game figured out. As you swing a utilitarian sword at enemies, gradually increase your arsenal, and use a found tool to trigger a gate across a chasm, the Legend of Zelda: A Link to the Past influence is unmistakable. Even the game's deliverable low-res art style evokes memories of the sixteen-bit classic.
But few studios have the perception and proficiency of Nintendo's internal teams. Whereas Zelda would unambiguously signal enemy attacks, Necromancer developer Grimorio of Games isn't quite as adept. Early on, bats will float about menacingly, but you might get caught off guard by the abruptness and range of their strikes. While your character can use basic combos, it's all too easy to take damage when you're locked into an animation. While these transgressions aren't substantial, Sword of the Necromancer's first impression is that it's an inferior copy that fails to outshine its source material.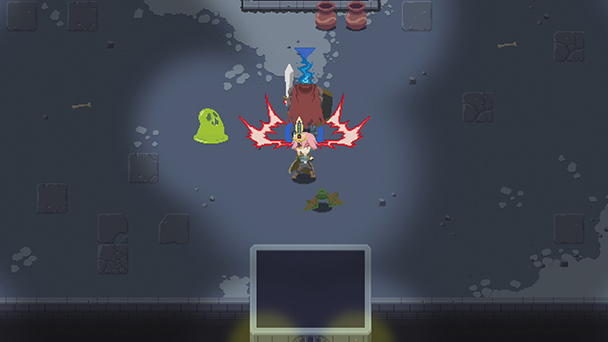 There's Life in This Limp Body
But soon, the game reveals it's divergences, which are plentiful. After acquiring the game's eponymous weapon, you're given the ability to reanimate fallen foes. Brought back to life, they demonstrate an allegiance to their resurrector and will fight for you. While their AI is fairly limited, they're just smart enough to attack any opponents they bump into after they've been summoned. Pleasingly, if they're able to elude death (which is tricky as they're fragile) your minions will level up.
Necromancer offers a fair amount of flexibility. Save for your sword which is always at the ready, they can be placed into any of your three existing inventory slots. While you can lone wolf your way through the game, it's also possible for you to role-play as a monster wrangler, letting your summons do the bulk of the labor. Alternatively, you can also let another local player seize control of your summoned creatures.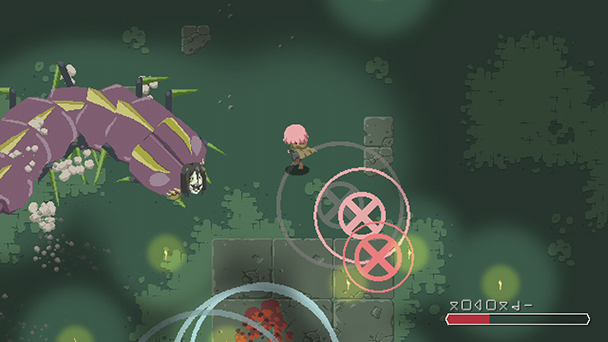 Reanimated Monsters aren't the Smartest
Before you confront Necromancer's first boss, there's a likelihood you'll encounter some roguelike elements. When defeated, the lead will be moved back to the start of the procedurally generated dungeon, half of her leveling, as well as items and weapons all taken from her. As such, you'll want to seize the opportunity offered between floors to send items back to your stockpile. Back at base, you can also upgrade your monsters. But don't expect so much augmentation. Not only are level caps remarkably low, but their willingness to confront opponents or pathfinding doesn't get advanced. Another issue is that the bestiary isn't that deep; Necromancer needs more than twenty monsters.
Persevere and you'll find some smart design decisions. Unlike most roguelikes that start with a high difficulty and maintain that level of challenge, Necromancer keep track of your performance. Perish three times and you'll unlock options to reduce the sting of defeat, such as letting you keep items or experience. While expert players might not need or even notice the aid, it's a friendly concession for less experienced ones.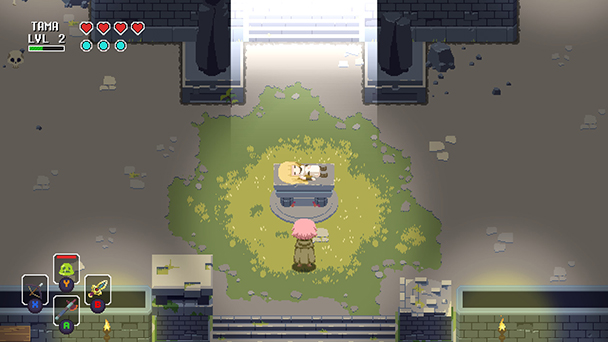 Conclusion
Narratively, Necromancer is surprisingly robust. A charming opening animated sequence details the plight of princess Koko, who perished during an adventure with her bodyguard Tama. Knowing of a dungeon where a wizard brought the dead back to life, lead Tama ventures downward, in hopes of reviving the royal. Pleasingly, cinematics punctuate the action, detailing a working relationship where friendship emerges, and later, romance eventually blossoms. Sure, it's a simple premise, but Grimorio of Games adds just enough character quirk to make the story interesting.
Although Sword of the Necromancer has a number of unequivocal blemishes, the core concept of summoning fallen creatures and having them fight alongside you is rather compelling. Fortunately, Grimorio of Games seems responsive to player feedback, and has already added an optional bag to assist with inventory management. If the team can work on AI pathfinding, Sword of the Necromancer might not be sorcery, but does have its charms.
Sword of the Necromancer was played on PC
with review code provided by the publisher. 
Review Overview
Summary : Sword of the Necromancer is only a patch or two away from recommendation. As it stands, the title is enjoyable but you'll have to put up with a few minor nuisances.