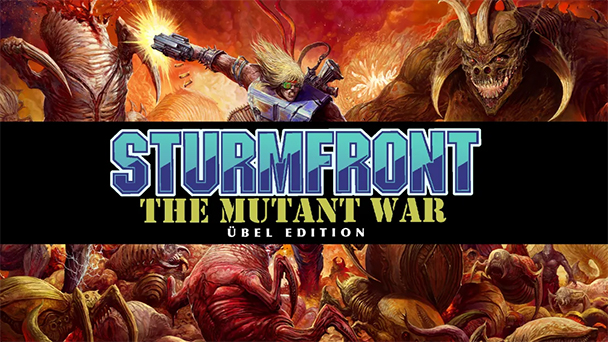 With the kind of pixelated, pugnacious action found in nineties arcades, SturmFront – The Mutant War: Übel Edition offers a respectable amount of bang for your buck.
SturmFront – The Mutant War: Übel Edition
Platform:
Xbox One and Switch, previously on PC
Developer:
Andrade Games
Publisher:
Andrade Games
Release date:
April 2nd, 2021
Price:
$9.99 via digital download
Availability:
Microsoft Store
and
Nintendo eShop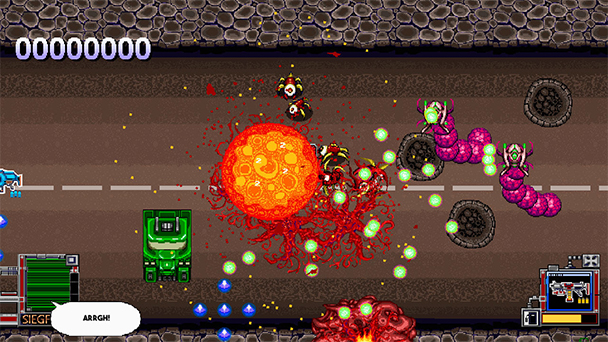 During the eighties and nineties, arcades offered one of the best forms of pure escapism. With a few dollars in your pocket, kids and teens could enter one of these hallowed spaces and large enjoy gaming experiences that flirted with societal taboo. While the allusions to sex were tragically subdued, violence ran rampant, with titles like 1988's NARC allowing players to use rocket launchers to blow enemies in pulpy giblets.
One of my favorites of the era was 1992's Total Carnage, Eugene Jarvis' and Mark Turmell's sequel to Smash TV. Like it's processor, the game was a twin stick shooter, where you'd harness a variety of weaponry and mow down legions of enemies and gargantuan bosses. Viscera was ubiquitous, and the game ended with swarms of robots pouring out of a robo-Hitler's (named General Akhboob) hemorrhaged half-head. It was gratuitous and glorious and a testament to the subversiveness of early gaming.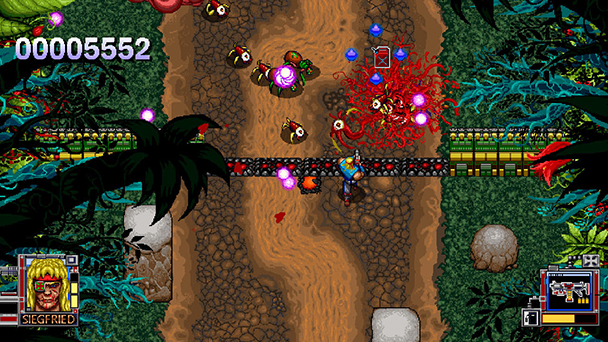 Bullets, Bloodshed, and Metal
With arcade-goers enraptured with Street Fighter II, Total Carnage never quite got the appreciation it deserved. But it's undoubtedly had an impact on developer Andrade Games. Although they mention SNK's Ikari Warriors and Toaplan's Out Zone as influences, SturmFront – The Mutant War: Übel Edition's free scrolling is closer to Midway's intense coin-op. But while it has the powerful weaponry and carnage, it lacks Total Carnage's polish. Still, if you appreciate arcade-era titles, especially one with a forceful metal soundtrack, you might want to enlist in the reasonably-priced Mutant War.
Players take control of Siegfried von Hammerstein, a semi-robotic unit with a flowing blonde mane and arms designed to simultaneously carry a rifle and a flamethrower. The former arrives in a variety of pick-ups. You'll begin the game with a machine gun, but pick up guns like the splitter, which sends a shotgun-like blast of projectiles that bounce around the environment. Of course, the trust rocket launcher is in there, ready to liquify a cluster of enemy mutants. Guns are potent but by collecting power-ups you'll increase your offensive output even further. While they come with limited amounts of ammo, there's always additional gun waiting in the corners.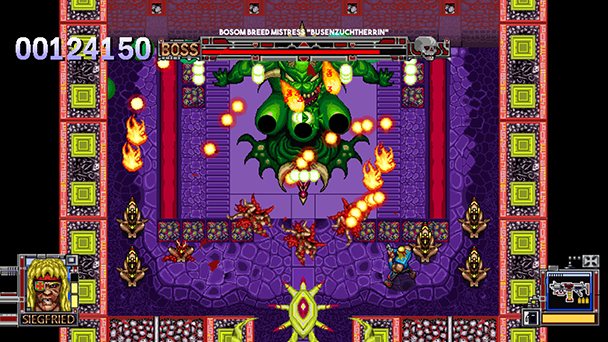 A Hard-hitting Sturm
Your flamethrower can serve two purposes. It's the sole weapon that can close giant orifices, prohibiting additional enemies from erupting out. It's second function is found on the easiest of the game's three difficulties, with a trigger tap sending out a flame that can cancel enemy bullets. SturmFront likes to fill the screen with quick moving projectiles, especially during boss battles. Unless you have segments of your health meter that you're willing to sacrifice, nullifying munitions is the way to go. Of course, on Normal and the unlockable Hard modes, you'll have to do some nimble bullet dodging. That can be no easy feat, given the size of von Hammerstein's sprite and his bulky hitbox.
Your standard issue machine gun has an unlimited supply of bullets, but gasoline for your flamethrower is a consumable. Fortunately, SturmFront is pretty generous with the fuel, with pick-ups littered across each of the game's five battlefields. But the game isn't as charitable when it comes to scoring. Perhaps Andrade is trolling us, but making collectable gem picks up enemy grub kills worth 5 and 2 points is odd when destroying a piece of the environment with earn 200. Perhaps this is to discourage point-farming the mutant cavities. Still, you'll never run of basic ammo, so gun it all down.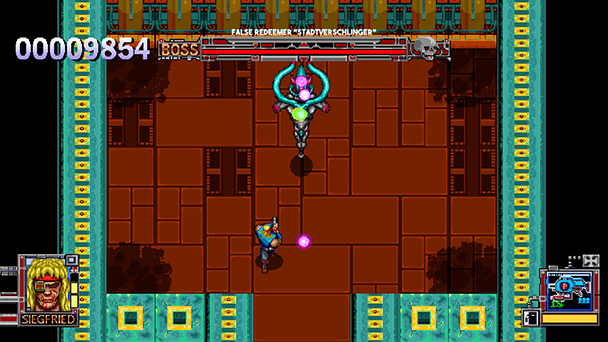 Walk, Don't Run
But do take the journey slowly. Some dangers like the giant worms that speed across the screen in an early stage don't give any indication before attack. By moving slowly, you won't activate as many enemy triggers and prohibit the screen from being overrun with foes. Yes, you'll occasionally want to run and close up the mutant butt-lairs, but SturmFront favors the slow-moving soldier.
This is especially true because occasionally the war isn't fair. The great majority of The Mutant War is balanced. But trying to dodge projectile when the game is delivering a screen shake feels devious. Worse, the game sporadically covers a significant portion of the battlefield to deliver a bit of text-based lore. Ideally, the large window would be transparent.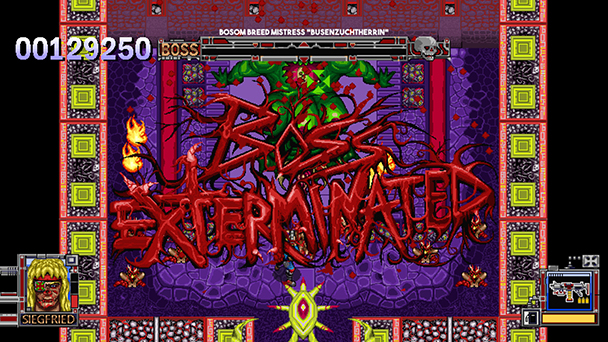 Conclusion
Fortunately, SturmFront's other faults are somewhat forgivable. There's no cooperative play, which is disappointing since most of the game's inspirations accommodated duos. Much like the rest of the game, the soundtrack conveys a sense of power. But there's little technical nuance rooted in the riffs, unlike the strains found in something like Guilty Gear. While the ten-dollar price is fair, a much better deal can be found on Steam, where it currently sells for five dollars.
SturmFront – The Mutant War: Übel Edition isn't going to appeal to everyone. But if you appreciate the simplicity of early nineties twin-stick shooters, this is worth a consideration. There's gratification rooted in taking command of rapid-fire weaponry and destroying everything that moves, especially in short-term doses.
SturmFront – The Mutant War: Übel Edition was played on
Xbox One with review code provided by the publisher. 
Review Overview
Summary : SturmFront - The Mutant War: Übel Edition feels like discovering a bootleg arcade title from the nineties. Everything from the brightly hued, pixelated visuals to the pounding metal soundtrack are a refreshing journey to yesteryear's coin-op machines.